B-Hop's Latest Hall of Fame Extends Beyond the Ring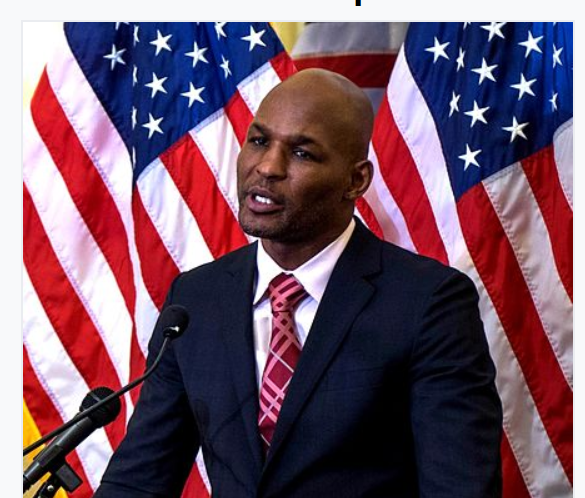 B-Hop's Latest Hall of Fame Extends Beyond the Ring
Thomas Wolfe's celebrated novel, You Can't Go Home Again, published posthumously in 1940, paints a rather bleak picture of a fledgling author who writes of the hometown he left years earlier but still mostly remembers with fondness, although his literary return to his roots is greeted with menacing letters and death threats from the town's residents who don't like his not-always-complimentary takes on the place where they still live.
In legend and lore, Philadelphia is a tough city that infrequently grants its love, especially to individual athletes or those who wear the colors of its local teams, and only then with large dollops of show-me skepticism. It isn't enough just to be from Philly or to have arrived as a hired mercenary; in the City of Brotherly Love, it is necessary to earn civic affection through hard work and an absolute commitment to a common cause that transcends place of birth or any previous stops along the way.
Joe DeCamera, the sports-talk radio host who served as master of ceremonies for Thursday night's 20th annual induction ceremony of the Philadelphia Sports Hall of Fame, acknowledged as much when he offered his opinion that James Harden, a would-be major cog in the unfulfilled championship aspirations of recent 76ers squads, would never have a seat at the dais for a future enshrinement because the star point guard, traded to the Los Angeles Clippers two days earlier, simply did not "get" Philadelphia, nor did Philly "get" Harden, a chronic malcontent who was with the team for only 79 regular-season games (and 23 playoff contests) in less than two full seasons.
Former middleweight and light heavyweight champion Bernard Hopkins, unlike Wolfe's George Webber character in You Can't Go Home Again, doesn't have to worry about an unwelcoming return to Philly because, well, he never really left. Although B-Hop still maintains a residence in Delaware, it is within the Philadelphia metropolitan area's footprint, and he also has a lavish condo in Philly overlooking the Delaware River, befitting someone who has accrued so many professional successes. He is an inductee into the International, Philadelphia, New Jersey and Atlantic City Boxing Halls of Fame, but the one that took him to its collective bosom Thursday at Live! Casino & Hotel in South Philly, a stone's throw from the stadiums and arenas where the Eagles, Phillies, Sixers and Flyers play, puts him not only in the company of such cherished hometown fighters as Joe Frazier, Tommy Loughran, Joey Giardello, Matthew Saad Muhammad, Jeff Chandler and Meldrick Taylor, but with some of the team-sports heroes of his youth, the ultimate accolade for someone who continues to wear his pride of Philadelphia's intermittent sports competitive successes on his sleeve.
"It's 2023 and to be recognized again at this time in my life (Hopkins is 58) and in my hometown is right up there with any honor I've received in my career," B-Hop said before he took his place at the head table in the Live! Event Center. "This is the cherry on top of four scoops of vegan ice cream. You got baseball greats, football greats, basketball greats. And, of course, boxing greats. It's a whole bunch of people who did unique and extraordinary things.
"One thing about Philly, you cannot just walk into an honor like this. You have to earn it from a generation of tough fans, maybe a couple of generations worth."
Hopkins' appreciation for being viewed as not only an iconic Philadelphia boxer, but an iconic Philly athlete regardless of the sport, is hardly a newly minted revelation. On Oct. 9, 2004, 19 days after he knocked out Oscar De La Hoya to become the first middleweight to fully unify the division title in the four-belt era, Hopkins was the man of the moment in a parade down North Broad Street, from the front of the legendary Blue Horizon to City Hall, where he was praised as one of the city's sporting treasures by then-Mayor John Street. An estimated 10,000 Hopkins fans lined the parade route, which might seem a bit skimpy in comparison to, say, the Eagles' multimillion-celebrants parade after they won Super Bowl LII, a 41-33 conquest of the New England Patriots on Feb. 4, 2018, but it was nonetheless historic. Longtime Philly boxing promoter and local boxing historian J Russell Peltz, also an inductee into the Philadelphia Sports Hall of Fame (Class of 2020), noted that it was the first such parade held for a boxer since 1939, when thousands of Italian-Americans lined South Broad Street to cheer heavyweight contender "Two-Ton" Tony Galento, a native of Orange, N.J., who was in town for a bout with Lou Nova. In his previous bout, Galento had knocked down heavyweight champion Joe Louis before being knocked out himself.
"It's an emotional thing for me to be recognized in my hometown," Hopkins said before the parade in his honor began. "There are so many great athletes and fighters in Philadelphia – legends, really – who never got anything like this. It's beyond my wildest dreams."
So moved by the emotion of the moment when he was called to the microphone by DeCamera, Hopkins, whose responses to even the most innocuous question from a member of the media can result in a 20-minute soliloquy, that he required less than one full minute to express his gratitude to be joining the PSHOF. To longtime observers of B-Hop, it was like whittling down Tolstoy's War and Peace to a one-page synopsis from a Cliff's Notes. Then again, the career gists of all of the inductees in attendance were shown beforehand in well-crafted videos that left few stones unturned.
Truth be told, Hopkins' historical milestones are so numerous and impressive that it was as inevitable as a morning sunrise that he would pass muster with the PSHOF selection committee. Despite a late start to his boxing career, the result of an armed robbery committed as a teenager that landed him behind bars for 56 months, his 20 successful middleweight defenses (since matched by Gennadiy Golovkin) were a division record and he became the oldest fighter to win a world championship when he won a light heavyweight title, the IBF's, by outpointing Karo Murat over 12 rounds on Oct. 26, 2013, in Atlantic City's Boardwalk Hall. So fantastically fit was Hopkins that, even when he was nearly 52, he still remained a world-rated fighter.
"Bernard Hopkins is as close to a perfectionist with nutrition (hence his remark about vegan ice cream) as anyone I've ever dealt with," said renowned physical conditioning guru Mackie Shilstone, who helped B-Hop (then 41) bulk up the right way from the middleweight limit of 160 pounds for his unanimous decision over stellar light heavyweight Antonio Tarver on June 10, 2006.
The 16-member PSHOF Class of 2023 increases the total number of inductees to 217, just 14 of whom have ties to boxing. It says much about how high that bar is set that such cherished Philly main-eventers as "Bad" Bennie Briscoe, Eugene "Cyclone" Hart, Bobby "Boogaloo" Watts, Stanley "Kitten" Hayward and Willie "The Worm" Monroe remain on the outside looking in (Briscoe, Hayward and Monroe are deceased.)
In addition to Hopkins, other notable Philadelphia athletes and coaches getting their call to the hall included former Villanova basketball coach Jay Wright, who guided the Wildcats to NCAA championships in 2016 and 2018; Eagles standouts Jeremiah Trotter and Irving Fryar; former Phillies owner Bill Giles; former Flyers defenseman Joe Watson, who helped the team to win Stanley Cup titles in 1974 and '75; Phillies catcher Carlos Ruiz, an important member of the team's 2008 World Series champions; Olympic long jumper Carol Lewis, younger sister of track and field legend Carl Lewis, and jockey Tony Black, who was on board 33,964 mounts during his long career, during which he brought home 5,211 winners.
—
Bernard Fernandez, named to the International Boxing Hall of Fame in the Observer category with the Class of 2020, was the recipient of numerous awards for writing excellence during his 28-year career as a sports writer for the Philadelphia Daily News. "Championship Rounds, Round 4," the fourth installment of Fernandez's four-volume anthology, is now out and available via Amazon and other book-selling outlets.
To comment on this story in the Fight Forum CLICK HERE
A Paean to the Great Sportswriter Jimmy Cannon Who Passed Away 50 Years Ago This Week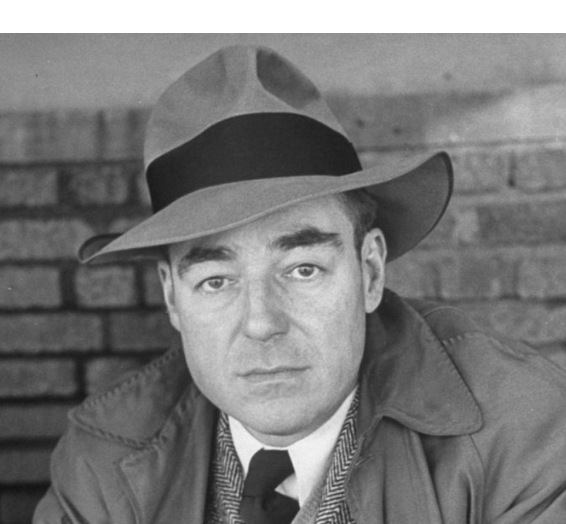 "Of all his assignments," said the renowned sportswriter Dave Anderson, "[Jimmy] Cannon appeared to enjoy boxing the most."
Cannon would have sheepishly concurred. He dated his infatuation with boxing to 1919 when he stood outside a saloon listening to a man with a megaphone relay bulletins from the Dempsey-Willard fight in faraway Toledo. His father followed boxing as did all the Irishmen in his neighborhood. For him, an interest in the sport of boxing, he once wrote, was like a family heirloom. But it became a love-hate relationship. It was Jimmy Cannon, after all, who coined the phrase "boxing is the red light district of sports."
This week marks the 50th anniversary of Jimmy Cannon's death. He passed away at age 63 on Dec. 5, 1973, in his room at the residential hotel in mid-Manhattan where he made his home. In the realm of American sportswriters, there has never been a voice quite like him. He was "the hardest-boiled of the hard-drinking, hard-boiled school of sports writing," wrote Darrell Simmons of the Atlanta Journal. One finds a glint of this in his summary of Sonny Liston's first-round demolition of Albert Westphal in 1961: "Sonny Liston hit Albert Westphal like he was a cop."
In his best columns, Jimmy Cannon was less a sportswriter than an urban poet. Here's what he wrote about Archie Moore in 1955 after Moore trounced Bobo Olson to set up a match with Rocky Marciano: "Someone should write a song about Archie Moore who in the Polo Grounds knocked out Bobo Olson in three rounds…It should be a song that comes out of the backrooms of sloughed saloons on night-drowned streets in morning-worried parts of bad towns. The guy who writes this one must be a piano player who can be dignified when he picks a quarter out of the marsh of a sawdust floor."
Prior to fighting in Madison Square Garden the previous year – his first appearance in that iconic boxing arena – Moore had roamed the globe in search of fights in a career that began in the Great Depression. Cannon was partial to boxers like Archie Moore, great ring artisans who toiled in obscurity, fighting for small purses –"moving-around money" in Cannon's words —  until the establishment could no longer ignore them.
Jimmy Cannon was born in Lower Manhattan. He left high school after one year to become a copy boy for the New York Daily News. In 1936, at age 26, the News sent him to cover the biggest news story of the day, the Lindbergh Baby kidnapping trial. While there he met Damon Runyon who would become a lifelong friend. At Runyon's suggestion, he applied for a job as a sportswriter at the New York American, a Hearst paper, and was hired.
During World War II, he was a war correspondent in Europe embedded in Gen. George S. Patton's Third Army. When he returned from the war, he joined the New York Post and then, in 1959, the Journal-American which made him America's highest-paid sportswriter at a purported salary of $1000 a week. His articles were syndicated and appeared in dozens of papers.
Cannon was very close to Joe Louis. He was the only reporter that Louis allowed in his hotel room on the morning of the Brown Bomber's rematch with Max Schmeling. Louis, he wrote, "was a credit to his race, the human race." It was his most-frequently-quoted line.
In an early story, Cannon named Sam Langford the best pound-for-pound fighter of all time. Later he joined with his colleagues on Press Row in naming Sugar Ray Robinson the greatest of the greats. As for the fellow who anointed himself "The Greatest," Muhammad Ali, Cannon profoundly disliked him. He persisted in calling him Cassius Clay long after Ali had adopted his Muslim name.
It troubled Cannon that Ali was afforded an opportunity to fight for the title after only 19 pro fights. Ali's poetry, he thought, was infantile. He abhorred Ali's political views. And, truth be told, he didn't like Ali because certain segments of society adored him. Cannon didn't like non-conformists – hippies and anti-war protesters and such. When queried about his boyhood in Greenwich Village, he was quick to note that he lived there "when it was a decent neighborhood, before it became freaky."
Cannon's animus toward Ali spilled over into his opinion of Ali's foil, the bombastic sportscaster Howard Cosell. "If Howard Cosell were a sport," he wrote," it would be roller derby."
Cannon frequently filled his column with a series of one-liners published under the heading "Nobody Asked Me, But…" His wonderfully acerbic put-down of Cosell appeared in one of these columns. But one can't read these columns today without cringing at some of his ruminations. He once wrote, "Any man is in trouble if he falls in love with a woman he can't knock down with one punch." If a newspaperman wrote those words today, he would be out of a job so fast it would make his head spin.
Similarly, his famous line about Joe Louis being a credit to the human race no longer resonates in the way that it once did. There is in its benevolence an air of racial prejudice.
Jimmy Cannon was a lifelong bachelor but in his younger days before he quit drinking cold turkey in 1948, he was quite the ladies man, often seen promenading showgirls around town. Like his pal Damon Runyon, he was a night owl. As the years passed, however, he became somewhat reclusive. The world passed him by when rock n' roll came in, pushing aside the Tin Pan Alley crooners and torch singers that had kept him company at his favorite late-night haunts.
Cannon's end days were tough. He suffered a stroke in 1971 as he was packing to go to the Kentucky Derby and spent most of his waking hours in his last two-plus years in a wheelchair. Fortunately, he could afford to hire a full-time attendant. In 2002, he was posthumously elected to the International Boxing Hall of Fame in the Observer category.
Jimmy Cannon once said that he resented it when someone told him that his stuff was too good to be in a newspaper. It was demeaning to newspapers and he never wanted to be anything but a newspaperman. He didn't always bring his "A" game and some of his stuff wouldn't hold up well, but the man could write like blazes and the sportswriting profession lost a giant when he drew his last breath.
To comment on this story in the Fight Forum CLICK HERE
—
Arne K. Lang is a recognized authority on the history of prizefighting and the history of American sports gambling. His latest book, titled Clash of the Little Giants: George Dixon, Terry McGovern, and the Culture of Boxing in America, 1890-1910, was released by McFarland in September, 2022.
Ryan "KingRy" Garcia Returns With a Bang; KOs Oscar Duarte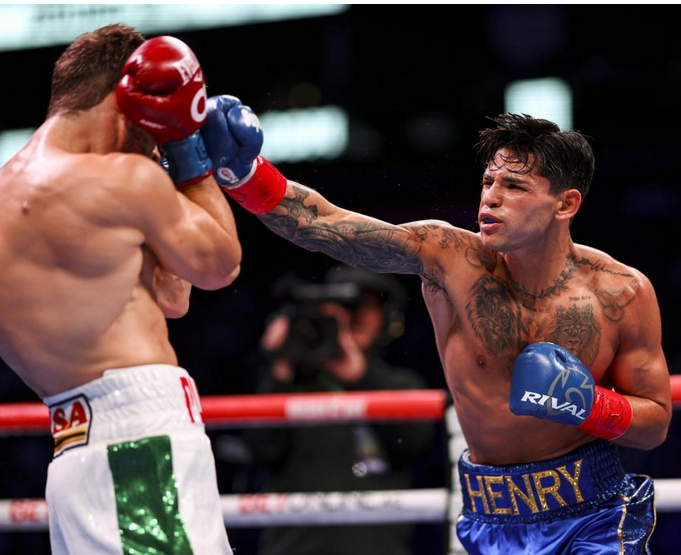 It was a different Ryan "KingRy" Garcia the world saw in defeating Mexico's rugged Oscar Duarte, but it was that same deadly left hook counter that got the job done by knockout on Saturday.
Only the quick survive.
Garcia (24-1, 20 KOs) used a variety of stances before luring knockout artist Duarte (26-1-1, 21 KOs) into his favorite punch before a sold-out crowd at Toyota Arena in Houston, Texas. That punch should be patented in gold.
It was somewhat advertised as knockout artist versus matinee idol, but those who know the sport knew that Garcia was a real puncher. But could he rebound from his loss earlier this year?
The answer was yes.
Garcia used a variety of styles beginning with a jab at a prescribed distance via his new trainer Derrick James. It allowed both Garcia and Duarte to gain footing and knock the cobwebs out of their reflexes. Garcia's jab scored most of the early points during the first three rounds. He also snapped off some left hooks and rights.
"He was a strong fighter, took a strong punch," said Garcia. "I hit him with some hard punches and he kept coming."
Duarte, an ultra-pale Mexican from Durango, was cautious, knowing full well how many Garcia foes had underestimated the power behind his blows.
Slowly the muscular Mexican fighter began closing in with body shots and soon both fighters were locked in an inside battle. Garcia used a tucked-in shoulder style while Duarte pounded the body, back of the head and in the back causing the referee to warn for the illegal punches twice.
Still, Duarte had finally managed to punch Garcia with multiple shots for several rounds.
Around the sixth round Garcia was advised by his new trainer to begin jabbing and moving. It forced Duarte out of his rhythm as he was unable to punch without planting his feet. Suddenly, the momentum had reversed again and Duarte looked less dangerous.
"I had to slow his momentum down. That softened him up," said Garcia about using that change in style to change Duarte's pressure attack. "Shout out to Derrick James."
Boos began cascading from the crowd but Garcia was on a roll and had definitely regained the advantage. A quick five-punch combination rocked Duarte though not all landed. The danger made the Mexican pause.
In the eighth round Duarte knew he had to take back the momentum and charged even harder. In one lickety-split second a near invisible counter left hook connected on Duarte's temple and he stumbled like a drunken soldier on liberty in Honolulu. Garcia quickly followed up with rights and uppercuts as Duarte had a look of terror as his legs failed to maintain stability. Down he went for the count.
Duarte was counted out by referee James Green at 2:51 of the eighth round as Garcia watched from the other side of the ring.
"I started opening up my legs a little bit to open up the shot," explained Garcia. "When I hurt somebody that hard, I just keep cracking them. I hurt him with a counter left hook."
The weapon of champions.
Garcia's victory returns him back to the forefront as one of boxing's biggest gate attractions. A list of potential foes is his to dissect and choose.
"I'm just ready to continue to my ascent to be a champion at 140," Garcia said.
It was a tranquil end after such a tumultuous last three days.
Other Bouts
Floyd Schofield (16-0, 12 KOs) blitzed Mexico's Ricardo "Not Finito" Lopez (17-8-3) with a four knockdown blowout that left fans mesmerized and pleased with the fighter from Austin, Texas.
Schofield immediately shot out quick jabs and then a lightning four-punch combination that delivered Lopez to the canvas wondering what had happened. He got up. Then Scholfield moved in with a jab and crisp left hook and down went Lopez like a dunked basketball bouncing.
At this point it seemed the fight might stop. But it proceeded and Schofield unleashed another quick combo that sent Lopez down though he did try to punch back. It was getting monotonous. Lopez got up and then was met with another rapid fire five- or six-punch combination. Lopez was down for the fourth time and the referee stopped the devastation.
"I appreciate him risking his life," said Schofield of his victim.
In a middleweight clash Shane Mosley Jr. (21-4, 12 KOs) out-worked Joshua Conley (17-6-1, 11 KOs) for five rounds before stopping the San Bernardino fighter at 1:51 of the sixth round. It was Mosley's second consecutive knockout and fourth straight win.
Mosley continues to improve in every fight and again moves up the middleweight rankings.
Super middleweight prospect Darius Fulghum (9-0, 9 KOs) of Houston remained undefeated and kept his knockout string intact with a second round pounding and stoppage over Pachino Hill (8-5-1) in 56 seconds of that round.
Photo credit: Golden Boy Promotions
To comment on this story in the Fight Forum CLICK HERE
Jordan Gill TKOs Michael Conlan Who May Have Reached the End of the Road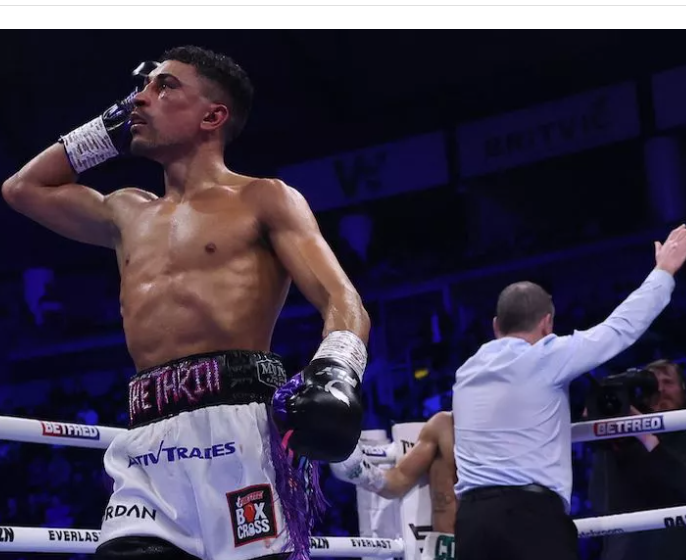 Fighting on his home turf, two-time Olympian Michael Conlan was an 8/1 favorite over Jordan Gill tonight in Belfast, Northern Ireland. Had he won, Matchroom promoter Eddie Hearn was eyeing a rematch for Conlan with Leigh Wood. Their March 2022 rumble in Nottingham was a popular pick for the Fight of the Year. But the 29-year-old Gill, a Cambridgeshire man, rendered that discussion moot with a seventh-round stoppage. It was Conlan's third loss inside the distance in the last 18 months and he would be wise to call it a day. His punch resistance is plainly not what it once was.
It was with considerable fanfare that Conlan cast his lot with Top Rank coming out of the amateur ranks. Tonight was his first assignment for Matchroom and his first fight at 130 pounds after coming up short in two world featherweight title fights. And he almost didn't make it past the second round. Gill had him on the canvas in the opening minute of round two compliments of a left hook and stunned him late in the round with a right hand that left him on unsteady legs.
He survived the round and for a fleeting moment in the sixth frame it appeared that he had reversed Gill's momentum. But Gill took charge again in the next stanza, trapping Conlan in the corner and unloading a fusillade of punches that forced referee Howard Foster to waive it off, much to the great dismay of the crowd. The official time was 1:09 of round seven.
Released by Top Rank, Conlan trained for this fight in Miami, Florida, under Pedro Diaz, best known for rejuvenating the career of Miguel Cotto. But the switch in trainer and in promoter made no difference as Conlan, who won his first amateur title at age 11, was damaged goods before he entered the ring. It was a career-defining victory for Jordan Gill (28-2-1, 9 KOs) who was not known as a big puncher and was returning to the ring after being stopped by Kiko Martinez 13 months ago in his previous start.
Semi-wind-up
In the "Battle of Belfast," undefeated welterweight Lewis Crocker seized control in the opening round and went on to win a lopsided decision over intra-city rival Tyrone McKenna (23-4-1). Two of the judges gave Crocker every round and the other had it 98-92, but yet this was entertaining fight in spurts. McKenna had more fans in the building, but Crocker, seven years younger at age 26, went to post a 7/2 favorite and youth was served.
Other Bouts of Note
Belfast super welterweight Caoimhin Agyarko, who overcame a near-fatal mugging at age 20, advanced to 14-0 (7) with a 10-round split decision over Troy Williamson (20-2-1). The judges had it 98-92 and 97-93 for Agyarko with a dissenter submitting a curious 96-94 score for the 31-year-old Williamson who wasn't able to exploit his advantages in height and reach.
Sean McComb, a 31-year-old Belfast southpaw, scored what was arguably the best win of his career with a 10-round beat-down of longtime sparring partner Sam Maxwell. Two of the judges gave McComb every round and the other had it 99-88. McComb, who has an interesting nickname, "The Public Nuisance, successfully defended his WBO European super welterweight strap while elevating his record to 18-1 (6). The fading, 35-year-old Maxwell, a former BBBofC British title-holder, lost for third time in his last four starts after winning his first 16 pro fights.
Photo credit: Mark Robinson / Matchroom
To comment on this story in the Fight Forum CLICK HERE