The Fifty Greatest Flyweights of All Time: Part Five 10-1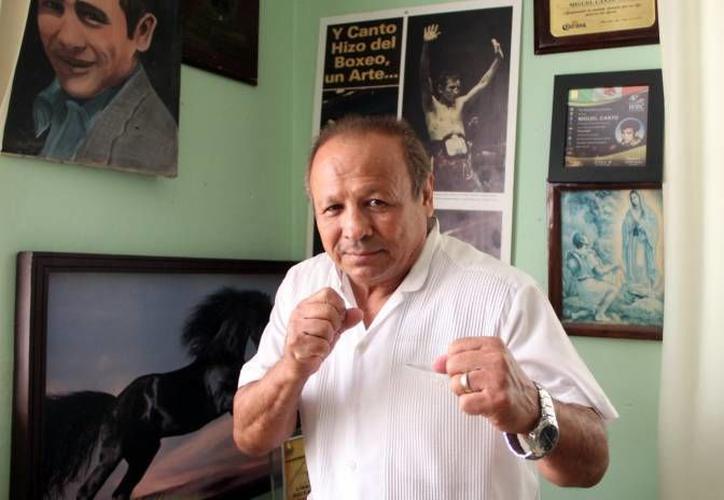 The Fifty Greatest Flyweights of All Time: Part Five 10-1
No lengthy introduction to this one; the word count is out of sight.  It may be worth your while to take it on in two or three chunks.
No apologies though.  These men deserve their due.
One final time, for the sweet souvenir:
This, is how I have them:
#10 -Masao Oba (1966-1973)
 Masoa Oba (or Obha), held a strap but never held the legitimate flyweight championship of the world; this did not stop him going on one of the most incredible tears in the history of 112lbs.
It would have been something special to have been ringside on the second of September 1968 when Oba clashed with Susumu Hanagata over ten rounds in what would be his last ever loss in what sounds a wonderful fight. These two would meet again further down the line but first for Oba came a chance to gain valuable experience as a stay-busy opponent for beltholder Bernabe Villacampo. Whoever selected Oba presumably did not keep his job as the Japanese out-worked and out-fought his more illustrious opponent over ten rounds in a non-title fight. The shockwaves resounded throughout the division.
Shockwaves deepened to seismic alarm when Oba was rewarded with a shot at a strap of his own against Berkrerk Chartvanchai. He dominated that fight from the first bell, working with fast pressure and fast hands, showing a narrow leading frame to his opponent, keeping his guard low but mobile. Such was his speed of thought and movement that a jab could be supplanted by an uppercut to the gut or a straight right hand from a suddenly square stance; there were chinks in his armour but taking advantage of them supposed that his thrilling offense could not close that gap. This was not the case against Chartvanchai, nor ever again in Oba's career.
After two pinpoint lead right-hands broke Cahrvanchai's resistance in the thirteenth, Oba took on the monstrous Betulio Gonzalez. Their fight was an extraordinary one, exquisitely narrow rounds early being decided by single right hands bought by an active left jab – but the late rounds were war. Oba emerged with a slender decision, contrary to my card of 8-7 for Gonzalez, but contrary, too, to rumors of a robbery.
Oba continued to tear up the division, winning another excellent fight with contender Fernando Cabanela in 1971, avenging himself upon the wild Susumu Hanagata the following year, then stopping Orlando Amores with precision punching before surviving a disastrous first round to stop the great Charchai Chionoi in the twelfth in 1973. It was a divisional massacre.
Perhaps it would have stopped there regardless; Oba had begun planning an assault on the bantamweight division. Alas, it was not to be. Aged just twenty-three his life was claimed in an automobile accident.  The similarities between his tragic demise and that of Salvador Sanchez – both dying at twenty-three, both in car accidents – are eerie.
Other Top Fifty Flyweights Defeated: Chartchani Chionoi (Top Ten), Betulio Gonzalez (15)
#09 – Pone Kingpetch (1954-1966)
There was something fragile and beautiful about Pone Kingpetch's boxing, all movement and the search for proper distance, but there was nothing fragile about the man himself; he was durable and aggressive when called upon.
He took the title from a living nightmare in the ring and a man who should have enjoyed a mighty style advantage over him, Pascual Perez. Perez, who had reigned as king for six years, traveled to Thailand in 1960 and like so many before and after did not find it to his liking. Kingpetch took the title by virtue of a split decision, now seen as controversial in some corners. The surviving footage shows otherwise. The two fought a desperate struggle for territory, dominated in spells by Pone's smart boxing moves launched from a height and reach advantage so large as to appear comical. Nat Fleischer's 146-140 card in the Thai's favor seems not unreasonable.
Either way, Pone put any debate to bed in an immediate rematch which he dominated and won by eighth round TKO. A persistent and sapping right hand to the body dropped Perez's guard and resistance.
Kingpetch staged quality defenses against Mistunori Seki and Kyo Noguchi in 1961 and 1962 before being blasted out of his title by the great Fighting Harada in Japan. Harada, essentially a turbo-charged Perez, was sensational in taking out the champion but the Thai's handy lead at the time of the stoppage inspired him to come again. In an immediate rematch in Thailand, Pone reclaimed his title in a fight for the ages.  No clash of styles was every more beautifully rendered as Pone found a way amid a storm of Harada leather. It was a deployment as old as the sport itself, a stiff, straight left, a right-hand lead to the body in close, a counter-right to the head. He was arguably a little fortunate in getting the nod, but it was no robbery.
The champion then met yet another great fighter in the shape of Hiroyuki Ebihara who blasted him out in a round and seemingly ended his career. Pone gathered himself once more and squeaked past Ebihara via decision in a glorious past-prime throwback.
That made him a three-time flyweight champion, an incredible achievement. As elegant a boxer as ever graced the division, Pone Kingpetch also brought steel and heart and a right hand to the body Joe Frazier would have given his bad eye for.
Other Top Fifty Flyweights Defeated: Pascual Perez (Top Ten), Hiroyuki Ebihara (12), Fighting Harada (40).
#08 – Chartchai Chionoi (1959-1975)
Chartchai Chionoi, the Thai legend, seemed just another fighter when he turned professional way back in the late fifties; by the time of his retirement in 1975 he stood as a two-time flyweight champion of the world and had contested no fewer than thirteen world-title fights. He was a true giant of the flyweight division and perhaps the first incontrovertibly great pure flyweight we have run across.
Glimmers of his huge potential shone through in his torrid 1963 defeat of Japanese 112lb champion Seisaku Saito in an otherwise bad year. Chionoi's flirtation with a world ranking was inconsistent and the level of opposition he met equally so. It was something of a surprise then, when upon tempting champion Walter McGowan out to Thailand in December of 1966 he lifted the world flyweight title on a seventh-round stoppage. Chionoi's strategy was machismo of which a Mexican would have been proud, essentially allowing McGowan to hit him with that cultured left while exacting a terrible tole with his own right. McGown was physically unequal to the task and crumbled not once but twice, the rematch in London especially exemplary of the Thai's brutal style.
For his second defense, Chionoi matched a man more able to dish out punishment than even he in the form of Efren Torres. The two staged a trilogy in a storm of blood, their first fight, one of the great flyweight championship contests, as savage as anything that can be seen in the modern annals of boxing history, won by the champion in thirteen rounds. A terrible eye-injury cost him the title in their 1969 rematch, but Chinoi returned, mercilessly, thrillingly, once more dominating his brutal opponent with a body-attack now honed to perfection.
But three fights against so vicious an opponent perhaps signaled the end of his absolute prime. In his very next he seemed shell-shocked and vulnerable in dropping his title to Erbito Salavarria.
Even so marred he was capable of foiling the plans of elite fighters, ranked men, and his resume is bolstered by the names of Fritz Chervet, Berkeret Charvanchai and Berabe Villacampo.
A short-lived though devastating peak and some patchy results before and after his two-pronged tear at the division mean the upper limits of the top ten are beyond him, but there isn't another fighter on this list quite like Chionoi.
Other Top Fifty Flyweights Defeated: Efren Torres (26).
#07 – Pancho Villa (1919-1925)
Perhaps the grinding poverty from which Filipino Pancho Villa rose cannot be understood by a western witness.
Abandoned by his father while just a baby, Villa was raised his mother, who herded goats. As a child he traveled to Manila to make his fortune and fell in first with a scraped together boxing gym and then an American promoter with connections to the uncrowned king of boxing, Tex Rickard. Rickard threw the exotic Villa to the wolves amid some questionable promotion and he was roundly beaten by the excellent Abe Goldstein and the brilliant Frankie Genaro – but Rickard took one look at the delight with which the New York crowd greeted Villa's free-swinging hard-punching style and saw dollar signs.
When Genaro again bested Villa 1922 but priced himself out of a meeting with American champion Johnny Buff, Villa happily stepped in to fill the void. He had studied carefully and tempered his unhinged style for the American ring.  The first round he boxed against Buff was careful and thoughtful; by the seventh Buff was described as "a crimson smear"; in the eleventh his corner tossed the towel.
Four months after besting ring legend Frankie Mason, Villa found himself in the opposite corner to a ring immortal, "The Might Atom" Jimmy Wilde, tempted out of retirement for one last payday in defense of the flyweight championship most still hung upon him.
Villa controlled their contest completely. He out-fought and out-sped the older man from the third through to the desperate ending when he dropped a right-hook from a square stance depositing Wilde unconscious on his face
Wilde was magnanimous in defeat naming Villa a "great fighter who will make a good champion."
This can be disputed. Already, Villa's head was being turned by the bigger purses (and meals) that could be had at higher weights. At flyweight he staged three title defenses, the best of them against the excellent Benny Schwartz who he out-pointed over fifteen. His failure to defend against Genaro would be a black mark against his reign but articles were signed for that fight before first one, then the other pulled out with injury. His tragic death at just twenty-three cheated us of a final showdown
Regardless he stormed the United States with a style as violent and irresistible as his fistic descendant Manny Pacquiao and his destruction of Jimmy Wilde, albeit a faded version, carries serious weight of legacy.
Other Top Fifty Flyweights Defeated: Jimmy Wilde (Top Ten).
#06 – Benny Lynch (1931-1938)
We reach a false summit with this inclusion. Seven through ten are debatable with eleven through fourteen but here, at six, we meet our first indisputable member of The Ten. Benny Lynch, the greatest fighter to hail from my home country of Scotland, is a lock.
Born in the Gorbals, a notorious housing scheme in the city of Glasgow, Lynch was plying his trade in the thriving smokehouses and gyms of the Scottish fight scene by twenty-one. He would box almost one hundred and thirty contests. He would be stopped only in his last by which time he was weighing at a pudgy, drink-sodden 131lbs. An iron-born man hailing from an iron-hued city he had a natural talent and aptitude for fighting.
Emerging from the terrible chaos that shrouded the division after the abdication of Fidel LaBarba in 1927, Lynch positioned himself for glory in dusting two elite French fighters tempted to Glasgow for sizeable purses, Maurice Huguenin and Valentin Angelmann. His reward was a crack at a piece of the splintered title against Jackie Brown. Brown, an ironman in his own right, had been knocked out just once five years earlier, a slight for which he had three times wrought vengeance. Having boxed Lynch to a draw up at bantamweight earlier in 1935, experts predicted Brown would keep matters tight once more.
What they witnessed instead was a man possessed grasping his opportunity with both gloved hands.
Lynch was a puncher. Not a darkening one, but nor just a stinging one, as Brown would no doubt attest after swallowing a flush, trapping right hand in the first. Brown got up but he was never again in the fight. Lynch now deployed his left-hook, an even better punch, and Brown was sent to the canvas thrice more in the first. Keeping count of the knockdowns in the second round is difficult; the referee finally rescued the hapless Brown and Lynch had arrived.
Elite flyweights Pat Palmer and Syd Parker followed in the trail of destruction, both succumbing to stoppages, the former falling short in a crack at Lynch's strap. Despite his dominance, the title picture remained confused. Lynch righted it early in 1937 when he bested Small Montana, the only other man on the planet with a claim to the flyweight championship. Their fight was not one-sided. Montana was perhaps the only man to really stretch the primed flyweight Lynch and according to the United Press report he stretched him all the way to the final round where their toe-to-toe battle was settled in the Scotsman's favor.
He swaggered in the ring and launched sudden two-fisted attacks that sometimes seemed to have no end in front of crowds of forty-five thousand. He had it all.
In October of 1937, already beginning to slip, he met the murderous punching Peter Kane, then 42-0, my selection as the division's #2 puncher; Lynch took what he had to give, doubled it, and banged him out in thirteen rounds. Harder, faster, better. But he would never make the flyweight limit again. Alcohol had overtaken him.
By 1938 his career was over. In 1946, just thirty-three years of age, Benny Lynch was dead.
Other Top Fifty Flyweights Defeated: Peter Kane (16)
#05 – Frankie Genaro (1920-1934)
 Olympic Gold medal winner Frankie Genaro may have been a genius. We have to be careful about hanging such a tag upon him as footage is at a premium, but nothing I have ever read has dissuaded me from this thinking.
His brilliance was most crystallized in his three-fight series with the puncher Pancho Villa. Just as the fights between Pone Kingpetch and Fighting Harada represent a special clash of styles so too do these two seem to have sapped the far reaches of excellence from one another although here there was never any doubt as to who was the better; Genaro took the decision from Villa on all three occasions.
The first meeting between the two was staged in July of 1922 and Genaro took full advantage of Villa's green streak. In possession of a clean style advantage over his ultra-aggressive foe, Genaro slipped and countered his way through a relatively one-sided fight to take the decision. In their second contest fought just two months later, Genaro was again dominant, this time buzzing the Filipino with a right hand before unleashing his left hook to romp home once more, "a perfect combination of skill, superb boxing ability, speed and cool" according to one ringside reporter. This last cannot be underestimated. A hundred-fight career brought its share of disaster down on Genaro's head but his temperament and the resulting generalship was never in doubt.
The two met for a third and final time early the following year and this time the fight was scheduled for fifteen rounds and was much, much closer. Genaro suffered a deep cut under his left eye and both fighters ended the contest smothered in his blood; but it was Genaro, who dominated the final three rounds with quick-handed forays into his opponent's sphere of influence followed by slick retreats barracked by counterpunches.
Despite his domination of their trilogy, Villa remained a thorn in Genaro's side, losing to him but somehow beating him to fights with both Johnny Buff and Jimmy Wilde. Villa then failed to defend against his old tormentor. Their third fight is close enough to wonder if Genaro would have slipped over the line against the Pinoy puncher in a title match, but he certainly would have started a favorite and unquestionably deserved the shot.
Genaro's great career was defined by Villa but not limited to it. He also defeated many of the finest names from a stacked era, many of whom will be familiar to readers of this series. Valentin Angelmann, Ruby Bradley, Emile Pladner, Steve Rocco and Frenchy Belanger all fell to him at one time or another (though Pladner also once defeated him with an exquisite sounding liver-shot). It adds up to one of the most rendered resumes in the history of flyweight boxing.
Other Top Fifty Flyweights Defeated: Emile Pladner (37), Pancho Villa (Top Ten)
 #04 – Midget Wolgast (1925-1940)
Midget Wolgast is my favorite flyweight and one of the most outrageous geniuses in fistic history.
His boxing was a conflation of dizzying defensive wonderment and mobile attacking brilliance. He feinted his opponent forwards and then moved off the center line, his reactions to any offensive foray a deft slip of the head, but his own offense was what differentiates him from other great defensive wizards. Wolgast, who couldn't punch to save himself, was unequalled at firing off blows while on the move. His bread and butter was a shrill pop of a jab that he could land whatever angles his balletic movement inflicted, and as an improviser he was second to none. When the time came to scrap, he moved in on his man, head working like a cat about to strike, deploying a swarming body attack of dizzying variety. He was a jazz musician in a pair of boxing gloves, and domination was his art.
This combination made him a disaster for a generation of flyweights. Willie Davies slumped to multiple defeats against him, their rivalry perhaps the greatest in flyweight history as Davies time and again pushed his opponent to the very brink but succeeded in winning only one of their seemingly endless stream of combats.
Even the beginnings of his excellence are too long to tell but his 1927 win over Izzy Schwarz is as fine a place as any. Schwartz was an experienced ring veteran, only moths away from his own victory over Willie Davies and a year from his victory in an NYSAC title fight, but he couldn't do anything with Wolgast who, though still a teenager, clearly out-pointed him. Billy Kelly, Ernie Peters, Phil Tobias, Ruby Bradley, Johnny McCoy, Jackie Brown – the list of made men he befuddled starts here and just rolls on and on. In fact, no fighter on this list defeated more Ring or TBRB ranked contenders than Wolgast.  That bears repeating – Wolgast defeated more ranked men than any other fighter accounted for on this list, which is the same as saying anyone.
What keeps him from the top three is the brute fact that he never won the lineal title. Wolgast had a chance, too, albeit against Frankie Genaro. Both Genaro and Wolgast held a strap meaning neither held full recognition. They met in 1930 for all the marbles in a fight that could and perhaps should have been the greatest flyweight contest of all time – but failed to deliver. In a turgid, nervous affair, Genaro scored with a beautiful right hand in the second which closed Wolgast's eye and set the fleet-footed magician on the run. He boxed and Genaro brought pressure, Genaro closing the stronger of the two to split the judges three ways for the draw. There would be no rematch.
He did lift a strap against the deadly Black Bill aged just nineteen, an incredible feat, but one that isn't quite special enough to ghost him into the company of the three greatest champions in flyweight history.
Other Top Fifty Flyweights Defeated: Corporal Izzy Schwartz (50), Black Bill (36), Willie Davies (11).
#03 – Pascual Perez (1952-1964)
Pascual Perez was one of the great champions at any weight, winning the title and then successfully defending it on nine separate occasions. This was a part of his incredible 53-1-1 run, stretching from his first fight in 1955 and up to 1960, when the great Pone Kingpetch finally unseated him.
Nor was Perez protected by the Argentine tradition of giving out draws to favored sons. Perez came up hard, boxing under different names and in different cities. Not until he had traveled to Japan and unseated then champion Yoshio Shirai did he become a true hero to his people and a regular at the Estadio Luna Park in Buenos Aires.
The night he took the title in Japan, Perez weighed a mere 107lbs although standing just under five feet tall he was in no way underweight. Perez would never scale the full poundage of the flyweight limit in his championship career, though he embodied the style and did the damage of a much more physical man. A jab both probing and thudding was primary but he was happy to lead with the right hand and did so often; his wheelhouse was the inside, where he kept low and slugged to the body before deftly moving upstairs with the same savage precision. His demeanor in the ring was one of fierce attention.
That attention laid low numerous world class flyweights. When Shirai tried to fight fire with fire in their third and final match, Perez retired him with a right hand of fearsome construction. The same punch rudely dispatched the highly ranked Young Martin who was counted out tangled in the ropes like a drunkard. Dai Dower, ranked number two, lasted just seconds before a right hand from a square stance dropped him for the count. Men who lasted the distance often wish they hadn't, and Perez travelled to Japan, Venezuela and The Philippines to make them feel that way.
His was the most complete championship run in the history of the division.
Almost.
Other Top Fifty Flyweights Defeated: Yoshio Shirai (23)
#02 – Jimmy Wilde (1911-1923)
Jimmy Wilde is number two.
Reader expectation has been an interesting aspect of this series and it is likely no aspect of reader expectation will be more well-worn than that of Jimmy Wilde as the greatest flyweight in history. He was ranked as such by Nat Fleischer, Charley Rose and Herb Goldman. Why then, is he not rated as such here?
Well, Wilde was inarguably the greatest ever to box at flyweight but my argument is he was not the greatest ever flyweight boxer. The true answer, as always, is criteria, and mine can be read in Part One, but the most important aspect to be remembered here is that this list "only considers fights that took place at flyweight or just above." It is a flyweight list in the truest sense of the word.
What Wilde did against opponents weighing in above the flyweight limit is absurd. His victory over Joe Conn, a featherweight on a hot streak, is perhaps the single greatest win in boxing history. The temptation to credit him in this division while weighing twenty pounds less than Conn is enormous; but it wasn't a flyweight match – it was a featherweight contest. In unpicking the history of the 112lb division then, it has no relevance.
As for Wilde's championship legacy at flyweight, tracing it can be difficult. For some it can be counted from 1914 when he lifted the European flyweight title against the even smaller Eugene Husson, a fight also billed for something called the "gnatweight title". This claim is muddied by Wilde's fellow Welshman Percy Jones, who held the IBU flyweight title at the same time; he then lost that title to Joe Symonds. The Symonds claim was in turn strengthened over Wilde's because he was able to defeat the man who stopped Wilde in 1915, Tancy Lee. When the gnatweight title fell by the wayside the European title Wilde held remained just that in terms of lineage while the IBU title, held by Jones and Symonds, morphs into the flyweight title – meanwhile America recognized no meaningful flyweight champion, though a "paperweight" title did receive fleeting attention.
This mess was born of a semi-recognized division which was as geographically moribund as any, ever.  Within this division, Wilde's early involvement in competition for such titles does speak to his elite status, but he cannot be named the best flyweight in the world until 1916, especially not in the light of his knockout loss to Lee in 1915. From 1916 to 1920 though, Wilde was the Don and the single most significant flyweight in history as he became the overseer of the division's transition to legitimacy. His destruction of Sid Smith in eight rounds at the very end of 1915 was the true beginning of his evisceration of the poundage and when he later turned the same trick in just three his confirmation as prime was complete. In between he forced Symonds to quit after twelve before avenging himself upon the still red-hot Tancy Lee that June. When he hosted and dominated American flyweight Young Zulu Kid in December his claim was beyond dispute. The first undisputed flyweight world champion had been born.
Between 1911 and 1920, Wilde lost to just one flyweight in Lee and he butchered his nemesis in the return. It is possible to be ultra-critical in pointing out that Wilde's record of 1-1 against the best fly he ever fought is perhaps a little unsatisfactory, but Wilde settled their dispute in that second fight. This streak is the hottest of the hot and is paralleled only by the very greatest fighters in history; certainly, no flyweight ever recreated it. Wilde did all of this boxing with a savage abandon and in a style recreated by no fighters either before or after him, a style birthed by his power, his heart and his granite chin.
But questions concerning the depth of his opposition remain and his record in true championship fights, impressive in a generous reading at 7-1, pales in comparison to our divisional number one.
Other Top Fifty Flyweights Defeated: Sid Smith (44), Joe Symonds (43), Tancy Lee (22).
#01 – Miguel Canto (1969-1982)
15-1-1 are Miguel Canto's corresponding numbers in lineal championship fights.
Pongsaklek Wonjongkam managed more defenses but readers of this series will be familiar with the problems his record presents – Canto racked up his numbers in perhaps the deepest flyweight division that has ever been mustered. Were he a heavyweight he would be lauded as the third great alongside Muhammad Ali and Joe Louis.
Canto first grabbed attention in 1971 when he defeated Alberto Morales, a capable and durable little fighter who was pitted against the same massed ranks of Mexican flys that Canto had to negotiate. A world-level fighter he held the Mexican title and would go on to defeat future champion Guty Espadas, but in three attempts he couldn't undo the little magician. Canto had named himself the exceptional talent out of Mexico and a title-challenge was his reward.
But the title was in the possession of Betulio Gonzalez, an exceptional talent, as readers of Part Four will remember; Canto learned his final lesson on Venezuelan soil against Gonzalez dropping a close, questionable decision. The fighter that emerged from that majority decision defeat stood on a rare peak.
In 1975 Canto established a lineal claim in as dominant a fashion as any fighter, ever. In January, March and May of that year he defeated the three other most significant flyweights in the world: Shoji Oguma, Ignacio Espinal and Betulio Gonzalez. These five short months shape his flyweight legacy.
Against Oguma, a surging southpaw pressure-fighter who had the great gift of timing his rushes to cause maximum inconvenience to his opponents, it was the night of the right hand, a punch the Mexican used to tattoo his opponent's head, gathering points. In his rematch with Gonzalez, Canto put on what may have been the greatest left-handed clinic in boxing history, which he repeated in their third and final match. His jab and hook hit the heights of pure rhythm and despite the majority decision won by distance and at a canter; no result could have more firmly underlined the enormous strides he had taken since their first fight.
Oguma, who Canto defeated three times in total, was horrified by that first decision loss questioning, much like Dick Tiger or Jake LaMotta before him, how he could have lost if he hadn't been hurt? He reveals in this remark Canto's great weakness. He never could punch, and of his swathe of title defenses only one was won on a stoppage.
But Canto wove this weakness into genius. The most interesting champions are always the ones who build upon their shortcomings and Canto is perhaps the shining example. When you can't hit, every punch matters; Canto's solution did not call for the wild stylings of Nico Locche nor the poor economy of Willie Pep. He riffed on technical excellence and you have to watch him carefully to see the magic as he gave ground in ever decreasing increments to slowly take control of the range or when boxing a great fighter like Betulio Gonzalez so slightly off the line that Gonzalez fights the whole fight as though he were on it. His elegance in taking his greatest failing and designing a fight that meant it just didn't matter is more beautiful, more storied, more layered, than any puncher trying to trap a crafty contender onto a right hand.
But there was Mexican in him too. Past prime Canto took on a future champion, the puncher Antonio Avelar and went straight into the trenches with him. Canto was a fine infighter and the instincts of his blood were intact.
That fight was Canto's final fling as a genuinely great fighter, and he had already lost a step. He lost his title to Chan-Hee Park in 1979 and although he was arguably a little unlucky in the return bout out in Japan, his time had passed. He had all but cleaned one of the truly great divisions.
That's what truly great fighters do.
Other Top Fifty Flyweights Defeated: Gabriel Bernal (46), Shoji Oguma (31), Betulio Gonzalez (15).
For those of you who have read this series from first to last, I thank you.
Check out more boxing news on video at The Boxing Channel 
To comment on this story in The Fight Forum CLICK HERE
Teddy Atlas, Keeper of His Late Father's Flame, Called to a Higher Mission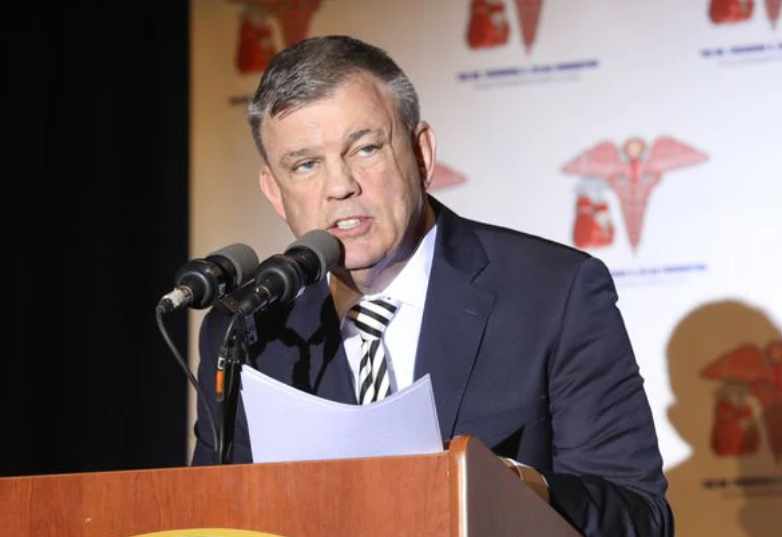 STATEN ISLAND, N.Y. – What people see, and hear, is not always what they get or expect. That is especially true of Theodore A. Atlas Jr., whom the world at large, and particularly the boxing world, knows as a first-rate trainer of fighters and an astute, opinionated longtime analyst of the sport for ESPN and for four Olympics televised by NBC.
For most individuals who have fully devoted themselves, or nearly so, to the sweet science, there can be no greater point of pride than to be inducted into the International Boxing Hall of Fame, which Teddy Atlas was on June 11 of this year in the Observer category. But for a very select few individuals even that signal achievement must yield precedence to a higher mission and purpose which more clearly defines who and what they are as human beings.
So, for those whose sensory perceptions of this special man are limited to his commendable corner work and heavy Staten Island accent, be advised that, as much as he loves boxing, the greater measure of who he is was on display here Thursday night at the Hilton Garden Inn. At the 23rd annual Teddy Dinner, the founder, chairman and driving force behind the Dr. Theodore A. Atlas Foundation was again at his persuasive best, urging diners to again open their hearts and minds to those less fortunate. The dais again was filled with like-minded celebrities who gladly lend their time and prestige to such a worthy ongoing project.
Recently retired ESPN broadcaster Bob Ley, who received an award named after the late journalist Jack Newfield, was making his first appearance at the event and he was visibly moved by tales of pain eased, wrongs righted and hope restored.
"I had heard this much about this dinner, and it was totally undersold to me," Ley said. "This is an experience. These incredible stories, anecdotes, human tales, (are about) making a difference. Teddy Atlas, the man, he makes a difference. Jack Newfield made a difference. He was driven by his principles. To be here tonight, in this company, and to accept an award in Jack Newfield's name, is to me a great honor."
To have a better understanding of the charitable principles which have arguably made Teddy Atlas Staten Island's most prominent citizen and resident angel of mercy, it is required to know the history of his late father, Dr. Theodore A. Atlas, a physician who over decades unselfishly became a local legend. Dr. Atlas dispensed his time, more than a little of his own money and especially his genuine concern for his patients, especially the poor, and even more especially the children of the poor. His level of compassion must have seemed bottomless to those residents of this comparatively unglamorous borough of New York City who seldom are served much when life's better things are handed out.
Dr. Atlas waded through snow drifts and climbed through windows to deliver babies during winter's worst storms; he went into the projects to provide needed medical services while other doctors refused to go there, and on Wednesdays he used blankets and pillows to make makeshift beds in his office and performed tonsillectomies on patients who could not afford to pay for surgery. He founded two hospitals whose first function was not to ascertain how much and how soon their patients will be able to pay for the services they received. He served his community for 55 years until his death, at 88, in 1994, leaving a void so wide it must have seemed impossible to even consider the possibility it could ever be bridged.
But Teddy Atlas, his father's son and namesake, was determined that the legacy of the dad he held in such towering esteem not fall into disrepair. He established the Dr. Atlas Foundation in 1997, whose modest early successes have, if anything, matched or even exceeded those of the original Theodore A. Atlas, in no small part because of the platform that boxing has afforded him.
Like his father, Teddy, well-known for his work in boxing, would prefer not to take credit for all the good deeds made possible by the Dr. Atlas Foundation. But that credit comes nonetheless from the recipients of those good deeds, who understand that Teddy, although assisted by so many devoted friends and supporters drawn to the cause, is no mere figurehead. As has been the case with the many accomplished fighters with whom he has worked, such champions as Michael Moorer (who was in attendance), Wilfred Benitez, Simon Brown, Joey Gamache, Donny Lalonde, Barry McGuigan, Tracy Harris Patterson, Timothy Bradley and recently dethroned WBC light heavyweight titlist Oleksandr Gvozdyk (also in attendance), Teddy is a hands-on, all-in, heart on his sleeve kind of guy when it comes to his interaction with those who come to the Foundation seeking assistance.
So diners learned of the two severely impaired children who found reasons to smile after they received motorized wheelchairs furnished by the Foundation; the single mother of four, one autistic, who feared she would be forced to live in a city shelter because she had fallen behind in her rent, until the Foundation stepped in; and another mom, with a son inflicted with muscular dystrophy, whom Teddy said was his "hero."
"Her husband, obviously not a hero, took off" after his son's disability was diagnosed," Teddy said. "She was no longer able to bathe him properly in her small apartment bathroom. She needed a handicap setup put in. She was also sick, and she was living on her Social Security disability check." Yep, the Foundation provided her with what she needed to get by.
You think there's pressure to win a fight which seems lost in the prize ring? To sink a couple of free throws when there's only a second or two on the clock and you're down a point? To make that 15-foot putt with the green jacket that goes to the Masters champion on the line, and a national TV audience watching? Well, yeah. But pressure comes in many forms for many people, and in many ways.
"We all feel it, and we all are impacted by it, and we all react differently to it," Teddy said. Of the aforementioned cases mentioned in this story, and others, the pressures can be enormous. But they can be alleviated by the people like Teddy Atlas, his cadre of Foundation workers and the hundreds of diners who attend his dinner not only for a good meal but for the opportunity to also do what they can to bring a little light into the darkness of despair.
"These pressures can also be a privilege, our privilege, our gift, that we are lucky enough and blessed enough to be able to make a difference in people's lives, to sometimes awaken them from their individual nightmares so they can have hope to feel loved and care off," he continued.
For all his excitability on-camera, Teddy's multifaceted nature includes the gentle soul of a poet. While he was in Philadelphia for two months, preparing Gvozdyk for a sure-to-be-difficult Oct. 18 unification showdown with IBF champ Artur Beterbiev, a bout won by Beterbiev on a 10th-round stoppage, Teddy wrote a quite literary message to his guy, which he intended to be relevant regardless of the outcome. But the message conveyed really applies to everyone, as he told his audience.
"There is a darkness that one works into, knowing there is risk and uncertainty waiting for them," it begins. "But there is also a certain light that can be found through the dark, an understanding that comes from having gone to the inner caves of one's self and discovering what is there. That journey can create a path, that can lead to new and greater places that would not have been possible before.
"The courage it took to walk into this place allows you to now leave with a lantern of knowledge and awareness that will forever provide a beacon of light, wherever you go. You will be a champion. Again."
For those interested in contributing to the Dr. Theodore A. Atlas Foundation, donations can be sent to 543 Cary Avenue, Staten Island, N.Y. 10310.
Photo credit: Jason Paderon
Check out more boxing news on video at The Boxing Channel 
To comment on this story in The Fight Forum CLICK HERE
Avila Perspective, Chap. 74: Cancio, Wilder, Santa Cruz and More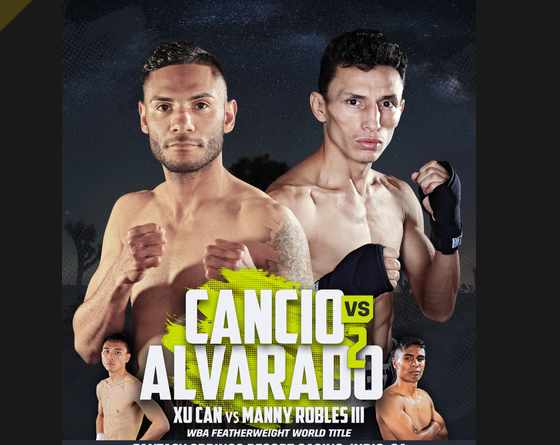 Cancio vs. Alvarado, Wilder vs. Ortiz, Santa Cruz vs. Flores and More
Casinos are getting rich and boxing fan grunts are getting slightly frustrated.
It's the big guys versus the little guys on Saturday with heavyweights in Las Vegas and featherweights in Indio, California going head to head in separate shows.
If only I could be in two places at once.
Let's start with the little guys as WBA super featherweight titlist Andrew Cancio (21-4-2, 16 KOs) and his jackhammer hands defends against former foe Rene Alvarado (31-8, 20 KOs) at the Fantasy Springs Casino in Indio. DAZN will stream the Golden Boy Promotions fight card.
They clashed once before in 2015 with the Cancio winning by technical knockout in the eighth round due to a cut from a punch suffered by Alvarado. Until the stoppage, it was fierceness at its best.
"I wanted to give him (Alvarado) another chance," said Cancio who still has his day job breaking cement with a jackhammer. "He deserves it. Who knows if I would have won if not for the cut?"
Cancio is a cool customer.
Also on the same card will be China's Can Xu (17-2, 3 KOs) defending the WBA featherweight title against Manny Robles III (18-0, 8 KOs), the son of trainer Manny Robles Jr. who works with IBF, WBA, WBO heavyweight champ Andy Ruiz.
Xu, who only has a couple of knockouts, can't help from being involved in wars. He endured hell and back against Puerto Rico's Jesus Rojas in his last U.S. appearance at the Toyota Center in Houston back in January. Now he gets Robles who has improved tremendously since his pro debut at the same venue back in 2012. It was not an impressive moment. But he's slowly and determinedly added more skills in the last seven years. Now he's 25 years old and has his man strength. It makes a major difference.
Another interesting return match features Rashidi Ellis (21-0, 14 KOs) against Eddie Gomez (23-3, 13 KOs) at the same venue as their first encounter. That first fight only lasted one brutal round. Can Ellis duplicate his first victory over the Bronx fighter?
Las Vegas
Speaking of rematches, WBC heavyweight titlist Deontay Wilder (41-0-1, 41 KOs) has to reload when he meets Cuban challenger Luis Ortiz (31-1, 26 KOs) at the MGM Grand in Las Vegas. FOX pay-per-view will televise the PBC fight card. It's been 20 months since their first clash ended in a knockout win for Wilder.
For those unaware, Wilder has held the WBC version of the title for almost four years and that includes nine title defenses. All but one has ended by knockout and the one that got away (Tyson Fury) will be his new date should he prevail against the southpaw Ortiz.
Wilder has pure athleticism and has added more technique each time he jumps in the boxing ring. The first time I witnessed Wilder in person was at the Tropicana Hotel in Las Vegas back in 2010. He's improved immensely since that time. I saw him later that year at Fantasy Springs. He traded knockdowns with Harold Sconiers and actually could have lost that fight, but the referee missed a crucial knockdown. Wilder could not get up and had there been a count, he would not have survived. But sometimes you get a break and Wilder has shown he knows how to cash in.
Ortiz has more skills than the champion but lacks the athleticism and is older. Some say he is much older than Wilder. He's made some astute changes for his career and now the Cuban heavyweight can cash out or cash in, depending on the outcome. Either way he's going to make some heavyweight money.
Heavyweights are a different ilk. They are large, carnivorous and pack immense power. Anything can happen at any time of the fight.
Need convincing?
Look at the Andy Ruiz fight against Anthony Joshua. The Mexican heavyweight was supposed to be an easy substitute opponent and despite getting knocked down, he got up and wiped the mat with Joshua.
In this Wilder-Ortiz rematch anyone can win. Ortiz had Wilder down in their first fight but could not finish the job. Wilder finished the job when he put Ortiz down. Will we see a repeat?
The MGM Grand should be packed with fans eager to see the result.
Santa Cruz
In another world title clash Leo Santa Cruz (36-1-1, 19 KOs) moves up a weight division and fights Miguel Flores (24-2, 12 KOs) at the MGM Grand on the pay-per-view portion on Saturday. It's for another version of the WBA super featherweight title that Cancio is defending on the same day in California.
Yes, it's confusing. You got a title and I got a title and everybody's got a title.
Still, Santa Cruz is hunting for his fourth division world title. I still remember watching him for the first time in November 2007 at Morongo Casino. Bobby Pacquiao was the main event, Carlos Baldomir was a semi-main eventer and Santa Cruz wore braces for his teeth into the fight if I'm not mistaken.
Back in those days no major promoter wanted to take a chance on Santa Cruz. Though his older brothers had fought and were successful, many matchmakers were not convinced on little Leo. But he could always fight up a storm. He had a life and death struggle at Pala Casino with Robert DaLuz in 2009. After that fight he seemed to find himself and got on a tear much like a Major League Baseball player finding his stroke.
Since 2012 he's won the bantamweight, super bantamweight, and featherweight world titles. He lost to Carl Frampton in 2016, then regained it in 2017 in the rematch. Now he fights Flores for the super featherweight title. They were supposed to fight back in February but Flores was forced to pull out with an ankle injury. Now they are finally meeting.
"I'm really glad I'm getting this second opportunity to fight Leo Santa Cruz," said Flores. "I thought I would never get a second chance, but here I am."
Santa Cruz has bigger plans than just securing a fourth division world title, he wants world domination at 130 pounds.
"I want to unify and fight everyone at 130," said Santa Cruz. "Whoever they throw in front of me."
First up is Flores. But 300 miles to the west, Cancio will be defending his version of the WBA super featherweight title too. And he's not too happy.
"I think it's a bunch of B.S. I got the short end of the stick once again. I'm not a big name to a lot of people like Leo Santa Cruz is. I feel like that's why they did it," said Cancio. "If I come out victorious Nov. 23 and if Leo comes out victorious Nov. 23, that's a fight I definitely want to make. I feel like I'm the bigger, stronger 130-pound guy."
That's a fight many people would like to see made.
Friday Fights
In the sleepy town of Ontario, California, another Thompson Boxing Promotions card takes place at the Doubletree Hotel on Friday, Nov. 22.
Three interesting eight-round fights highlight the card including the newest finds by the Orange County based company in a lightweight contest. They specialize in finding talent.
Ruben Villa (10-0, 8 KOs) seeks to extend his unbeaten streak against Eduardo Lionel Rodriguez (8-1-1). The lanky Santa Monica fighter Villa emerged on top with a win over another undefeated fighter George Acosta last May. He followed that up with a quick two-round destruction over veteran Ruben Tamayo last July. Now he faces another test with Rodriguez.
Also on the Thompson card, is the return of Giovani Santillan (24-0, 14 KOs) who meets Wilfrido Buelvas (20-12) in a welterweight match. It's been 19 months since Santillan was last in the ring and knocked out Alejandro Barboza on a televised match to retain the NABO title.
Santillan, 28, fights out of San Diego and his southpaw style allowed him to rise up the rankings in impressive fashion until his disappearance from the fight scene.
Does he still have it?
Doors open at 6:30 p.m. and the first bell starts around 8 p.m. For more information call (714) 935-0900.
Al Mitchell
Al Mitchell, the trainer for female super featherweight star Mikaela Mayer, will be inducted to the USA Boxing Alumni Association Hall of Fame on Friday Dec. 13, it was announced this week.
Mitchell, 76, has been an advisor for many top amateur boxers throughout the past 60 years and was the head coach for the 1996 US Olympic Team. He also advised on numerous Olympic teams that featured boxers such as Vernon Forrest and Floyd Mayweather.
"I want to thank all the coaches who worked under me and all the young fighters I've worked with," said Mitchell. "I'm thankful that USA Boxing believed in me, putting 13 to 15 boxers in my program, and cream does rise to the top."
Today, Mitchell has female fighter Mayer headed to a world title bid in 2020. The tall super featherweight will be accompanying Mitchell when he is inducted to the Hall of Fame at ceremonies held at the Golden Nugget Hotel and Casino in Lake Charles, Louisiana. Al Bernstein will host the proceedings.
Others being inducted are George Foreman, Joe Frazier, Mark Breland, Ray Rodgers and Sen. John McCain.
Fights to Watch
Fri. ESPN+ 7 a.m. Jack Caterall (24-0) vs Timo Schwarzkopf (20-3)
Fri. WWW.RingTV.com
Sat. DAZN 11 a.m. Callum Smith (26-0) vs John Ryder (28-4).
Sat. WWW.DBE1.com 4 p.m. Marie Eve Dicaire (16-0) vs Ogleidis Suarez (29-3-1); Raquel Miller (9-0) vs Alma Ibarra (7-0).
Sat. DAZN 4:30 p.m. Andrew Cancio (21-4-2) vs Rene Alvarado (31-8); Can XU (17-2) vs Manny Robles III (18-0)
Sat. FOX pay-per-view 6 p.m. Deontay Wilder (41-0-1) vs Luis Ortiz (31-1); Leo Santa Cruz (36-1-1) vs Miguel Flores (24-2); Luis Nery (30-0) vs Manny Rodriguez (19-1); Brandon Figueroa (20-0) vs Julio Ceja (32-4)
Check out more boxing news on video at The Boxing Channel 
To comment on this story in The Fight Forum CLICK HERE
Dubai Poised to Mirror Saudi Arabia in the New World Order of Boxing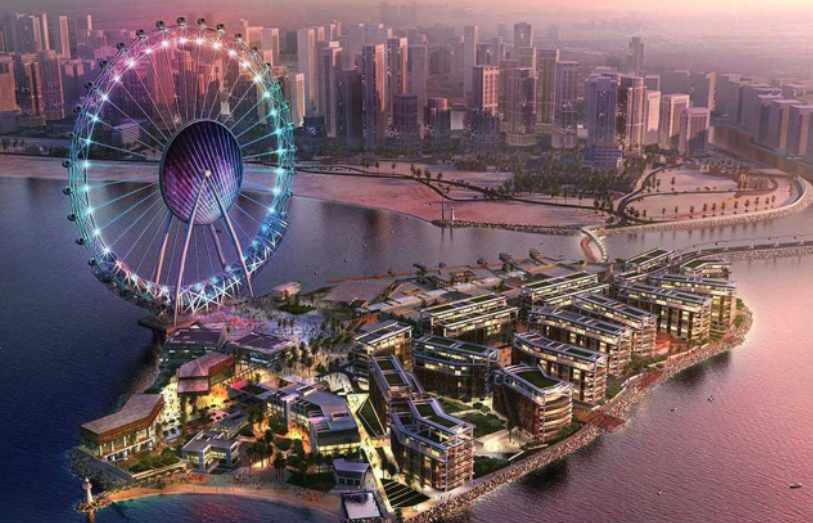 The royal family of Saudi Arabia is committed to making their fiefdom a major player in the world of professional boxing. The grand finale of the super middleweight tournament of the 2018 World Boxing Super Series (Callum Smith vs. George Groves) was held in Saudi Arabia as was Amir Khan's last fight against overmatched Billy Dibs. Those fights, in retrospect, were overtures to the big shebang on Dec. 7, the rematch between Anthony Joshua and Andy Ruiz Jr.
Saudi Arabia's next-door neighbor, the United Arab Emirates, is poised to join the party. Tomorrow's show at the plush new Caesars Palace resort at Bluewaters, a man-made island overlooking Dubai, is the latest manifestation of the incursion of boxing into the Arab world.
This isn't the first boxing show in Dubai. In 2008, former heavyweight champion Michael Moorer closed the curtain on his pro boxing career in Dubai, knocking out South Carolina no-hoper Shelby Gross in the opening round. That allowed Moorer to bookend his career with KOs in one, taking his leave on the same note on which he walked in the door. (You could probably win a few bar bets with this piece of trivia.)
When that odd event took place, there was only one registered professional boxer in all of the UAE.
That number is growing in leaps and bounds thanks to Ahmed Seddiqi, the driving force behind Dubai's Round 10 Boxing Club. Founded in 2013, Round 10 is the first gym in Dubai built specifically for boxing.
Seddiqi (pictured on the left with his cousin and business partner Abdulla Khoory) subsequently became a regional manager for MTK Global, a powerful boxing management company with a murky past. His association with MTK Global, which is now headquartered in Dubai, gave him the resources to bring in fighters from overseas to spiff up his promotions. And the relationship between Top Rank and MTK Global gave Dubai boxing greater exposure via Top Rank's affiliation with ESPN+.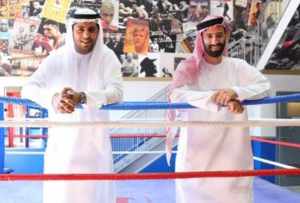 Seddiqi and MTK Global manufactured the inaugural boxing show at Caesars Palace Dubai this past Sept. 13. The main event pitted Pakistan's Muhammad Waseem against Conrado Tanamor of the Philippines. The super flyweights were penciled in to fight eight rounds.
Tomorrow's show has a larger budget reflected in a more interesting main event. England's Jack Catterall, ranked #1 by the WBO at 140 pounds, opposes Timo Schwarzkopf, the Kosovo-born German, in a match slated for 10.
The undefeated Catterall (24-0, 13 KOs) is on a collision course with WBC/WBO 140-pound title-holder Jose Carlos Ramirez. That bout will almost assuredly take place, notwithstanding the fact that the fans would much prefer to see Ramirez, the pride of Fresno, in a unification fight with Josh Taylor and that Ramirez's next title defense will apparently come against Viktor Postol, a bout seemingly headed to China in February.
Catterall is handled by longtime British promoter Frank Warren who currently has a very cozy relationship with Ramirez's promoter Bob Arum, an upshot of their shared financial interest in Tyson Fury. Being ranked #1 by the WBO carries sway with Arum who is a de facto member of the WBO Board of Directors. Arum's current title-holders (Terence Crawford, Vasyl Lomachenko, Jamel Herring, Shakur Stevenson, Emanuel Navarrette, and Ramirez) sport WBO colors.
For Dubai locals, the undercard holds more appeal than the main event. Vijender Singh and Muhammad Waseem, who returns for an encore after knocking out Conrado Tanamor in the opening round, have built-in fan bases in a country where immigrants outnumber natives by a 9/1 margin with ex-pats from India (27.5 percent) and Pakistan (12.5 percent) comprising 40 percent of the total immigrant population.
Vijender Singh, 34, is a three-time Olympian. In 2008, in the second of his three Olympic engagements, he won the bronze medal — the first Olympic medal of any kind for a boxer from India. He returned to his homeland a national hero, a man who would transcend boxing in the world's second-most populous country, appearing in layouts in popular fashion magazines and on numerous TV shows.
Singh (11-0, 8 KOs) signed a multi-fight contract with Top Rank in November of last year. His opponent, Charles Adamu, is a 42-year-old Ghanaian with a 33-14 record.
Adamu, who went 12 rounds with Carl Froch back in 2004, has been stopped only twice but Singh, despite being relatively inactive, expects to win comfortably. "I don't expect him to put up too much of a challenge because I have noticed he is slower than me…So I am relaxed, nothing to worry there," he told a reporter for the Hindustan Times.
In common with Singh, Muhammad Waseem (9-1, 7 KOs) is the most well-known boxer in a country where cricket is the national sport. The Quetta, Pakistan, native, 32, previously fought for the IBF world flyweight title, losing a close but unanimous decision to South Africa's Moruti Mthalene in Kuala Lumpur.
Waseem has something in common with headliner Jack Catterall. Both spent an extensive amount of time in Las Vegas at the Mayweather Gym. Catterall helped Floyd Mayweather Jr prepare for his bout with Manny Pacquiao. For a time, Muhammed Waseem's head trainer was Jeff Mayweather.
Waseem had a wealth of international amateur experience, but has answered the bell for only 61 rounds as a pro. By contrast, his Mexican opponent, former WBC light flyweight champion Ganigan Lopez (36-10, 19 KOs), has answered the bell for 311 rounds. It's an interesting match, notwithstanding the fact that Ganigan, 38, was knocked out just six weeks ago by a journeyman in Mexico City.
In common with the first boxing show at Caesars Palace Dubai, tomorrow's event is called the Rotunda Rumble. The Rotunda is the free-standing entertainment venue at the resort, a structure, says management, inspired by the Roman Pantheon although for most folks the referent would be an Eskimo's igloo. Nearby on the island, accessible to the mainland by a causeway, sits the world's largest ferris wheel.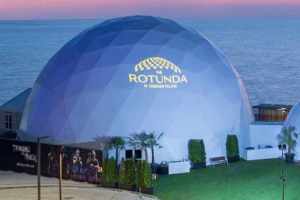 Can boxing at Caesars Palace Dubai ever match the heyday of boxing at Caesars Palace in Las Vegas? That's very doubtful. In Las Vegas, the early Caesars Palace shows in the indoor tennis pavilion were designed to showcase the property. The fights were televised on ABC's Wide World of Sports. Management expected an increase in casino activity, but were surprised at the extent of the increase. Boxing, they quickly learned, was a magnet for high rollers, the impetus for raising the bar, begetting the outdoor extravaganzas.
Caesars Palace Dubai is a non-gaming hotel. There is no legal gambling in the Arab world. Moreover, the crowds at the fights in Dubai will never resemble the crowds at the big fights in Las Vegas where a secondary diversion is ogling the scantily-clad young women who arrive on the arms of their benefactors. Dubai is a country where an unmarried couple can be arrested for sharing a hotel room.
But let's not sell Dubai short. You won't find a pari-mutuel window at Dubai's swanky Meydan Racecourse, but since 1996 the facility has been home to the world's richest thoroughbred horse race. So, if the nation's rulers become enamored of boxing, it's a fair guess they will parrot neighboring Saudi Arabia and go all in.
Check out more boxing news on video at The Boxing Channel 
To comment on this story in The Fight Forum CLICK HERE