The Top Ten Featherweights of the Decade 2010-2019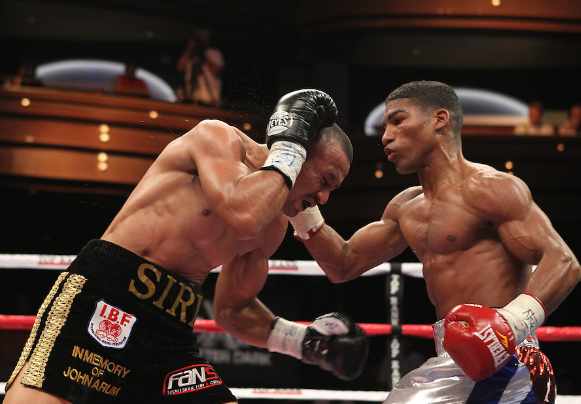 The featherweight division of the last decade lacked focus, personified in its failure to produce a single legitimate champion. There are beltholders aplenty but no lineal kings; there are also numerous number one contenders as the torch passed from beast to beast on what was a dangerous fistic landscape.
So, several of these men crossed paths and it is well that they did. There is so little to separate the top five from one another that those meetings are woven gold in organising a very tight pack.
Rankings, as always, are by Ring Magazine from January 2010 to October 2012 and thereafter by TBRB.
10 – Nonito Donaire
Peak Ranking: 2 Record for the Decade: 18-5 Ranked For: 10% of the decade
Filipino legend Nonito Donaire's featherweight decade is sheer ranking confusion.
He was chased from the super-bantamweight division by a deadly Guillermo Rigondeaux and rolled straight into a rematch with Vic Darchinyan who was slipping but still ranked. A tense, cagey squabble ensued, shaded by Darchinyan's two-handed punch-picking pressure, most especially his left hand; Donaire was neatly bailed out by his power, a degree of which he had carried with him to 126lbs. A divisional warning had been sung.
Donaire, never shy of a meaningful challenge, next matched featherweight number one Simpiwe Vetyeka, the conqueror of Chris John who had in turn outpointed Juan Manuel Marquez. This fight was a terrific mess, including low blows, head-clashes, one of which caused a serious cut on Donaire's left eyelid. Donaire went on to dominate despite this cut, arguably losing the second but clearly winning the third, and dropping Vetyeka in the fourth with a gorgeous counter-left.
But referee Luis Pabon repeatedly visited with the ringside physician and began the fifth round hanging over the top rope deep in conversation with the WBA (just who you want on hand in times of difficulty). The fight was called at two seconds of the fifth and Donaire was awarded a technical decision.
Donaire was then firmly out-monstered by Nicholas Walters after which he dropped back down the divisions, returning in 2017 for a pair of featherweight fights culminating in a spirited loss to Carl Frampton. All this adds up to a very mixed bag and it could be argued that Donaire should be excluded in favour of Abner Mares or Jhonny Gonzalez; but Donaire did defeat a divisional number one in the shape of Vetyeka, and despite the strangeness surrounding that fight, it's enough to see me favour him here.
09 – Gary Russell
Peak Ranking: 3 Record for the Decade: 24-1 Ranked For: 40% of the decade
Gary Russell remains most famous for his 2014 defeat at the hands of Vasyl Lomachenko but his recovery and fistic retribution has been impressive. When Russell met Jhonny Gonzalez in 2015 it was in pursuit of the strap that Lomachenko had denied him. Gonzalez, as perennial as any featherweight contender has been, was ranked two at the time of their confrontation, but Russell dominated from the first and with ease. It may be that Russell lost in Lomachenko to the only featherweight able to outspeed him in phases. Gonzalez did not have the pressure to keep Russell from stepping into his punches nor the power to dissuade him; Russell found him with his southpaw left in the third and the fight was effectively over from that point, though it was the right hook that did the real damage. Gonzales was cracked in four.
After two softer engagements, both of which he won by knockout, Russell met with the baby-faced Joe Diaz. Diaz brought pitiless pressure in the first half of the fight, carving up rounds with Russell as an equal, neutralising his speed with brave pressure and a vintage southpaw hook to the body. Again and again he forced Russell to give ground but Russell adjusted like a veteran. Rather than boxing an endless retreat he favoured exacting the maximum toll as Diaz bored inside. Diaz rallied beautifully ten through twelve to make this fight a borderline classic, but Russell's adjustment made him tentative in the middle rounds, and it was by bagging those that Russell made himself a clear winner.  It was the best performance of his career.
There is no shame in his single defeat and his rebuild is one of the best stories of the featherweight decade. I am glad he slips in at nine.
08 – Vasyl Lomachenko
Peak Ranking: 2 Record for the Decade: 14-1 Ranked For: 20% of the decade
Vasyl Lomachenko is 0-1 versus ranked featherweights where he fought the infancy of his professional career. The circumstances of that loss are well known and understood – Orlando Salido came to the ring well overweight and proceeded to foul a green Lomachenko out of his rhythm, all of which was inexplicably ignored by boxing's worst referee. This loss, then, alights upon rather than crushes Lomachenko's legacy.
As for wins he has a handful but nothing desperately impressive. His featherweight legacy is essentially comprised of the brilliance with which he conducted himself within the ring during that early part of his career and his victory over Gary Russell.
Gary Russell was at a strange point in his career when he ran into Lomachenko having met fighters with decent paper records but having also expressly avoided sharing the ring with anyone who might conceivably beat him, all, according to the man himself, a part of the plan. But Russell was excellent against Lomachenko, matching his speed to the blinding quick combination punching genius of Lomachenko and emerging with his pride intact. As we have seen, he emerged as a person of interest for the decade.
And Lomachenko bossed him. He boxed with the surety of an eight year veteran not the uncertainty of the two-fight novice, already moving up and down with as much fluidity as any featherweight that decade; anyone doubting the decision of trainer Lomachenko Senior to place the young Vasyl in dance lessons should look no further than his reaction to Russell's attempt to bring volume in the eighth and ninth.
Lomachenko was a special fighter, and although on paper he has no special featherweight win, Russell probably qualifies in this context. That, and his brilliance, is enough to get him in one slot ahead of that fighter.
07 – Mikey Garcia
Peak Ranking: 1 Record for the Decade: 20-1 Ranked For: 17% of the decade
Mikey Garcia had an enormously impressive 2010 to 2019 and nothing illustrates it more than the number of times we have run into him on these lists. From 126lbs through to 140lbs, Garcia has made the cut.
He has never cracked the top of any divisional list though, his fleeting relationship with each a limiting factor. 126lbs is where he made his bones although he departed almost immediately, usually by design but in this case out of necessity – Garcia found making 126lbs a difficult experience as we shall see.
Before he became a victim of one of boxing's oldest problems though, he turned in what remains my favourite Mikey Garcia performance, his January 2013 domination of Orlando Salido. Salido was then the general of the featherweight division but Garcia laid him bare, moving in and out with varied commitment, compromising Salido's pressure and balance both while his superior footspeed made him defensively safe if not always sound. Salido, frustrated by his lack of success, repeatedly over-extended himself in search of his tormentor and Garcia repeatedly punished him, flashing him four times and breaking his eye socket. Even dominating Salido has its dangers though, and in the eighth an apparently accidental clash of heads saw Garcia emerge with a broken nose. An eight round technical decision in his favour was the result.
It was a beautiful performance and one that should be argued as the bedrock of a much higher ranking. Unfortunately, the only other relevant fight Garcia made at 126lbs was against Juan Manuel Lopez in a fight for which Garcia missed the weight. It was an impressive victory but over-the-weight matches for me only provide a sliver of the credit with which they would normally be bequeathed. Garcia could not make the 126lb limit (and he tried) so it is difficult to see the fight as a major enhancement of his 126lb standing. Garcia left his strap behind him on the scales and disembarked for super-featherweight.
06 – Carl Frampton
Peak Ranking: 1 Record for the Decade: 24-2 Ranked For: 31% of the decade
There is little to separate the man ranked seven from the man ranked two; small matters become pertinent. Carl Frampton's number two victory at the poundage was over Nonito Donaire, whose career vagaries we have already explored. When he met with Frampton, Donaire was not ranked at featherweight and had not been ranked at featherweight for several years. Donaire remains a valid opponent, however, and Frampton's clear victory over him seems even more impressive considering Donaire's near run at Naoya Inoue last year; but the fact that the Filipino was unranked at the time of his meeting with Frampton probably makes the difference between his ranking fifth and sixth.
For obvious reasons Frampton is neck and neck with the fighter ranked one slot above him.
Frampton traveled from his native Northern Ireland to Brooklyn in July 2016 to meet that man, the Mexican Leo Santa Cruz. This, their first fight, was something rather special as Frampton shuffled into range, looked, threw if he felt it was safe to do so before moving out, sometimes in a straight line. It worked like a charm; Santa Cruz repeatedly over-extended himself allowing Frampton to do his best work – hard, consistent punching often ending in a bodyshot.
Frampton throws a single punch as beautiful as anyone on this list. The gorgeous counter left he sent Santa Cruz crashing back into the ropes with in the early going; the peachy uppercut he used to steal the third.
Frampton did not have a problem placing Santa Cruz where he wanted him for his blows for stretches of the fight and although it was close, the majority decision in Frampton's favour felt right as a description of what occurred.
The rematch would be different.
05 – Leo Santa Cruz
Peak Ranking: 1 Record for the Decade: 24-1-1 Ranked For: 40% of the decade
The rematch was different in that Leo Santa Cruz absolutely refused to become overextended physically or strategically. He consistently boxed within a more natural scope of influence, forcing Frampton to work harder for the range and when they exchanged he relied upon his quickness to allow him to dominate and to smother Frampton's work with volume. In this, he was successful often enough that his revenge victory over Frampton felt more complete than Frampton's victory over him. Reason enough to rank Santa Cruz ahead of Frampton perhaps but Santa Cruz has more, being ranked as a featherweight for a longer stretch of the decade and having twice overcome the ranked Abner Mares.
Mares, himself a contender for the number ten spot, first ran across a fresh-faced Santa Cruz in 2015 and Santa Cruz delivered a fine advertisement for superior footwork as key in placing a swarming opponent under control. Mares had an early plan that looked menacing, placing his head not just on Santa Cruz's shoulder but behind it while working away to body and head against a smothered opponent. It worked in the first round; Santa Cruz turned him beautifully in the second and outfought him in the pocket, seemingly discouraging Mares. The rest of the fight was a canter home for a fighter clearly in the mood, entering a prime that stretches to this day. In the rematch he was almost as dominant, Mares finding an extra round on my scorecard but at no point threatening a win. Santa Cruz essentially excluded Mares from the divisional decadal top ten that night and did much to propel himself into the top five.
04 – Josh Warrington
Peak Ranking: 1 Record for the Decade: 28-0 Ranked For: 20% of the decade
Josh Warrington, it is said, gets by on workrate and fitness; he would have to overpower the "slick" Lee Selby to beat him for his big 2018 step up. That was not what happened. Rather, Warrington overcame the beltholder and favourite as much by giving ground and bringing Selby onto his counter-rushes and by out-jabbing "The White Mayweather" for key spells of the fight. Selby, who finished the fight dripping in blood and gore, was soundly thrashed down the straight by the much vaunted Warrington workrate but it was the intelligence with which he boxed early that kept the fight close and made that rush decisive.
Still, against the more storied Carl Frampton a similar story was told. Warrington's best chance was to weather the storm early because Frampton was sure to place him under control with his superior jab and then use his superior boxing to make use of his superior power. Instead, Warrington rocketed out of the blocks, hurt Frampton repeatedly during the early rounds, before romping home to a clear unanimous decision.
These were Warrington's marquee wins and they lock him into the top five, but he fell short with his last significant performance of the decade, his June 2019 split decision victory over Kid Galahad. In a close fight that I scored a draw, Warrington was seen by many as lucky to get the nod as Galahad pivoted, held and potshotted his way to a near shock. Ranked number nine in the world it was he rather than the more accomplished Selby or Frampton who made him look like the limited fighter some still name him.
Either way, Warrington got the nod and it was no robbery. These wins combined with his unbeaten status puts him on the shortlist for the number one spot; that his half of the decade was less dramatic and danger-filled explains his ranking behind the standouts from the first.
03 – Juan Manuel Lopez
Peak Ranking: 1 Record for the Decade: 10-6-1 Ranked For: 27% of the decade
Seen retrospectively, the destruction of wrecking machine Juan Manuel Lopez by Orlando Salido makes sense, but in real time it was almost impossible to understand. All but brand new to featherweight at the dawn of the decade, Lopez spent 2010 ravaging the 126lb ranks before running into his nemesis and certainly did enough in that time to be included in the top five.
First up was the capable number two contender Steve Luevano. Luevana was stopped just once and it was on the night of January twenty-third, 2010 when he took on Lopez. Limber on his feet, Lopez boxed with a low chin and an exploratory southpaw jab that was deceptively heavy. His other punches booked no deceit and were clearly killing blows. Long on the outside, compact on the inside, Lopez was technically sure at all ranges; swift; powerful and as he proved in a minor disaster at 122lbs against Rogers Mtagwa, tough, Lopez was grinding down Luevana in big chunks from at least the third and probably before. Unearthed by hooks in the seventh, Luevana was stopped on his feet.
Next up was the number six contender Bernabe Concepcion. Concepcion was basically finished as an elite fighter against Lopez, but their first round was perhaps the best featherweight round of the decade, both men hitting the deck during a three minute war Lopez dominated but seemed never fully in control of; Lopez emerged in the second the cooler man and stopped Concepcion, the first man to do so, the only man to do so this quickly.
That fight was a graduation night for Lopez's straight right having previously relied primarily upon the hook. He was absolutely primed then for Rafael Marquez, emerging from his epic four-fight series with Israel Vazquez and vulnerable to a fighter of Lopez's machinations. Marquez fought bravely, and had his moments, but was broken in eight rounds.
Enter Orlando Salido, stage left.
02 – Orlando Salido
Peak Ranking: 1 Record for the Decade: 10-4-2 Ranked For: 44% of the decade
A mugger, a bandit, Orlando Salido waited in the wings throughout the decade ready to spoil in a manner utterly unlike a spoiler, the rise of the Next Big Thing. Twice between 2010 and the end of 2019 he brutally sabotaged what seemed an inevitable crowning. His first victim was Juan Manuel Lopez and it is his two-time destruction of Lopez that locks him into the top five.
Lopez, 30-0 and a marked favourite as well as a crowd favourite in their first contest fought in early in 2011 in Lopez's Puerto Rico stronghold, started well, boxing within himself, seemingly aware of Salido's danger punch, the overhand right. But Salido is Salido. He deploys himself and turns the screw; he waits, he takes his lumps and patiently sets out to see if he can find his man along whatever strategic line has been identified. A lost first round matters no more to him than a mine to a mountain. As early as the second he was closer; Lopez reigned down punishment, worked to maintain the distance. The gift of the pressure fighter is his momentum and his control of the real estate. He can, at the very least, choose when and where he will be hit. Even if he is losing badly, if he can persist, the fight, suddenly, can be changed; this was the case in the fourth, which was the first round Salido won and the first in which the controlled retreat of Lopez began to look disorganised.
Drawn into a firefight he was dropped and hurt in the fifth, dominated by a merciless Salido in the sixth, rallied in the seventh and was changed forever as a fighter by Salido's ceaseless attack in the eighth.
Lopez was subject to divorce proceedings at the time and stopped prematurely while standing, so received a rematch. Salido, who knew and understood how Lopez moved now, dominated him even more completely though Lopez managed to last until the tenth.
In 2014 Salido performed a similar mugging against Vasyl Lomachenko although it was comprised of a cooperative referee and numerous low blows; more than that, a weight advantage in that he did not appear to try that hard to make the 126lb limit and missed it by distance; the credit bequeathed here for such a victory is very limited – but those two glorious nights on which he mastered Lopez and longevity at the weight qualify him for the spot.
01 – Yuriorkis Gamboa
Peak Ranking: 1 Record for the Decade: 14-3 Ranked For: 18% of the decade
It is possible that the memory is fading now, but there was a short spell in the early part of the decade where Cuban Yuriorkis Gamboa was rated the next big thing. Watching him now, it isn't hard to see why. His offence was gorgeous. A stocky, muscular fighter, he nevertheless moved beautifully; capable of brutal yet compact hooks from a deep stance he was also delightfully mobile; a gunslinger, hands low, often eschewing the jab for leading power punches which sometimes qualified as monstrous.
But he was flawed. Questionable temperament and a propensity for being hit even while winning were always going to prevent him reaching the Pacquiao-like heights some predicted for him. Little of this manifested itself at featherweight, however, and it is featherweight that interests us here.  Between 2008 and his leaving the division in 2012, Gamboa was at his glittering best.
This included his very best years, 2010 and 2011, during which he began to meet ranked men. In his first and in what remains for me his most sparkling performance, he clearly out-pointed the world's number one featherweight Orlando Salido. Gamboa was never more explosive in punching, favouring a lead left-hook/short-right combination and for a while, Salido seemed outclassed and in imminent danger of being stopped, but being Salido he refused to go away and even flashed an overeager Gamboa with a right in the eighth; but that and the ninth were the only rounds I could find for Siri. Gamboa dominated Salido and dropped him in the twelfth, not once but twice, was docked two points for hitting his man when he was down, flashing that temper even as he seemed imperious. A typical Gamboa Saturday night.
He was nearly as good months later against the number five contender, the puncher Daniel Ponce de Leon. Again, Gamboa hardly dropped a round against highly ranked opposition.
Supplementary wins over a slipping Jorge Solis and Jonathan Victor Barros bolster his standing but I am not overjoyed with Gamboa as a number one. He barely passes in terms of the time he spent in the rankings, and although his resume is good it is not special. He is the least qualified decadal divisional number one we have seen, I think, but Gamboa was unbeaten and really the only other contender for the #1 spot is Warrington. His domination over Salido and Salido's domination of Juan Manuel Lopez all but ties these three in this order, and Warrington, for all his excellence, hasn't met with the same level of fighter and nor was he ranked in the featherweight division much longer (just 2% more).
So, it's Gamboa – a thrilling but flawed king for a thrilling but flawed featherweight decade.
The other lists:
Photo credit: Ed Mulholland
Check out more boxing news on video at The Boxing Channel 
To comment on this story in the Fight Forum: CLICK HERE
Adrien Broner Returns to the Ring with an Attorney in the Opposite Corner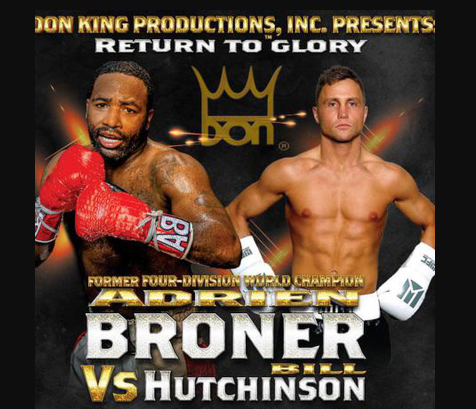 Adrien Broner returns to the ring tomorrow (Friday, June 9) after a 27-month absence. He meets Bill Hutchinson at Casino Miami Jai Alai in Miami, Florida, in a fight slated for "10." It's a Don King promotion for sale at $24.99 on FITE TV and several other pay-per-view platforms.
Hutchinson – his friends call him Hutch — is a practicing attorney with offices in his native Pittsburgh and in Naples, Florida. Reading about him reminded me of Leach Cross. A very good lightweight during the early years of the twentieth-century, Cross was a dentist. His disparate occupations, as one would imagine, gave rise to many jokes. It was said of Leach that he drummed up business for his dental practice by rearranging the bridgework of his opponents. He could knock out a man's tooth and replace it with a facsimile the next morning.
Adrien Broner, aptly nicknamed "The Problem," is frequently in need of a good attorney. The same goes for Don King, a litigious sort who has sued and been sued many times. Even if Hutchinson never fights again, it wouldn't be surprising if he crosses paths with Broner and/or King at some point again down the road. The principals made light of this in Tuesday's press conference. "Dealing with lawyers is Broner's forte," wisecracked Don King. "After I mess you up, I'm going to hire you," said Broner, looking sternly at Hutchinson.
On his web site, Hutchinson comes across as less of an attorney than a man who makes his living as a motivational speaker. "Currently," it reads, "Hutch is a partner and leader in multiple businesses across divergent market categories. These businesses range from the automobile industry to event promotions, high end construction to hospitality, real estate to medical marijuana, and biologics/pharmaceuticals…Hutch has earned a reputation in each industry as an innovative problem solver who discovers new opportunities for growth."
Okay, but can he fight?
Hutchinson's current record (20-2-4, 9 KOs) is decent, but only nine of his 20 wins have come against opponents with winning records. None of his previous fights were slated for more than eight rounds.
There are levels to this sport as Mike Lee can ruefully attest. A finance major at Notre Dame, Lee was a successful businessman with a 21-0 record (against limited opposition) when he wangled a match with IBF super-middleweight title-holder Caleb Plant. That bout turned ugly in a hurry. Plant put him on the deck in the opening round and scored three more knockdowns before the butchery was halted at the midway point of the third round.
The guess is that Broner-Hutchinson won't be quite as lopsided. Owing to legal problems, management issues, personal problems, and training injuries incurred by would-be opponents, Adrien Broner has been relatively inactive, missing all of 2020 and 2022. He's 1-2-1 in his last four fights going back to July of 2017 with the lone triumph coming against unheralded Jovanie Santiago who took the fight on short notice. Broner won a 12-round unanimous decision, but was actually out-landed. His post-fight interview was more exciting than the fight, said CBS reporter Brian Campbell.
In truth, Broner (34-4-1, 24 KOs) hasn't been the same fighter since his bout with Marcos Maidana in December of 2013. Broner was still standing at the final bell, but Maidana roughed him up en route to winning a lopsided decision. Entering that contest, Broner was 27-0 and had never been knocked down. After that bout, he became far less willing to initiate contact, relying more on his sublime defensive skills.
Broner vs. Maidana drew a reported 1.3 million pay-per-view buys, an impressive figure. Broner vs. Hutchinson won't come anywhere close to matching those numbers (75,000 may be a stretch) and no matter his showing, Broner won't repair his tattered image. A prizefighter cannot regain what he has lost against the Bill Hutchinson's of the world.
To comment on this story in the Fight Forum CLICK HERE
Light Heavyweights on Display as 'Sho Box' Returns to Turning Stone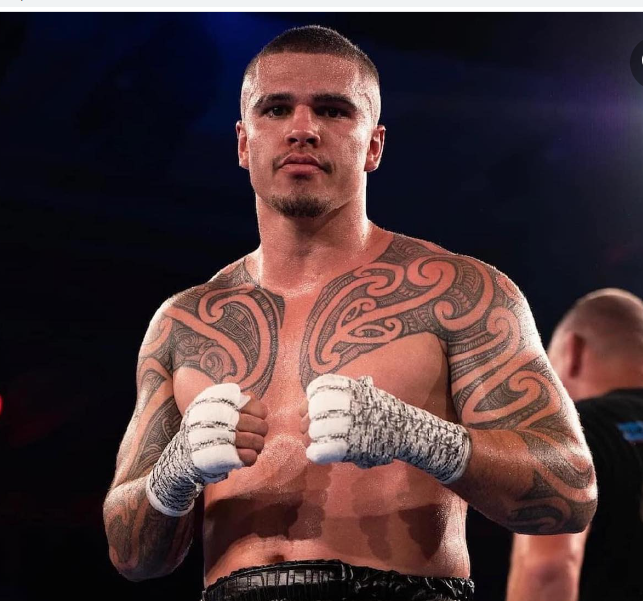 SHOWTIME's 'Sho Box; The New Generation' series, now in its twenty-first season, returns to Central New York on Friday, June 9. The venue is the Turning Stone Casino and Resort in the town of Verona, one freeway exit removed from Canastota, home to the International Boxing Hall of Fame and Museum which is holding its annual shebang this weekend, a four-day jamboree culminating in Sunday's Canastota parade and IBHOF Induction Ceremony.
The TV portion of Friday's card kicks off with an 8-rounder between Clay Waterman (pictured) and Kenmon Evans. It's the U.S. debut for Waterman (10-0, 8 KOs), a Queenslander from Down Under with a strong amateur background and an interesting ethnic pedigree: Maori, indigenous Australian, and European. (He is one of two fighters of Maori descent in action this weekend; Cherneka Johnson defends her IBF super bantamweight title against Ellie Scotney in London on Saturday.)
Waterman's opponent Kenmon Evans (10-0-1, 3 KOs), is seeking his eighth straight victory. A 31-year-old Floridian, Evans is promoted by 2020 IBHOF inductee Christy Martin.
Main Event
The featured bout is an intriguing 10-round contest between Ali Izmailov (10-0, 7 KOs) and Charles Foster (22-0, 12 KOs).
A 30-year-old Russian, Izmailov, ranked #11 by the WBO, is part of promoter Dmitry Salita's Motor City contingent, but has been training for this fight in Florida under the tutelage of John David Jackson. Foster, a 33-year-old southpaw from New Haven, Connecticut, appeared at Turning Stone last year, scoring a third-round stoppage of Bo Gibbs.
Co-Feature
This looks like another well-matched affair. And once again, as Michael Buffer would have said, someone's "0" has got to go.
Richard Vansiclen (13-0-1, 6 KOs) was held to a draw in his last fight with Mexico's Manuel Gallegos. It was a fan-friendly affair and those that saw the fight on FITE TV will likely tune in for this one.
A 29-year-old Seattle-based southpaw, Vansiclen did not have a conventional amateur background. A good all-around athlete in high school, he took up boxing after joining the club team at the University of Washington where he earned a degree in communications. Vansiclen's opponent, Juan Carrillo (10-0, 8 KOs), represented Colombia in the 2016 Rio Olympics. It's slated for "10."
To comment on this story in the Fight Forum CLICK HERE
The Sweet Science Rankings: Week of June 5th, 2023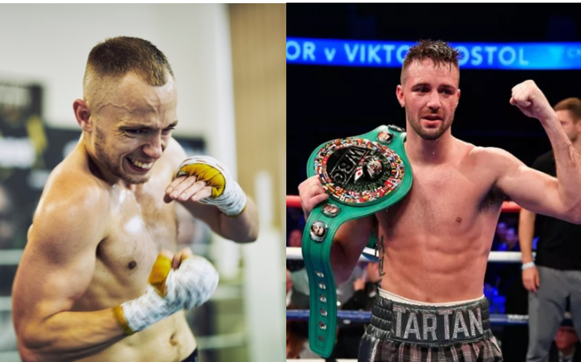 The Sweet Science Rankings: Week of June 5th, 2023
For the first time there are no changes in this week's TSS Rankings. Two fighters ranked #1 in their weight class are in action this Saturday. Sunny Edwards, the top dog at 112 pounds, defends his belt against Chile's Andres Campos at Wembley Arena in London. In a match with far more intrigue, Josh Taylor, the topmost fighter at 140, meets Teofimo Lopez at Madison Square Garden.
Pound-for-Pound
01 – Naoya Inoue
02 – Oleksandr Usyk
03 – Juan Francisco Estrada
04 – Dmitry Bivol
05 – Terence Crawford
06 – Errol Spence Jnr.
07 – Tyson Fury
08 – Saul Alvarez
09 – Artur Beterbiev
10 – Shakur Stevenson
105lbs
1            Knockout CP Freshmart (Thailand)
2            Petchmanee CP Freshmart (Thailand)
3            Oscar Collazo (USA)*
4            Ginjiro Shigeoka (Japan)
5            Wanheng Menayothin (Thailand)
6            Daniel Valladares (Mexico)
7            Yudai Shigeoka (Japan)
8            Melvin Jerusalem (Philippines)
9            Masataka Taniguchi (Japan)
10          Rene Mark Cuarto (Philippines)
108lbs
1            Kenshiro Teraji (Japan)
2            Jonathan Gonzalez (Puerto Rico)
3            Masamichi Yabuki (Japan)
4            Hekkie Budler (South Africa)
5            Sivenathi Nontshinga (South Africa)
6            Elwin Soto (Mexico)
7            Daniel Matellon (Cuba)
8            Reggie Suganob (Philippines)
9            Shokichi Iwata (Japan)
10          Esteban Bermudez (Mexico)
112lbs
1            Sunny Edwards (England)
2            Artem Dalakian (Ukraine)
3            Julio Cesar Martinez (Mexico)
4            Angel Ayala Lardizabal (Mexico)
5            David Jimenez (Costa Rica)
6            Jesse Rodriguez (USA)
7            Ricardo Sandoval (USA)
8            Felix Alvarado (Nicaragua)
9            Seigo Yuri Akui (Japan)
10          Cristofer Rosales (Nicaragua)
115lbs
1            Juan Francisco Estrada (Mexico)
2            Roman Gonzalez (Nicaragua)
3            Jesse Rodriguez (USA)
4            Kazuto Ioka (Japan)
5            Joshua Franco (USA)
6            Junto Nakatani (Japan)
7            Fernando Martinez (Argentina)
8            Srisaket Sor Rungvisai (Thailand)
9            Kosei Tanaka (Japan)
10          Andrew Moloney (Australia)
118lbs
1            Emmanuel Rodriguez (Puerto Rico)
2            Jason Moloney (Australia)
3            Nonito Donaire (Philippines)
4            Vincent Astrolabio (Philippines)
5            Gary Antonio Russell (USA)
6            Takuma Inoue (Japan)
7            Alexandro Santiago (Mexico)
8           Ryosuke Nishida (Japan)
9            Keita Kurihara (Japan)
10          Paul Butler (England)
122lbs
1            Stephen Fulton (USA)
2            Marlon Tapales (Philippines)
3            Luis Nery (Mexico)
4            Murodjon Akhmadaliev (Uzbekistan)
5            Ra'eese Aleem (USA)
6            Azat Hovhannisyan (Armenia)
7            Kevin Gonzalez (Mexico)
8            Takuma Inoue (Japan)
9            John Riel Casimero (Philippines)
10          Fillipus Nghitumbwa (Namibia)
 126lbs
1            Luis Alberto Lopez (Mexico)
2           Leigh Wood (England)
3            Brandon Figueroa (USA)
4            Rey Vargas (Mexico)
5            Mauricio Lara (Mexico)
6            Mark Magsayo (Philippines)
7            Josh Warrington (England)
8            Robeisy Ramirez (Cuba)
9            Reiya Abe (Japan)
10          Otabek Kholmatov (Uzbekistan)
 130lbs
1            Joe Cordina (Wales)
2            Oscar Valdez (Mexico)
3            Hector Garcia (Dominican Republic)
4            O'Shaquie Foster (USA)
5            Shavkatdzhon Rakhimov (Tajikistan)
6            Roger Gutierrez (Venezuela)
7            Lamont Roach (USA)
8            Eduardo Ramirez (Mexico)
9            Kenichi Ogawa (Japan)
10          Robson Conceicao (Brazil)
135lbs
1            Devin Haney (USA)
2            Gervonta Davis (USA)
3            Vasily Lomachenko (Ukraine)
4            Isaac Cruz (Mexico)
5            William Zepeda Segura (Mexico)
6            Frank Martin (USA)
7            George Kambosos Jnr (Australia)
8            Shakur Stevenson (USA)
9            Raymond Muratalla (USA)
10          Keyshawn Davis (USA)
140lbs
1            Josh Taylor (Scotland)
2            Regis Prograis (USA)
3            Jose Ramirez (USA)
4            Jose Zepeda (USA)
5            Jack Catterall (England)
6            Subriel Matias (Puerto Rico)
7            Arnold Barboza Jr. (USA)
8            Gary Antuanne Russell (USA)
9            Zhankosh Turarov (Kazakhstan)
10          Shohjahon Ergashev (Uzbekistan)
 147lbs
1            Errol Spence (USA)
2            Terence Crawford (USA)
3            Yordenis Ugas (Cuba)
4            Vergil Ortiz Jr. (USA)
5            Jaron Ennis (USA)
6            Eimantas Stanionis (Lithuania)
7            David Avanesyan (Russia)
8            Cody Crowley (Canada)
9            Roiman Villa (Columbia)
10          Alexis Rocha (USA)
 154lbs
1            Jermell Charlo (USA)
2           Tim Tszyu (Australia)
3            Brian Castano (Argentina)
4            Brian Mendoza (USA)
5            Liam Smith (England)
6            Jesus Alejandro Ramos (USA)
7            Sebastian Fundora (USA)
8            Michel Soro (Ivory Coast)
9            Erickson Lubin (USA)
10          Magomed Kurbanov (Russia)
 160lbs
1            Gennady Golovkin (Kazakhstan)
2            Jaime Munguia (Mexico)
3            Carlos Adames (Dominican Republic)
4            Janibek Alimkhanuly (Kazakhstan)
5            Liam Smith (England)
6            Erislandy Lara (USA)
7            Sergiy Derevyanchenko (Ukraine)
8            Felix Cash (England)
9            Esquiva Falcao (Brazil)
10          Chris Eubank Jnr. (Poland)
168lbs
1            Canelo Alvarez (Mexico)
2            David Benavidez (USA)
3            Caleb Plant (USA)
4            Christian Mbilli (France)
5            David Morrell (Cuba)
6            John Ryder (England)
7            Pavel Silyagin (Russia)
8            Vladimir Shishkin (Russia)
9            Carlos Gongora (Ecuador)
10          Demetrius Andrade (USA)
175lbs
1            Dmitry Bivol (Russia)
2            Artur Beterbiev (Canada)
3            Joshua Buatsi (England)
4            Callum Smith (England)
5            Joe Smith Jr. (USA)
6            Gilberto Ramirez (Mexico)
7            Anthony Yarde (England)
8           Dan Azeez (England)
9            Craig Richards (England)
10          Michael Eifert (Germany)
200lbs
1            Jai Opetaia (Australia)
2            Mairis Breidis (Latvia)
3            Chris Billam-Smith (England)
4            Richard Riakporhe (England)
5            Aleksei Papin (Russia)
6            Badou Jack (Sweden)
7            Arsen Goulamirian (France)
8            Lawrence Okolie (England)
9            Yuniel Dorticos (Cuba)
10          Mateusz Masternak (Poland)
Unlimited
1            Tyson Fury (England)
2            Oleksandr Usyk (Ukraine)
3            Zhilei Zhang (China)
4            Deontay Wilder (USA)
5            Anthony Joshua (England)
6            Andy Ruiz (USA)
7            Filip Hrgovic (Croatia)
8            Joe Joyce (England)
9            Dillian Whyte (England)
10          Frank Sanchez (Cuba)
To comment on this story in the Fight Forum CLICK HERE