The Top Ten Flyweights of the Decade: 2010-2019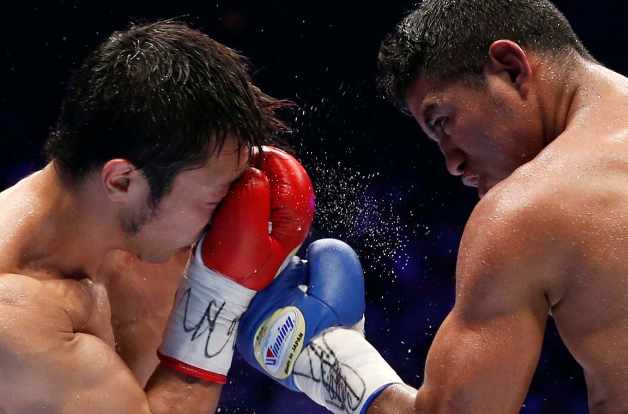 The Top Ten Flyweights of the Decade: 2010-2019
As we near the end of a lengthy series, a reminder of our criteria.
These are decadal lists, placing under the microscope the fights and fighters that occurred between January first, 2010 and December the thirty-first 2019; no fights outside these dates are considered.
Fights that occurred outside the weight class to hand, in this case flyweight, are only of passing interest – we appraise here the men who fought at 112lbs only. In doing so I utilise a number of different tools, from the video upload sites delightfully stuffed with boxing of all shapes and sizes, to the DVDs I continue to buy with inexplicable regularity to the detailed rankings helping to decipher who was who the day two contenders met.
Those rankings are from Ring Magazine from 2010 through 2012 before the founding of the TBRB allows independent rankings to be utilised for the remainder of the decade.
Finally, achievement, the who and the how, are given much heavier weight than more speculative concerns like perceived skillset and projected head-to-head predictions.
With the boring stuff out of the way, allow me to introduce you to the top ten flyweights of the decade past.
10 – Sonny Boy Jaro
Peak Ranking: Ch. Record for the Decade: 17-7-5 Ranked For: 10% of the decade
The Tale of Sonny Boy Jaro is one of the great and under-told stories of the decade.  A journeyman, he also had an iron will that saw him bounce his equally iron-hewn physique from 108lbs up to 118lbs and back, fighting a busy schedule in his native Philippines and beyond. Problematically, he would also lose whenever he stepped up to elite level.
Until he ran into the great Pongsaklek Wonjongkam. That Jaro was able to beat him is astonishing.  Then ranked the world's number eight fighter pound-for-pound, Wonjongkam was probably approaching a place where he might have been ready to be taken, but he just didn't lose to the likes of Jaro, a type he ran into often. Jaro though, had learned his trade. He hurt the champion with the very first punch he threw and dropped him with the fourth or fifth, then he stayed right on him throwing consistent, hard punches, staying rough and aggressive. In the sixth, Wonjongkam was suddenly and finally worn, down twice, the second time dangerously under a vicious assault; the fight was waved off.
Jaro, alas, did not shake off his tendency to lose the big ones and dropped the title in his first defence. This makes Jaro's hold on the number ten spot a little tenuous, but the fact is that nobody in contention held anything like as superb a win over so accomplished a fighter. From Daigo Higa to Artem Dalakian to Hernan Marquez, nobody did enough to supplant him.
09 – Amnat Ruenroeng
Peak Ranking: 2 Record for the Decade: 20-3 Ranked For: 22% of the decade
First, let's get Amnat Ruenroeng's 2015 defeat of John Riel Casimero out of the way. You can read about this insane parody of a prize-fight, for which Ruenroeng receives no credit, here. As I wrote at the time, "referee Larry Doggett…was very clearly guilty of, at the least, ineptitude. Like much in life that is truly ludicrous, it was funny and tragic in equal measures."
His best win neutralised by his indiscipline, Ruenroeng's victories of note become a little thin on the ground, but as we have seen, there is no depth of competition for these lowest slots. 2014 was his key year and in May Kazuto Ioka, one of the better 108lb boxers in the world, stepped up. It was bizarre to see the smaller man bringing the pressure while Ruenroeng maneuvered, seemingly spooked by Ioka's beltline work and prodding straight; he found the gaps though, especially for an impressive uppercut which allowed him to hang on to Ioka's coattails and a late rally saw him hold on to his strap in a widely judged split decision where each and every card somehow seemed reasonable.
This confusion, this chaos, is Ruenroeng's hallmark, and whether he was throwing knees and elbows or waiting and deploying his jab, he had an air of intimidation matched by his ability to get under his opponent's skin. Against McWilliams Arroyo he was dropped in the sixth by a winging left hook, cast adrift on the cards left and in need of five of the remaining six rounds. He got them. He got them by swapping out his cautious countering for sudden, rampant aggression and discombobulating holding and wrestling, culminating in his throwing Arroyo to the canvas in the tenth. Arroyo, furious and thrown from his rhythm, won only the last of the second six.
Ruenroeng earned supplemental wins over Rocky Fuentes and Shiming Zou and was a bubbling, vicious handful for absolutely every flyweight he ever met.
08 – John Riel Casimero
Peak Ranking: 1 Record for the Decade: 15-4 Ranked For: 19% of the decade
After being mugged by Amnat Ruenroeng in Bangkok, Filipino John Riel Casimero was made to wait an entire year for a rematch, to be fought on neutral territory in China. Preparation was disastrous for Ruenroeng who managed to weigh in over the super-flyweight limit on his first attempt, finally making the 112lb limit four hours later at the hotel in front of few witnesses. Whatever occurred, Ruenroeng looked sharp in bagging the first but his dark arts were firmly under the control of referee Tony Weeks, although he did manage to cast Casimero to the canvas in both the third and the fourth.
But later in the fourth, Casimero did the casting, dumping Ruenroeng into prayer position with a lighting left hook as the two twisted inside. Ruenroeng made it up but in what must rate as the most satisfying moment of his career, Casimero achieved his revenge, untidily but definitively by knockout in the fourth.
This was a good summary of Casimero in those flyweight days. He was brave and direct but sometimes disorganised; fun but a little frothy although he had more than enough though to see off future beltholder Charlie Edwards, among others. Casimero couldn't hold the poundage long enough to make a serious dent but he is happily locked above his nemesis Amnat Ruenroeng, a real case of the good guy finishing first.
07 – Pongsaklek Wonjongkam
Peak Ranking: Ch. Record for the Decade: 17-2-1 Ranked For: 18% of the decade
Pongsaklek Wonjongkam (also known as Phongskorn Wonjongkam or Pongsaklek Sitkanongsak) is the greatest flyweight on this list – but as far as the decade goes, we capture only the last meaningful wins of a once pre-eminent fighter's career, followed by his shocking loss to Sonny Boy Jaro. Behind that loss, Wonjongkam achieved no other wins of interest and in fact managed to throw in another shocking loss.
In 2010 though, Wonjongkam was holding onto the very last of it and in the ring with the division's number one contender no less, Koki Kameda. In an impressive veteran's performance, Wonjongkam won clear, despite the inexplicable drawn card found by judge Predrag Aleksic. He can be seen punishing Kameda for even minor transgressions in positioning, finding him with punches if Kameda moved across him rather than taking a half step back and going across him, forcing Kameda to circle more widely, taking more steps than he would have wished, forgoing the range and movement he appeared to have trained for. Perhaps not unrelated was Pongsaklek's strong finish. Despite being the more shopworn of the two, he dominated the late action.
A year later, Wonjongkam met the final ranked contender he would defeat in his storied career in the form of Edgar Sosa, a near peer, a man born just two years after him who nevertheless had fought just over half the contests. It showed. Once more Wonjongkam finished the fight the stronger of the two in winning a wide decision victory fighting at a fast pace but he earned that right by out-hitting his fresher opponent throughout the entire contest, by wasting little, by knowing where his opponent was at almost all times. These behaviours are learned rather than taught and it was wonderful to watch a master of them ply his trade.
Not so much that Wonjongkam could be installed at number six though; he does post losses to Jaro, perhaps the least likely true champion since James Douglas, and then Rey Megrino, a professional loser of the type Wonjongkam had been beating up for walking-around-money for years. Still, his sun setting on the era was one of the events of the flyweight decade.
06 – Kosei Tanaka
Peak Ranking: 1 Record for the Decade: 15-0 Ranked For: 11% of the decade
Kosei Tanaka stepped up to 112lbs early in 2018, quickly tested the water versus the overmatched Ronnie Baldonado, then steamed headlong into Sho Kimura and the fight of the flyweight decade.
Writing about Tanaka back in 2015 with his record at just 4-0, I named him the world's brightest prospect but pointed out that his mobile but aggressive style was a demanding one. "Does he have the engine for it?" was my question. "If he does, will he hold his power late enough for it to matter?"
Tanaka answered the first of these questions gloriously and forever against Kimura. Kimura, at that time the world's number two contender, is a granite-jawed pressure fighter with the type of insistent pressure that only elite power can dissuade. Tanaka whaled on him early, a glorious left hook to the body his main power shot, but straight punches and dashing hooks were sprinkled liberally throughout. Tanaka has delightful footwork but rather than moving (some short late spells aside) he used it to form a tight, constricting circle while throwing serious punches with a fluidity which would have pleased Roman Gonzalez. Kimura, ceding rounds early, nevertheless threw return punches relentlessly, himself a technician of no small note.
Re-watching them for this article (and for any other reason I can think of) I had the sense that each man's punch resistance relative to the other's power meant they could barely hold one another's punches comfortably enough to retain form and no more; slightly more power on either side would have upset the rhythm of this glorious fight. As it was, each hurt the other but once, Tanaka bending Kimura's knee briefly in the second, himself stalling under the fuselage that was the height of Kimura in the twelfth and final round.
A lifelong atheist, I occasionally pray for a rematch.
Also, in my 2015 appraisal of Tanaka I claimed that his power would remain a limiting factor – that "I don't think he will ever be the kind of fighter to be rescued by his power." One of the great glories of following Tanaka's career has been watching him emerge as a puncher, not a darkening one, but something more than just stinging, too. He proved this most of all in August of 2019 against number ten contender Jonathan Gonzalez. Gonzalez is far from impossible to stop, the trick has been pulled twice before but it was Tanaka's relentlessness that impressed me as much as anything else. He determined to apply pressure to a moving opponent and at some point around the sixth his technically sound punches morphed into technically competent meathooks. Gonzalez went from moving to outright fleeing to being lashed to the canvas by a body-attack that is painful to watch.
One suspects the next flyweight decade will belong to Tanaka.
05 – Akira Yaegashi
Peak Ranking: Ch. Record for the Decade: 16-5 Ranked For: 15% of the decade
Akira Yaegashi wasn't really a flyweight but a Japanese superfight with Toshiyuki Igarashi was impossible to turn down; Yeagashi won and found himself on an exciting, enriching and impressive flyweight adventure as well as the legitimate flyweight champion of the world. It made his legacy.
Igarashi just didn't have the power to keep Yaegashi under control, nor the silk to throw fluidly enough on the move to consistently outscore him, so the fight devolved into a brutal and aggressive shoot-out, a fight that Igarashi could not possibly hope to win. Yaegashi was the champion of the world. He beat up a wilted Oscar Blanquet in his first defence and then matched the number three contender, Edgar Sosa, a tough fighter in the best form of his life.
Yaegashi thrashed him. This fight was a little different, the Japanese working to keep one step ahead of his opponent, but generally speaking, he was a shark in the ring, irrefutable upon smelling blood but vulnerable when he ran up against superior firepower. Such was his fate in 2014 when he ran into the irresistible Roman Gonzalez in the absolute prime of his career.
He immediately dipped back down to 108lbs, where he probably belonged, re-emerging briefly at flyweight in 2019 where he suffered another loss. More of Yaegashi, who may prove to be underrated in a pound-for-pound sense, next time, but credibly cracking the top five at 112lbs is no mean feat. It will be his highest divisional ranking.
04 – Brian Viloria
Peak Ranking: 1 Record for the Decade: 12-4 Ranked For: 66% of the decade
It makes me uncomfortable when a fighter's keynote win is a fighter from the division below moving up, but I make an exception for Brian Viloria in the case of Giovani Segura, who moved up from 108lbs to take him on at 112lbs in 2011. Segura was, at that time, ranked among the top ten fighters in the world pound-for-pound having twice blasted out the great Ivan Calderon and if anyone deserves the nod four pounds north it is him. Viloria though demonstrated how much those four pounds can matter, negotiating Segura's hard-swung punches to stop him in eight one-sided but exciting rounds.
This fight came as a part of Viloria's golden 2011/12 run and even more exciting had been Viloria's nine round destruction of Julio Cesar Miranda five months earlier. Viloria, a powerful puncher, dropped Miranda in seven but the number seven contender came back steaming and an electric battle for territory followed, fought at pace and for the most part on the inside, a fight which Viloria won. Miranda, unable to fight going backwards, was neatly dispatched in the ninth.
Viloria looked near invincible when he was dominating but in fact he was easier to hit than is normal for an elite flyweight. This cost him later in his career when he had slowed down a bit and in truth, despite his lingering in the rankings until 2018, his last truly meaningful win came in late 2012 over the excellent Hernan Marquez. This was a painful memory for me as Hernan was one of my favourites and Viloria soundly thrashed him around the ring, dropping him in the first and fifth before stopping him in the tenth. Viloria was a fighter of real talent on offence, but a certain vulnerability meant he was always to come up short against the division's true elite.
03 – Moruti Mthalane
Peak Ranking: 2 Record for the Decade: 14-0 Ranked For: 95% of the decade
South African Moruti Mthalane cracked the Ring Magazine rankings back in 2008 behind his defeat of the formerly ranked Australian Hussein Hussein. Today, TBRB ranks him at number two and although he was removed for six months for inactivity in 2013, he has spent 95% of the decade past operating as a ranked flyweight. This is astonishing.
And yet, rather like Omar Narvaez at 115lbs, although the overall career-arc is impressive, the detail feels underwhelming. In thirteen years hunting straps Mthalane has met so few Ring/TBRB ranked contenders it can be painted a deliberate strategy. In fact, Mthalane never met a fighter ranked higher than nine, which is a travesty.
Almost despite himself though, Mthalane built a solid resume in taking on lowly or unranked fighters who would reach the top of this division or who had previously made their mark. Such victories bookend his decade.
In September 2010 Mthalane posted a knockout over the budding (but ranked) flyweight Zolani Tete. Tete was unbeaten at 13-0, but Mthalane just rounded him up with an insidious pressure that must be awful for an inexperienced fighter to face, before dispatching him in the fifth. Six months later he pulled an almost identical trick against none other than John Riel Casimero.  Nearly ten years later Mthalane stopped former champion Akira Yaegashi in nine. Three different seek-and-destroy missions played out against three different opponents with ten years separating the first and the last; it is impressive stuff.
Mthalane's legacy problem is that in between, he did so little of note, Muhammad Waseem and Masayuki Kuroda his best performances in the interim, but his longevity and his undefeated status for the decade impresses so much he is rendered at #3. That he made a victim of Yaegashi last year gets him over that line.
02 – Juan Francsico Estrada
Peak Ranking: 1 Record for the Decade: 28-3 Ranked For: 31% of the decade
Juan Francisco Estrada emerged from 108lbs with the brakes off, matching the world's number one contender Brian Viloria in June of 2013 in an immediate and violent assault on the division.
Clearly unintimidated, Estrada stepped into Viloria's wheel-house and out-fought him there, matching his armaments, and out-hitting him. It was the seventh when the divisional number one finally broke before him and the fight was a foregone conclusion from that point. Estrada did not drop another round on my scorecard.
Variety was the key for Estrada in this fight. He eschewed the jab in favour of leading with right hands, left hooks, and especially uppercuts, sometimes stepping in with the front foot and bringing up an "L" while face to face with his prestigious foe. It was a risky strategy and Estrada suffered for it in the sixth, but as he continued to mix leads at speed regardless of cost, Viloria found himself more and more on the end of punches he was not prepared to counter. Once the pre-counter was beaten out of him he fought on without real hope.
Rocketed to the very top of the division, Estrada certainly did no hiding meeting ranked contenders Milan Melindo and Giovani Segura (by then an established flyweight) and the sliding Hernan Marquez. Of these, his performance against the unbeaten Melindo most impressed me. His left, as always, weaved magic, a combination of push jabs, uppercuts, hooks, especially to the body and of course feints; but it seemed that the right spoke more forcefully than it had until this match, too. A slingy, overhand punch was perhaps the most damaging and persistent he threw, and a menacing right uppercut, though less frequent, partnered it.
A preference for the brutal, heart-rending knockout he scored against Marquez is valid but either way, it's a resume and execution worthy of the number one spot. Sadly, he once again has to make do with number two, which is the same position he landed at 115lbs. An old adversary edged him out.
01 – Roman Gonzalez
Peak Ranking: Ch. Record for the Decade: 25-2 Ranked For: 29% of the decade
Juan Francisco Estrada may have had the best uppercut/power-punch combination of the flyweight decade, but there were no other two-pieces, combinations or flurries of any designation where any flyweight could rival Roman Gonzalez. He is a superb puncher and perhaps the best composite puncher in the division's entire history. His coming to flyweight was a sure reckoning.
Gonzalez had probed the division for years but arrived in earnest in 2013 against no-less a figure than Francisco Rodriguez, a component rather than a great fighter, but one who is always in great fights. Rodriguez's Mexican approach could not stand Gonzalez though, who turned him away in seven. One year later he stood in the ring with Akira Yaegashi, the flyweight world champion.  Yaegashi had until this day demonstrated a heart of oak and elite punch-resistance but he never recovered from what Gonzalez fed him.
No fighter is more comfortable at all distances than Gonzalez and he gave a masterclass in seek and destroy when Yaegashi tried to move. Yaegashi tried to check his man's momentum with brave forays but over and again he was out-hit, out-thought. Never was the right hand better; Gonzalez threw it in all shapes and at all ranges and at many different carefully selected targets. The glove eventually became a living feint, something that made Yaegashi flinch away in uncertainty, even as Gonzalez began to wind up the left. The referee eventually intervened after the second knockdown of the fight in the ninth round, and a new champion was birthed.
Gonzalez did good business in the top five as king, without making his claim as one of the great ones.  He staged four defences, chief among them Edgar Sosa and Brian Viloria ranked four, and McWilliams Arroyo ranked seven. He brooked no resistance, rolling over Sosa in two, outfighting a brave Brian Viloria who managed to survive for nine rounds, before finally going the distance with Arroyo. This last is the most fascinating fight of these three in that Arroyo found a way to survive.  Gonzalez ceded the opening rounds, as he often did against bigger men, but, like Joe Louis, like Ray Robinson, once he had found you, he had found you for all time. Gonzalez decoding how a man below 112lbs moves is the same as his winning the fight, going on all available evidence.
Arroyo covered up, staged resistances but he was outhit for the third through to the twelfth by four and five punch combinations, narrow, webbed punches within which net Gonzalez responded to movement with the same sensitivity as a spider detecting prey. He took the closest range against Arroyo, a good fighter, and beat him up. This is Roman "Chocolatito" Gonzalez distilled.
It is also the last of him as a great fighter. He remains, to this day, a good one but his final fight at 112lbs was his last where he was able to work with fighters who did not hold over him a prohibitive size advantage. When he departed the division for the richer purses at 115lbs he also broke the lineage of the longest lineal title in the world, dating back to Miguel Canto and the 1970s. It was a prestigious crown to abandon.
You sense it would have come about either way though. Roman Gonzalez could be fighting at the weight still and it is unlikely they would have found a man to defeat him – whenever he departed the division he would have taken the title with him.
The uncontested number one decadal flyweight.
The other lists:
Check out more boxing news on video at the Boxing Channel 
To comment on this story in the Fight Forum CLICK HERE
Muhammad Ali Biographer Jonathan Eig Talks About His Book and the Icon Who Inspired It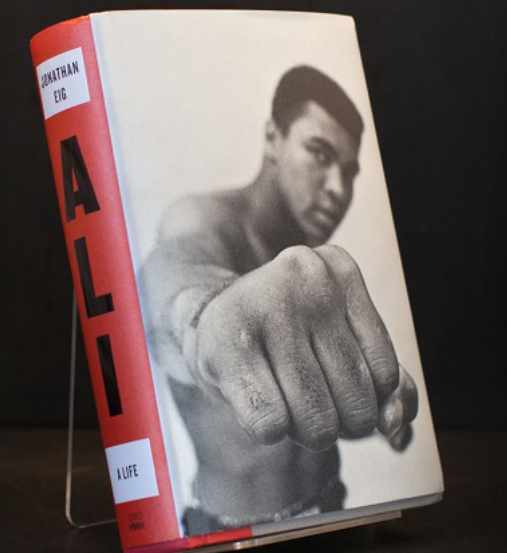 Given the breadth and depth of Muhammad Ali's 74 years, it isn't very easy to capture the complete essence of the man.
Dozens of books have been written about the three-time heavyweight champion including Jonathan Eig's 2017 biography, "Ali: A Life."
Born in Louisville, Kentucky on January 17, 1942 as Cassius Marcellus Clay, he would one day be known around the globe as a world-class boxer, civil rights advocate, philanthropist and cultural icon.
Like so many others, the Brooklyn, New York-born Eig became intrigued by Ali.
"I loved Ali as a child. He fascinated me. He was outspoken, radical, yet so very loveable," he said. "And, of course, he could fight! I was astonished to realize, around 2012, that there was no complete biography of Ali, even though he was probably the most famous man of the 20th century."
Eig, currently at work on a major offering about the life of Dr. Martin Luther King, Jr., added: "I had read lots of Ali books, including [David] Remnick's "King Of The World: Muhammad Ali And The Rise Of An American Hero," and [Thomas] Hauser's "Muhammad Ali: His Life And Times," and [Norman] Mailer's "The Fight" – but those were not complete biographies," he pointed out. "By 2012, enough time had gone by to put Ali in historical perspective. Also, there were plenty of people still alive to tell the story. I did more than 500 interviews, including all three of Ali's living wives. I wanted to write a book that would treat Ali as more than a boxer. I wanted to write a book that would show the good and the bad. I wanted to write a big book worthy of an epic life, a book that danced and jabbed half as beautifully as Ali."
Given Eig's exhaustive research, what previously unknown tidbits about Ali did he come across?
"I learned thousands of new things. I think even hardcore Ali fans will find new information on almost every page," said the former Wall Street Journal reporter and 1986 Northwestern University graduate. "I discovered things Ali himself didn't know. I discovered Ali's grandfather was a convicted murderer, for example. Ali didn't know that! I read Ali's FBI files, as well as those of Herbert Muhammad, Malcolm X and Elijah Muhammad. I interviewed Ali's childhood friends. I found MRIs of Ali's brain. I counted the punches from all of his fights. I measured how those punches affected his speaking rate. Ali's wives also confided in me things I never knew. I spent four years working on this book, and every day delivered revelations."
Over the years, Ali, who posted a 56-5 ring record with 37 knockouts, seemed to mellow with time which helped ingratiate him to an even wider audience. How was this possible?
"People change. They grow. It's hard to stay radical as you get older and richer," said Eig, who has written five books including three that deal with sports. "The late Stanley Crouch had a great line about Ali. He said young Ali was a grizzly bear. Ali in the '70s was a circus bear. Ali in his later years was a teddy bear. We all loved the teddy bear. We wanted to hug him and love him. But it was the grizzly bear who we should remember first. It was the grizzly bear who shook up the world."
Sports Illustrated writer Mark Kram covered nearly the entirety of Ali's career which spanned 1960 through 1981 and included a three-year period, 1967 until 1970 when he wasn't allowed to box after being convicted of draft evasion because he refused induction into the armed forces.
In Kram's book, "Ghosts Of Manila," the author asserts Ali was essentially a pawn of the Black Muslims.
What's Eig's take?
"I love Kram's book, but I think it's dangerous to question anyone's religious faith," he said. "Ali was a true believer. The Nation of Islam took advantage of him at times. But does that mean he was a pawn? I don't think so. He knew what he was doing. He made his own choices. One might argue that the NOI did more for Ali than Ali did for them."
Ali wasn't perfect and that included his fondness for women. As a Muslim, how did he hurdle this?
"He didn't reconcile it – except to acknowledge that humans are human, they are flawed," Eig said. "The thing I love about Ali is that he said he was the greatest, but he never said he was perfect. He talked to his wives about his weakness. He even talked to reporters about his flaws – his weakness for women, his disdain for training, his poor handling of money. He knew who he was and he never tried to be anything else."
Eig, who has also penned "Luckiest Man: The Life And Death Of Lou Gehrig," and "Opening Day: The Story Of Jackie Robinson's First Season," went on: "We're all complicated, right? Ali was no more complicated than you or me, but he let the whole world see his complications – his racial pride and his racist behavior toward [Joe] Frazier, his love of women and his cruelty to his wives, his generosity with his money and his stupidity with money," he said. "I don't think Ali was different, just more open, more willing to let us see everything."
Ali's battles with Frazier, George Foreman and Ken Norton are legendary, but his two fights against Sonny Liston are filled with question marks, such as were they fixed?
Ali claimed the title on February 25, 1964 in Miami Beach when Liston failed to answer the bell for the seventh round and then faced Liston 15 months later in Lewiston, Maine, where he knocked out the challenger in the opening frame.
In Eig's mind, were these two bouts on the level? "My hunch is that the first fight was legit. Liston quit when he knew he couldn't win," Eig said. "The second fight is more suspicious. Liston's flop was pathetic. Bad acting! But I don't think we'll ever know for sure. As an aside, Liston's wife said Sonny had diarrhea before the fight, which might have given him one more reason to throw it."
Still, Ali in his prime was a sight to behold. "Ali before the exile, in my opinion, was the most beautiful boxer of all time. His combination of speed and power and ferocity was thrilling, elegant, frightening and marvelous," Eig said. "Was he the greatest heavyweight of all time? Maybe, maybe not. Was he the most breathtaking? To me, yes."
Early in Ali's career his braggadocio was off-putting to many. But much of it was showmanship.
"One of the Greatest" doesn't sound as good, does it? If we're only discussing his action in the ring, Ali was one of the greatest," Eig said. "But that's like saying Louis Armstrong was one of the greatest trumpet players without considering his voice, his charm, his improvisational skills, his smile. In and out of the ring, Ali was the greatest in my book."
For so many, Ali was many things. What traits in the man does Eig admire? "I love his fearlessness, his honesty, his insatiable appetite for people," he said. "He was so very loving. But he could also be narcissistic. He wanted everyone to love him, but he wasn't always sensitive to the feelings of others – including his wives and children. He turned his back on friends like Malcolm X and Joe Frazier when it served his purposes."
While Ali could be polarizing, he had his legion of supporters including Howard Cosell, Jerry Izenberg, Robert Lipsyte, Larry Merchant and Jack Newfield.
"You could add Mailer, [George] Plimpton, and so many others to that list," Eig noted. "Those men were lucky enough to spend time with young Ali and to bask in the great warmth of his sun. He was great to reporters. He was the best story they ever covered. And unlike most celebrities, he really paid attention to them."
Eig continued: "I only met him once, six months before he died, and I envy those reporters who got to know him and got to see him at his best. I think those who knew and loved Ali became his disciples," he pointed out. "Ali's friend Gene Kilroy told me over and over that he thought Ali was like Jesus, that people would be studying his words and drawing inspiration from his life for centuries to come. That's the feeling he gave to those with whom he spent time."
Ali was a boxer, but so much more. How does Eig see him? "I think Ali will be remembered as one of America's great revolutionary heroes – one whose courage went far beyond sports. Like Jackie Robinson, like Martin Luther King, like the abolitionists and suffragettes, he loved America but refused to accept its shortfalls," he said. "He fought to make his country live up to the promises contained in the Declaration of Independence. He will also be remembered as an important world figure, one who united Africans, Americans and Asians, one who helped Americans better understand Islam and helped people of Islamic faith around the world better understand America."
In Ali's last quarter century, he was almost universally loved. This is a far cry from being labeled a draft dodger.
"Ali was always a spiritual man, but in his later years I believe he clarified and deepened his spirituality," Eig said. "He became more focused and more thoughtful."
When Eig turned in his manuscript, what was his immediate thought? "I wanted to take it back. I didn't want to be done," he said. "I had so much fun writing this book I wanted to work on it for the rest of my life. I knew I would never find anything more fun to work on."
Check out more boxing news on video at the Boxing Channel 
To comment on this story in the Fight Forum CLICK HERE
The Peculiar Career of Marcos Geraldo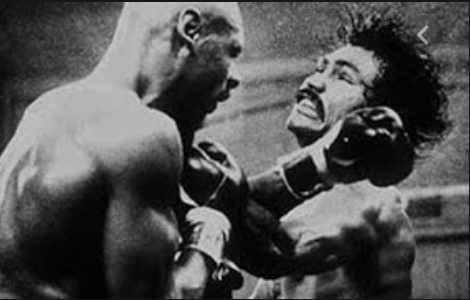 If you play word association with retired boxer Marcos Geraldo, you might come up with "chinny," or "easy work." But if you did, you would be wrong.
This extremely active Mexican boxer fought out of Baja California but was a staple in Nevada and Southern California and was 38-12 before he ventured outside these regions
Many saw Geraldo as easy work because of the 21 KOs he suffered but what they missed was the fact he had 50 KOs of his own and that made him an ultra-exciting type of fighter–and it guaranteed him plenty of marquee events. If you didn't get Marcos, he was likely to get you. That translated to bringing in fans. He also was an active fighter and fought, for example, 12 times in 1972 alone. He also toiled 25 times at the Silver Slipper in Las Vegas—yes, 25 times—and he went 21-4!
Along the way, Geraldo (who at various times was the middleweight and light heavyweight champion of Mexico) did battle with four Hall of Famers — Sugar Ray Leonard, Marvin Hagler, Thomas Hearns, and Virgil Hill — several world champions, and numerous title contenders. (Michael Nunn, another stiff opponent, could someday become a member of the Hall as well.)
As his career progressed, the level of his opposition became stiffer. Listed in the order of appearance, these are the records of some of his opponents at the time that he fought them: Peter Cobblah (48-46-5), Angel Robinson Garcia (138-80-21), Armando Muniz (32-6-1), George Cooper (49-4-3), Sugar Ray Leonard (21-0), John LoCicero (15-3), Marvin Hagler (48-2-2), Caveman Lee (13-2), Thomas Hearns (33-1), Fred Hutchings (20-1), Ron Wilson (71-33-7), Prince Mama Muhammad (29-1-1), Michael Nunn (7-0), Tony Willis (9-0), Chris Reid (14-0-1), Virgil Hill (16-0), Jesus Gallardo (16-1), Antoine Byrd (6-1-1).
Whew!
In 1979, Geraldo went the distance with Sugar Ray Leonard which surprised boxing buffs though Ray had previously been extended by others.
The following year he gave Marvelous Marvin Hagler all he could handle while losing a unanimous but close decision in a surprisingly tough thriller.
Hagler (May 1980)
Hagler pressed the action in-close but surprisingly was met with strong counterpunching. Both did plenty of shoe shining. First Hagler; then Geraldo. It was tit for tat and the fans roared their approval. What won the fight for Hagler was his stamina and harder punching which enabled him to tire the tough Mexican, but he never managed to break him down.
The scoring was Duane Ford 97-93, Art Lurie 97-94, and Chuck Minker 97-95.
The fans at Caesars Palace in Las Vegas gave both fighters a standing ovation as they raised each other's arm up in a marvelous (no pun intended) show of mutual respect. The media framed it it as a "great" fight. It defined "fan–friendly."
Geraldo had stopped Bomber John LoCicero before the Hagler fight, but was KOd in round one by both Caveman Lee and Thomas Hearns subsequent to Hagler. And then he was stopped much later by Michael Nunn and Virgil Hill.
His final slate was 71-28-1 — 100 bouts put him in rarefied company. Also, seven of those 21 KO losses came in his last eight fights.
After a very close review of his career, the word association that could more appropriately fit might be "incongruity," or "action, or "resilient," or even "peculiar."
Sadly, he was always one big win away from entering the top tier.
Ted Sares can be reached at tedsares@roadrunner.com
Check out more boxing news on video at the Boxing Channel 
To comment on this story in the Fight Forum CLICK HERE
HITS and MISSES: Javier Fortuna Shines and More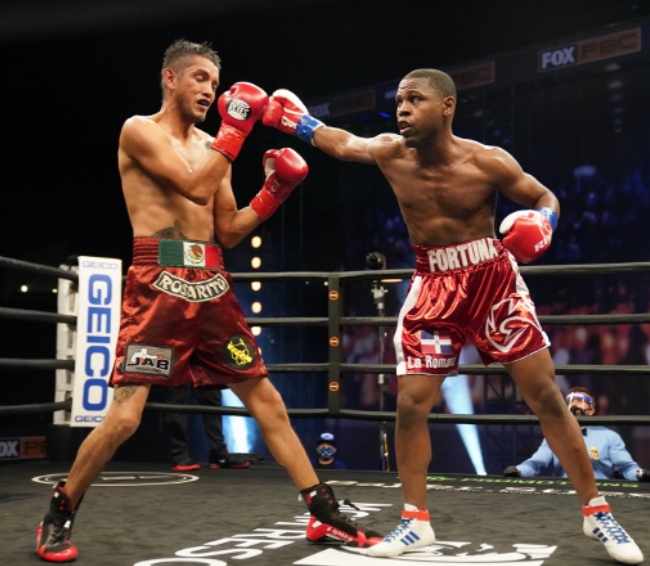 HITS and MISSES: Javier Fortuna Shines and More
The boxing schedule continued during the penultimate week of November though there seemed a little less action over the weekend than prior weeks. Still, important contests took place featuring some of the top fighters in the sport.
Here are the biggest HITS and MISSES from another week on the boxing beat.
HIT: Future Fortunes of Javier Fortuna 
Perhaps it's just my affinity for southpaws, but Javier Fortuna looked sensational on Saturday night in the main event of an FS1 PBC Fight Night card.
Fortuna, 31, from the Dominican Republic, is a legit threat in the 135-pound division. His sole loss since moving up to lightweight was a split-decision to former titleholder Robert Easter in a fight that could have been scored either way, and his athletic and unorthodox style will just about always make him a problem for anyone.
Alongside being tied to Al Haymon's PBC group, Fortuna is promoted by Sampson Lewkowicz, whose most famous recent client is probably former middleweight champion Sergio Martinez. Like Martinez, Fortuna is the type of talent who could unexpectedly make some legitimate noise in his division during the latter part of his career.
MISS: Austin Delay's Emotional Reactions to Accidental Headbutts
Despite the two losses on his record, there's a lot to like about lightweight prospect Austin Dulay. The 25-year-old from Nashville defeated Jose Luis Gallegos in a 10-round decision in the co-feature of the PBC card on Saturday night in Los Angeles.
Dulay's a sharp-fisted, crafty southpaw with fast hands and good feet. While his win over Gallegos absolutely proved he possesses some upside as a rising talent in the sport, his emotional responses to the three accidental headbutts in the fight gives his team plenty to work on with the fighter as he progresses.
Referee Thomas Taylor did a great job explaining the key concept to him. "It happens," Taylor reminded Dulay at least twice in the fight after the clashes of heads. Indeed, it does happen, and that's especially true in southpaw vs. orthodox matchups.
After the second headbutt in the fight, which happened in the sixth round, Dulay angrily gunned for the knockout. Everyone loves action like that, but reactive responses to innocuous events aren't on the path to the highest levels in the sport. Dulay needs to reel his emotions back in during those types of moments if he hopes to become a world champion.
HIT: The Savagery of Alen Babic vs. Tom Little
Hopefully, you've witnessed the majesty of Alen Babic by now. The 30-year-old from Croatia is the type of heavyweight you'd better enjoy now on the way up the ranks because, let's face it, Babic's style and skill set make him likely to be exposed as he climbs higher up the ladder.
Until that time comes, though, Babic is must-see TV. The savagery of seeing a volume punching heavyweight who throws just about every single punch with serious emotional intent is a wonder to behold.
For his part, Tom Little did his best to turn the Babic tide back. In fact, the 33-year-old was the first fighter to weather Babic's early storm and offer a return, but Babic ultimately dumped him down for the third-round knockout.
By the way, that's faster than Daniel Dubois and Filip Hrgovic did it.
MISS: Terence Crawford and Errol Spence Not Making Superfight Priority
What shouldn't be lost in the Terence Crawford vs. Errol Spence debate is how both fighters would rather fight Manny Pacquiao instead of each other.
I had the chance to speak with both elite welterweight champions within the past week, and both men told me the same thing in regards to their focus on making one fight happen. Crawford wants Pacquiao next. Spence does, too.
While it's completely understandable why these guys would seek the bigger payday against the legendary future Hall of Famer, something would seem to be broken in boxing overall when arguably the best and most important fight in the sport doesn't even seem to have a tiny chance of happening anytime soon.
HIT: The Professional Amateur Conor Benn
Imagine having just around 20 amateur bouts and trying to put together a world-level professional boxing career. Now, imagine also trying to follow in the footsteps of your father, himself a former world champion.
But rising welterweight contender Conor Benn seems to be on his way to giving that run a serious go. Benn, 24, from England, defeated Germany's Sebastian Formella in the main event of a Matchroom Boxing card on DAZN on Saturday.
While Benn doesn't exactly have the look of a can't-miss prospect destined for greatness, he does at least possess some of the qualities that could lead him to the top of the sport. Certainly, Benn believes it.
After beating Formella, Benn argued he'd done it just as good as two-time welterweight titleholder Shawn Porter had done.
"I beat him just as good," Benn said during his post-fight interview.
He wasn't wrong about that, and neither was his father, Nigel Benn, for lavishing praise on his son after his big win.
"Well done, son. I'm proud of you," Nigel Benn said.
Benn has a tough road ahead of him. He's basically been a professional amateur up to this point, a fighter getting paid professional money to employ an amateur skill set on fight night.
But he's improving at a rate that suggests that might not be the case soon.
Photo credit: Sean Michael Ham / TGB Promotions
Check out more boxing news on video at the Boxing Channel 
To comment on this story in the Fight Forum CLICK HERE