The Top Ten Light Flyweights of the Decade: 2010-2019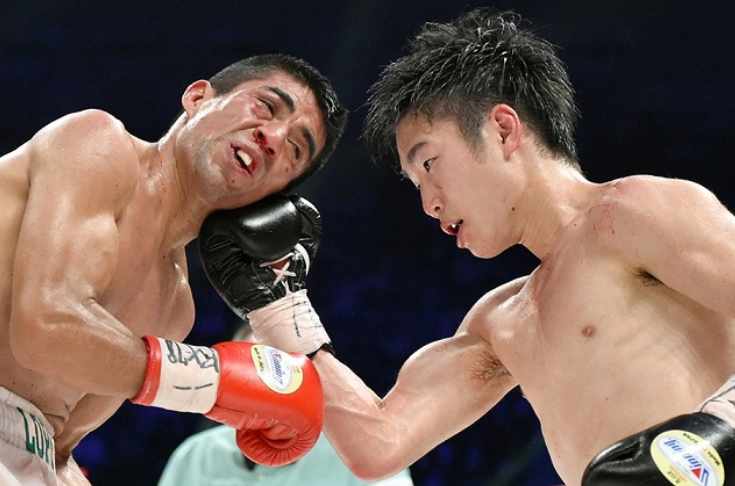 The Top Ten Light Flyweights of the Decade: 2010-2019
Light-flyweight was the most challenging division in this series by distance. The top three are split by a hair's breadth. Below, there is a jumble of men who have met one another and have met one another's conqueror in an ill-stitched mishmash of clues and hints as to superiority. It would be arrogant to consider any of my lists definitive – though I have certainly put in the hours – but this one, above all, is probably a thoroughly appraised impression rather than an attempt at definitive ordering.
This means you may occasionally find yourself surrounded by lists of names and rankings but I promise it is necessary to bring clarity, which is what this series is about. Those rankings are from Ring Magazine between January first 2010 and October 2012 at which point TBRB is founded and those rankings are preferred.
10 – Adrian Hernandez
Peak Ranking: 1 Record for the Decade: 14-4 Ranked For: 39% of the decade
Adrian Hernandez is most famous as a Naoya Inoue victim, but he was ranked the world's best light-flyweight for a spell before that execution. Chief among the reasons for this was his brutal 2011 breakdown of Gilberto Keb Baas, the unlikely world's #1 at that time. Hernandez found his way inside where Baas was willing to entertain him, to his great detriment and the chief cause of his being rescued by the referee and doctor in ten rounds.
More interesting was Hernandez's two fight series against Suriyan Satorn, made necessary by his surprise loss to the Thai in December of 2011. Hernandez avenged the loss in a career's best performance the following year. After losing the first-round, shipping some of the punches that caused him so much trouble the year before, Hernandez circled with the jab moving in behind uppercuts. Meathooks followed. A combination of these in violent arrangement sent a hurt Satorn down in the third; an even more vicious orchestration neatly closed the blinds in the sixth.
Two good wins, and throwing in a victory over a green Ganigan Lopez, rounds out a very decent decadal resume.  Still, Hernandez's grasp on the #10 spot is far from ironclad. There is Hiroto Kyoguchi, who beat Hekkie Budler; Budler himself who holds a fine win over Ryoichi Taguchi; and Javier Mendoza who fought and won a filthy fight with Milan Melindo. Any one of them would have been a valid inclusion, although if it hadn't been Hernandez it would, for me, have been Yu Kimara.
That Hernandez defeated every light-flyweight he met in the decade aside from the immortal Naoya (for which he is most certainly not penalised) is what gets him over the line.
09 – Akira Yaegashi
Peak Ranking: 2 Record for the Decade: 16-5 Ranked For: 21% of the decade
Akira Yaegashi moved out of 105lbs and with the occasional exception, straight to 112lbs where he made his bones. In truth, though, 108lbs was where he belonged, something he proved after the disaster against Roman Gonzalez by weighing in comfortably at 107.5lbs against Pedro Guevara – to whom he also lost.
Yaegashi seemed finished and that is why it such delight that his best win, arguably his best in ring performance – the one that earns him the number nine slot – came a year later against the number two contender Javier Mendoza.
Mendoza, a puncher with a work-rate and heart to match, seemed Yaegeshi Mark II, a fresher version with better hitting. He came to wreck, seeking to march down the older man, to bury him like Gonzalez and Guevara buried him. Quite where Yaegashi produced the performance that followed is anyone's guess.
In an echo of his match with Gonzalez, Yaegashi moved, rather well, before parking and foraging for punches. Mendoza, who had expected this, followed, and in the second and third did really good work but it is interesting to note that Yaegashi pulls out both rounds with straight right hands to the head, right hands that hurt Mendoza, and later in the fight begin to wither his desperate offence.  Yaegashi won a wide decision despite Mendoza's desperate insistence on contesting every round in a wonderful, brutal fight. The quality of that performance edges him in ahead of Hernandez.
08 – Pedro Guevara
Peak Ranking: 1 Record for the Decade: 29-3-1 Ranked For: 49% of the decade
Pedro Guevara's 108lbs career is tough to appraise. He has three key wins that need to be examined and each is marked by a question of one kind or another. His first big win came over Mario Rodriguez, a fine fighter but one who was unranked at light-flyweight but was ranked, rather at strawweight. The last is over Ganigan Lopez, a fighter I admire but one who had the barest of claims to a top ten ranking at the time.  The middle of these three victories locks him onto this list though, and ahead of Akira Yaegashi, for in December of 2014, Guevara defeated him in his Japanese stronghold.
The question mark here is over Yaegashi's frame of mind, dropping down from flyweight to 108lbs to escape Roman Gonzalez who had brutalised him so completely three months earlier. What is not in doubt is the completeness of Guevara's victory. Guevara did everything a grizzled trainer would tell a fighter to do: worked off the jab, claimed the centre of the ring, stayed busy, kept his hands high and his chin tucked in, goes to the body. It was mastery of Boxing 101 and combined with Guevara's solid hitting and iron jaw it was enough. With nothing between them on the cards, Yaegashi folded to consistent pressure topped off with a vicious liver shot in the seventh.
Facing Lopez, Guevara fought a mirror image of himself, a persistent and competent southpaw who fought without fear but perhaps lacked Guevara's organisation under fire, born, maybe, of that elite punch resistance. Guevara took the decision.
So, Guevara has good wins against good opponents but being workmanlike he perhaps did not inspire. This may help explain the three narrow decisions he dropped to John Riel Casimero, Yu Kimura and Kenshiro Teraji, which exercises some drag on his position here. Eight is as high as he can climb.
07 – Milan Melindo
Peak Ranking: 3 Record for the Decade: 18-5 Ranked For: 27% of the decade
If you set out to track down Milan Melindo's astonishing one round knockout of Akira Yaegashi, commit to the full-length version. There is something of the tragi-comic about the pomp and ceremony of the Japanese television broadcast preparing the ground for what we know to be a disastrous first round loss for Yaegashi, who was eighteen months removed from what I have described as his best performance.
After menacing Yaegashi around the ring with his left hand for ninety seconds, Melindo catches his man with a gorgeous left hook counter that sends Yaegashi stumbling and down; bringing him on and then driving him back after he rose, Melindo then dropped him again with the left, this time an uppercut; with all his experience, Yaegashi somehow did not know to run and after surviving a right uppercut double left hook combo, he was pierced by the Melindo jab and sent down for a third and final time by a cameo from the right hand.
There was no way Yaegashi was going to survive Melindo that night had he made it out of the first round. Melindo's left hand was fire and it was absolutely dialed in to Yaegashi's face from the first bell.
For his next trick, Melindo outpointed the world class Hekkie Budler. Budler was moving up but would turn in arguably the best performance of his career in his very next fight against Ryoichi Taguchi. The fight was mired in controversy, but this was due to inappropriate use of adrenaline on the cuts Melindo suffered around his eyes rather than scorecard issues, and Budler's claim to the contrary were rejected; in truth I saw an enthralling but one-sided fight that was made closer only by the impact of those cuts on Melindo's boxing.
Two quality wins like this might have put him higher up this list, but he ran smack bang into a Japanese technician named Ryoichi Taguchi.
06 – Ryoichi Taguchi
Peak Ranking: 1 Record for the Decade: 17-3-2 Ranked For: 73% of the decade
Ryoichi Taguchi glided onto the world's stage in late 2015, defeating ranked contender Alberto Rossel. It was not just the result that impressed, but the method. Taguchi won almost every single minute of each of the first six rounds, then dropped Rossel twice with bodypunches while threatening to shut out the game Peruvian. Rossel, who had travelled a long way to Japanese territory to absorb this thrashing, managed to bank a couple of rounds late in the fight to keep it semi-respectable, but Taguchi's jab had controlled him and allowed him to introduce right uppercuts and straights late in the fight. It was a performance of maturity and authority from a fighter who was still inexperienced.
Sadly, Taguchi squandered much of the momentum he built here on alphabet mandatories, many of them of little meaning, before tying up with Melindo in December of 2017. Their fight was fascinating, a superbly balanced tactical exchange across the first six that the two split down the middle before Taguchi took over late. The key was finding a home for his right hand, which he achieved by moving slightly to his left with Melindo moving slightly on his right. All the while, Taguchi was sharpening his control of the range, an area where he excels, although he doesn't enjoy the otherworldly accuracy that such fighters often do. He is technically astute though, at all ranges, and as he added a higher workrate to his slightly superior punching, the brave Melindo began to slip behind on the scorecards.
Surprisingly, Taguchi then lost to Budler which makes sense, if only retrospectively; the South African used aggression and experience to negate the control of the Japanese and eased him out by the narrowest of margins. There is a case, then, for Melindo to sit above Taguchi, but in the end, I prefer Taguchi's direct head-to-head superiority over the triangular logic of Melindo beat Budler, Budler beat Taguchi. Taguchi's longevity at the poundage tips the scale further.
05 – Donnie Nietes
Peak Ranking: 1 Record for the Decade: 17-0-3 Ranked For: 56% of the decade
I am a little uncomfortable with placing Donnie Nietes at number five and it was nip and tuck between he and Ryoichi Taguchi. The difference, such as it is, is Nietes' unbeaten status, but that must be tempered by the disturbing fact that Taguchi, hardly a household name (in as much as any light-flyweight ever is), faced tougher competition than divisional leader Nietes. I feel sure, for what little it is worth, that Taguchi, too, would have gone unbeaten had they swapped opponents.
But so too would Nietes, in my view. This is where the limited value of speculations on head-to-head parameters come undone a little bit, but Nietes, with his own reams of experience, almost certainly wouldn't have been outhustled by Budler; the raw stats feel more pertinent here then and the raw stats favour Nietes.
Nor is Nietes totally devoid of quality in his 108lbs resume, with three names ringing out: serial-thriller Francisco Rodriguez Jnr., and the ranked men Moises Fuentes and Ramon Garcia Hirales.  Emerging from the 105lb division, Nietes nevertheless continued to stalk his 108lb opposition and his sharpshooting and poise spooked Hirales early. Nietes swept the first five boxing well within himself, opening up his southpaw opponent with rights to the body thrown often from maximum distance; it's hard to count these as risks when Nietes throws them such is his judgement of a punch.
There were hints, though, in the second half of that fight that 108lbs was going to prove tougher for Nietes and it proved to be the case in his sharp draw against Moises Fuentes in 2013. Fuentes, a big, rangy light-fly faded badly down the stretch allowing Nietes back into a fight in which he was all but cut adrift. A draw, reflected on my card, was the result. Nietes learned the lesson though and in a rematch, he drew his Mexican opponent onto a narrow pivot from which he could not recover organisationally as quickly as Nietes. Forced into overt aggression by a quick, teasing Nietes he was walked onto persistent counters until one hurt him at which point an undisciplined Nietes – docked a point for landing against a downed opponent at the first knockdown – scored a sensational knockout win, half moving across himself as though to throw a left before booming out a disguised right.
It was an impressive performance, a strategy designed for a bigger opponent, elements of which he drew upon for his decision victory over Francisco Rodriguez in 2015, but essentially, Nietes was far too ready to let the WBO tell him who to fight. This inevitably led to an underwhelming legacy at the poundage but I feel the unblemished record is good enough for the number five spot.
04 – Giovani Segura
Peak Ranking: Ch. Record for the Decade: 11-3 Ranked For: 14% of the decade
Giovani Segura's career barely overlaps with 108lbs in the decade to hand; he managed just 3-0.  There are two reasons we find him in the top five. Firstly, he is the only lineal champion on the list and secondly, two of those wins were over the legendary Ivan Calderon. Calderon, a Rolls Royce of a pugilist, may have been ready to be taken but someone had to do the taking and to break his thirty-four-fight unbeaten streak in the process. As such it was no small matter and clearly of greater legacy benefit than victories over Moises Fuentes and Francisco Rodriguez.
The first fight was painful to watch as a Calderon fan but there was no questioning Segura's heat, lungs or the fire in his belly. None of Calderon's punches were beyond him through the first four rounds while he consistently and forcefully laid down his own work. That work began to tell in the fifth and by the middle of the round, Calderon, who moved as beautifully and consistently as any fighter on earth, was propping himself on the ropes and in the corner desperately trying to outfight a tormentor he could not master. Segura was savage and brilliant, walking the dancer down, scowling, invincible, brutal. Segura finally folded him like old pipe in eight.
Segura was even more impressive in the rematch. The puncher had discovered how Calderon, the boxer, moved and it was only a matter of time. Segura fouled him, beat him back, enforced his will and blasted Calderon out of the division, once more along the ropes, once more with that eye-watering body-attack.
At this weight, those two generational wins are more than enough for a top five placement.
03 – Naoya Inoue
Peak Ranking: 1 Record for the Decade: 19-0 Ranked For: 13% of the decade
Naoya Inoue fought exactly four times at 108lbs, excluding his debut; worse, two of those combats were wasted on two fighters unqualified to share the ring with him, even at what was an early stage of his career. Nevertheless, Naoya defeated no fewer than two men who made this list and in the shape of Adrian Hernandez, the world's number one light-flyweight. The addition to what we'll politely call supplementary knockouts over Jerson Mancio and Wittawas Basapean is just enough to make the number three spot reasonable, although I dithered with placing him at number four right up until the final moment.
Stepping up to 108lbs, Naoya met the lowly ranked Ryoichi Taguchi out of the gate in an all-Japanese money-maker he probably expected to be a little easier than it was. Taguchi's iron jaw and technical excellence had yet to be fully recognised and realised but in truth, he was well on his way and that meant Naoya had marched straight into one of the best 108lb men of his generation. Theirs was a stiff contest, clearly won by Naoya but far from one-sided. In the end, Naoya attacked over more planes of movement than Taguchi; left-hook low, straight-right hand high, the beginnings of the fluid, dynamic, attacking prowess that would throw the world at his feet.
Less than a year later, he met divisional number one Adrian Hernandez and I would suggest this was the fight in which he summited. Naoya has made minor adjustments since his thrashing of the experienced Hernandez, but this was the fight where his offence migrated from deadly to seemingly irresistible. Hernandez, for all his guile, was rent.
In fact, for the first time, Inoue looked otherworldly. This might make his sitting at three questionable. The top three are incredibly close – there is almost nothing between them in a sense that has been replicated on any of the other lists. For now, a summary: Naoya Inoue fought too few fights against too few top men to be ranked #1 or #2.
02 – Roman Gonzalez
Peak Ranking: 1 Record for the Decade: 25-2 Ranked For: 28% of the decade
So, the top three can legitimately be rearranged in any order and their ordering will, as always, be defined by the accents placed upon criteria. What has landed the immortal Roman Gonzalez at #2?
In essence, Roman, like Naoya, has two wins that interest us but much more filler than Naoya; there is the beginning. As to those wins, the second of them is relatively unimpressive in that it is Ramon Garcia Hirales, and arguably not the prime version. It should be noted though that Roman steam-rolled him, where Nietes needed twenty-one rounds to get him out of there. It is his other victory that brings him the slot, however.
Juan Francisco Estrada, oddly enough, was not ranked at light-flyweight at the time he and Roman fought but their fight was a generational one between present and future pound-for-pounders at their physical peaks. Here is another matter for preference; do you lean towards rigorous application of the guideline that ranked fighters are the ones whose defeat carry most meaning? Or do you make room for how a fighter was perceived in the immediate wake of a contest?
Certainly Estrada would rocket to the top of the sport behind his superb effort against Roman, who he stretched to his seeming limit in taking a decision. In my view this victory qualifies as generational which outstrips Naoya's victory over Hernandez, even though Hernandez was ranked number one and Estrada was not ranked at all. Where you land on this question will determine where Gonzalez will land.
It should be remembered, however, that Gonzalez fought around twenty contests at 108lbs, for all that the focus here is on the end of that run and many of those fights were early in his career and near-meaningless. Comparing that resume directly to Noaya's, he clearly ranks higher for me; and comparing it directly to the man at #1 makes Roman a perfect fit for #2.
01 – Kenshiro Teraji
Peak Ranking: 1 Record for the Decade: 17-0 Ranked For: 26% of the decade
Kenshiro Teraji boxes under the best moniker of any active fighter so far as I am concerned – "The Amazing Boy" comes from a fighting lineage and the temptation is to say that it shows. Teraji's ambition though was more naked than his father's ever was and in just his twelfth fight he met an experienced, tough Mexican in Ganigan Lopez, probably the two things at the very top of the list marked "things to avoid" for light-flyweight prospects. It showed. Teraji was involved in a desperate, knife-edge scrap which he won by the narrowest of margins on the scorecards. It was no robbery, but it is perhaps safe to say that the result would not have been the same in Mexico (my card read 114-114).
It has been one of the joys of the light-flyweight decade, however, watching Teraji improve. It has been fast and the consequences have been brutal. Nearly a year to the day after their first fight, Teraji took the extraordinary step of rematching Ganigan. This is not normal. A prospect who squeaks by elite opposition generally chalks it up and moves on but Teraji is a different type of man.  In the rematch, he produced a stunning adjustment. Rather than stalk on his toes early, he immediately gave ground, but in small increments, bouncing in and out but to create dynamism in the position rather than specifically to score points. He moved across Ganigan, opening himself up to the Mexican's jab, allowing his opponent to bag the first round with his right alone. But it also opened up Ganigan's body for his own right hand. He landed this to such brutal effect in the second that Ganigan was only beginning to think of rising, his face locked in a grimace, at the count of ten.  This is a thinking fighter, or a listening fighter with a thinking coach.
In between his fights with Ganigan (key in charting his rise and rise), Teraji was not idle.  Instead, he met with the Pedro Guevara, then ranked the best light-flyweight in the world. Enormously ambitious, the WBC open scoring nonsense robbed us of what should have been a tension-drenched contest as Teraji strived and in the middle rounds succeeded in getting Guevera under control.  Although he never seemed entirely safe, his reliance upon his jab to out-basic Guevera led the way to a gorgeous beltline attack in the seventh and bagged enough rounds on my card to rescue him from what looked like a bad start. He deserved the majority decision he received. Here was a learning fight and one that bore immediate fruit in the form of that knockout of Lopez.
In 2018 he buried a second man from this list in the shape of Milan Melindo, still among the five best light-flyweights on the planet but outclassed and savaged mercilessly until the ringside doctor and referee colluded to halt the beating. This was the Amazing Boy's peak performance (so far), sharpshooting of the highest standard, the right hand in particular standing comparisons with Naoya's and Roman's.
Since, Teraji has disappointed just a little. In the three remaining fights for him that decade, he shut out the underqualified, granite-jawed Saul Juarez and outright slaughtered Jonathan Taconing and Randy Petalcorin, neither of whom belonged in a ring with him, in four. Still, of the three contenders for the number one spot, Teraji has the best record against ranked contenders, defeated as many men listed here as anyone, and most of all showed meaningful commitment to the division. Naoya and Roman staged forays into the 108lb division and departed for other divisions. Their reward is to be ranked in those other divisions as well as this one; Teraji though is the pre-eminent fighter of the poundage from this decade. He is young enough and good enough that the early part of the next decade will likely belong to him too.
The other lists:
Check out more boxing news on video at the Boxing Channel 
To comment on this story in the Fight Forum CLICK HERE
Tyson and Jones Box to an Unofficial Draw in a Predictable Stinker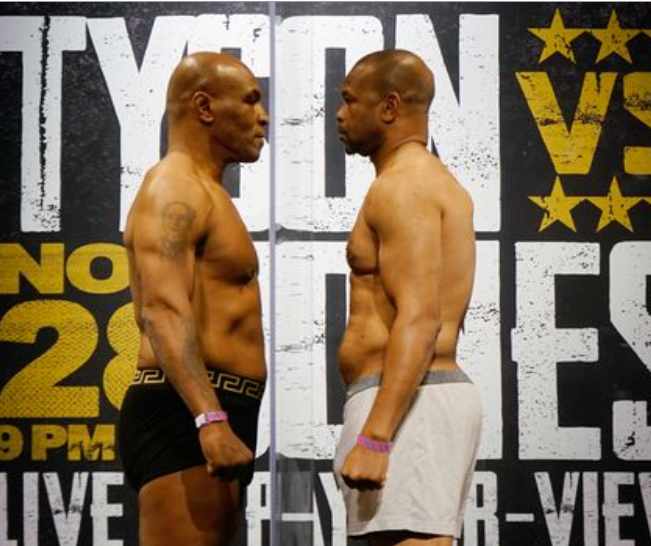 The Ringling Bros. and Barnum & Bailey Circus, an American institution, went belly-up in 2017, but a different kind of circus played to an empty house at the Staples Center in Los Angeles tonight. The main attraction wasn't Jumbo the elephant but Iron Mike Tyson in his first ring appearance in 15 years. In the opposite corner was Roy Jones Jr, who at age 51 was the younger man by three years.
Tyson vs. Jones was the main piece of a 4-hour boxing and music festival live-streamed in the U.S. on the TysononTriller.com app at a list price of $49.95. This was the first live event on "Triller" which allows people to create their own music videos and was designed as a rival to China-owned TikTok, one of the biggest recent success stories in the internet world.
The California State Athletic Commission, which sanctioned the match, insisted that Tyson vs. Jones would be an exhibition. They would fight 8 two-minute rounds with 12-ounce gloves and if there were a knockdown, the referee would not give a count and the bout would or would not continue at his discretion. The rounds would not be scored and no winner would be named.
Of course, the promoter chafed at these restraints and did his best to create the impression that this was a legitimate prizefight. Retired boxers Vinny Pazienza, Chad Dawson, and Christy Martin were lassoed to serve as judges, scoring the fight from a remote location, and the WBC commissioned an honorary belt to present to the winner.
The advance hype was enormous. A clickbait-obsessed media lapped it up including photoshop-enhanced images of Mike Tyson's physique.
In the second round, Tyson landed a double left hook and that was the only indelible moment in the match. By the third round, both looked and sounded tired and by the sixth round Jones was thoroughly gassed out and took to clinching to make it to the final bell.
For the record, the scores were 79-73 for Tyson (Martin), 80-76 for Jones (Pazienza), and 76-76 (Dawson). On the internet, the clear consensus was that Tyson had the best of it.
Mike Tyson, 50-6, 2 NC (44 KOs) last fought in June of 2005 when he was stopped by third-rater Kevin McBride. Roy Jones (66-9, 47 KOs) was active as recently as 2018 and won his last four, but against hand-picked opponents including a boxer making his pro debut. His last fight of significance came in 2011 when he was brutally KOed by Dennis Lebedev in Moscow.
Jones, who weighed 210 ½ tonight, weighed 157 when he made his pro debut in 1989. In his prime, he was pound-for-pound the best fighter in the world, but that was back in the previous century.
Both fighters were reportedly guaranteed $1 million with Tyson's take potentially reaching $10 million if certain financial targets were met.
Other Bouts
YouTube sensation Jake Paul, who we reluctantly concede has more than a modicum of talent in the fisticuffing department, knocked out Nate Robinson in the second round and it was a clean knockout with Robinson knocked out cold. The 36-year-old Robinson, the former NBA point guard who was a three-time slam dunk champion during his 11-year NBA career, is a well-rounded athlete, good enough to start as a cornerback in football during his freshman year at the University of Washington, but his athleticism didn't translate to the squared circle as he looked like a common bar brawler.
Former two-division belt-holder Badou Jack (22-3-4), who said he appeared on the card as a favor to his friend Mike Tyson, was a clear-cut winner over hard-trying but out-classed Blake McKernan in an 8-round cruiserweight match.
At age 37, Jack's career is winding down. He tipped the scales at 188 ¾, 14 pounds more than in his previous engagement vs. Jean Pascal. McKernan, a natural cruiserweight from Sacramento, was undefeated coming in (13-0), but was over his in over his head against Jack, a former Olympian and veteran of seven world title fights.
In a good action fight, Worcester, Massachusetts lightweight Jamaine Ortiz, a carpenter by trade, improved to 14-0 (8) with a seventh-round stoppage of Sulaiman Segawa (13-3-1), a Maryland-based Ugandan.
In the first bout on the program, Fort Worth featherweight Edward Vazquez improved to 9-0 (1) with an 8-round split decision over Jamaine Ortiz stablemate Irvin Gonzalez (14-3).
Heavyweight Juiseppe "Joe" Cusumano improved to 19-3 (17) with a sixth-round stoppage of late sub Gregory Corbin (15-4). It was the fourth straight loss for the 40-year-old Corbin who came in at a beefy 291 ¾ pounds.
Check out more boxing news on video at the Boxing Channel 
To comment on this story in the Fight Forum CLICK HERE
Fast Results from London: Joe Joyce Stops Daniel Dubois in the 10th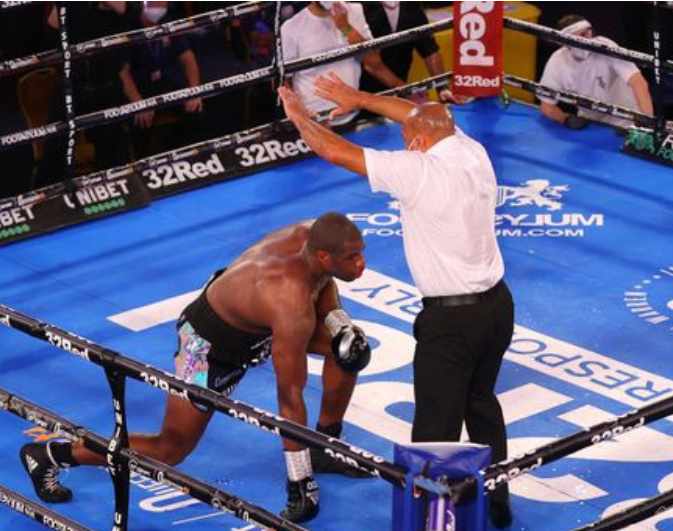 The historic Church House which sits in the shadow of Westminster Abbey was the site of tonight's clash in London between unbeaten heavyweights Daniel Dubois and Joe Joyce. The bout lacked the gloss of a world title fight, but didn't need it. The oft-postponed match, originally slated for the 02 Arena in London on April 11 with promoter Frank Warren anticipating a sellout, was fairly hyped as the most anticipated fight since Fury-Wilder II which was the last big fight before the coronavirus clampdown.
Dubois, 15-0 with 14 KOs heading in, was a consensus 7/2 favorite in man-to-man betting, He was younger, faster and punched harder, but ultimately it would be his "O" that had to go. Joe Joyce, an inch taller at six-foot-six and 15 pounds heavier at 259, emerged victorious with a 10th-round stoppage in what was a good back-and-forth fight with a divided opinion as to who had the edge through the completed rounds.
Joyce really didn't do much but throw a jab, but he landed that jab consistently and it was a hard, thudding jab that caused Dubois's left eye to start swelling during the mid-rounds of the fight. The damaged eye eventually shut and when Joyce reached it with another hard jab in the 10th, Dubois surrendered by taking a knee. The presumption was that he had suffered a broken orbital bone.
The 35-year-old Joyce, nicknamed Juggernaut, is of Scotch-Irish and Nigerian descent. He lost by split decision to Tony Yoka in the semifinals of the 2016 Olympics and had to settle for a silver medal. Prior to turning pro, he was 12-1 in the semi-pro World Series of Boxing with his lone defeat coming at the hands of Oleksandr Usyk. With today's career-defining win, he upped his pro ledger to 12-0 (11).
Other Bouts
Top-rated WBC super lightweight contender Jack Catterall (26-0) won a predictably one-sided 10-round triumph over 33-year-old Tunisian Abderrazak Houya (14-3). Catterall scored two knockdowns en route to winning by a 99-90 score. This was a stay-busy fight for the Lancashire man who was the mandatory challenger for title-holder Jose Carlos Ramirez and accepted step-aside money with the promise that he would meet the winner of the unification fight between Ramirez and Josh Taylor which is expected to come off in February.
The lead-in fight was a 10-round contest in the super welterweight division between 21-year-old Hamzah Sheeraz and 33-year-old Guido Nicolas Pitto. The fight was monotonous until Sheeraz (12-0, 8 KOs) kicked it into a higher career in the final stanza and brought about the stoppage. Pitto, from Spain by way of Argentina, declined to 26-8-2. The official time was 1:11 of round 10.
In an 8-round cruiserweight bout, Jack Massey improved to 17-1 (8) with a 79-74 referee's decision over Mohammad Ali Farid (16-2-1). Massey was making his first start since losing a close 12-round decision to Richard Raikporhe in December of 2019 for the vacant BBBofC title. The well-traveled, one-dimensional Farid had scored 16 knockouts in his previous 18 fights while answering the bell for only 33 rounds.
Check out more boxing news on video at the Boxing Channel 
To comment on this story in the Fight Forum CLICK HERE
Daniel Jacobs Edges Past Gabe Rosado on a Matchroom card in Florida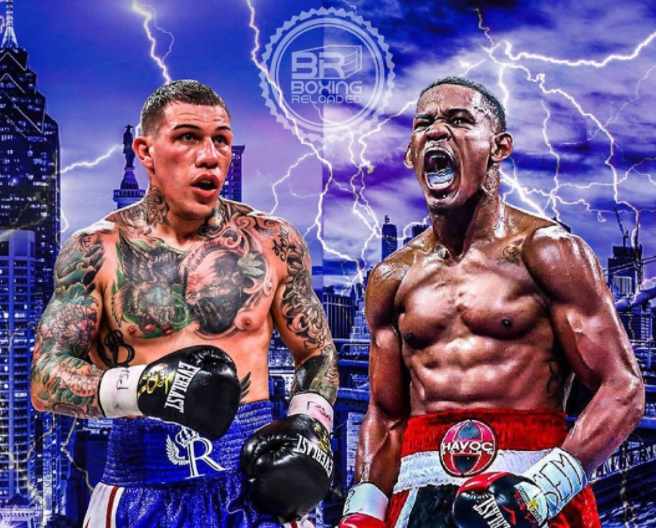 Former world champion Daniel Jacobs needed the last round to win by split decision against upset-minded Gabe Rosado and keep his place in line on Friday for lucrative super middleweight matchups.
But when the ring announcer erroneously announced the winner was from Philadelphia, confusion reigned for a moment until Jacobs was correctly called the winner.
Brooklyn's Jacobs (37-3, 30 KOs) jumped out ahead against Philly fighter Rosado (25-13-1, 14 KOs) and held on for the win in front of no fans at the Seminole Hard Rock Hotel and Casino in Hollywood, Florida. For a second, many thought Rosado had won.
Both were careful during the first three rounds measuring each other's distance and looking for openings to counter. There were very few.
It was the kind of fight expected by those who know boxing: two veterans with immense experience against top-flight world champions. Mistakes were few.
Jacobs, a former middleweight world champion, had fought Saul "Canelo" Alvarez and Gennady "GGG" Golovkin in close but losing efforts.
Rosado had battled Golovkin too, six years ago in a bloody affair that ended in a loss. He had also lost to other champions like Peter Quillin and Jermell Charlo. But none were able to knock him out.
Both were aware of each other's reputation. Bitter words had been exchanged for years and now they finally got their chance to prove their mettle and they did.
Though Jacobs was recognized as a knockout puncher, Rosado's resilience was just as well known. Both neutralized each other for most of the fight with their feints and jabs to the body. Neither was willing to leave openings for each other.
Jacobs scored big with a left uppercut at the end of the seventh round. While Rosado wowed viewers with a sizzling right cross in the 11th round.
It was 1950s style, boxing with intelligence. Each found it difficult to land combinations, let alone find openings to score knockout blows. Instead, they had to be satisfied with scoring enough to convince three judges the actual winner.
Neither was able to pull out ahead with any conviction.
After 12 rounds one judge saw Rosado the winner 115-113 while two others saw Jacobs the winner 115-113 to give him the win by split decision.
"It felt just a little weird. It felt like a sparring match," said Jacobs about fighting without fans in the audience. "This wasn't a valiant effort."
Rosado was certain he was the true winner.
"I thought I won the fight. I surprised him," said Rosado who trained with Freddie Roach for this fight. "I'm a veteran, I know how to fight."
Indeed, he does.
Jacobs now stands poised to fight one of many super middleweight champions in need of a marquee name.
"I live to see another day," he said honestly.
Other Bouts
Kazakhstan's Daniyar Yeleussinov (10-0, 6 KOs) proved he was not an easy touch and knocked out former world champion Julius Indongo (23-3, 12 KOs) to march forward in the welterweight division while grabbing the vacant IBF Inter-Continental title.
In a fight featuring southpaw versus southpaw Yeleussinov caught Indongo with a roundhouse left the first time they exchanged and down went the former super lightweight world champion. Indongo beat the count and survived the round.
Indongo wasn't as lucky in the second round as Yeleussinov again connected with a left and down went the fighter from Namibia again. He would not get up at 1:24 of round two giving the knockout win for Yeleussinov.
A battle between undefeated heavyweights saw Azerbaijan's Mahammadrasul Majidov (3-0, 3 KOs) use roundhouse rights to stagger the heavier Sahret Delgado (8-1) to win by knockout in the third round. Majidov actually helped Delgado get to his stool after knocking him out on his feet at 47 seconds of the third round.
Emmanuel Tagoe (32-1) defeated Mason Menard (36-5) by majority decision after a 10- round lightweight fight that saw a lot of clinching and leaning.
Nikita "White Chocolate" Ababiy (10-0) out-fought Detroit's Brandon Maddox (7-4-1) to win by unanimous decision after six rounds in a middleweight clash. Ababiy hurt Maddox with body shots but found Maddox more resilient than expected.
Check out more boxing news on video at the Boxing Channel 
To comment on this story in the Fight Forum CLICK HERE.