The Top Ten Strawweights of the Decade: 2010-2019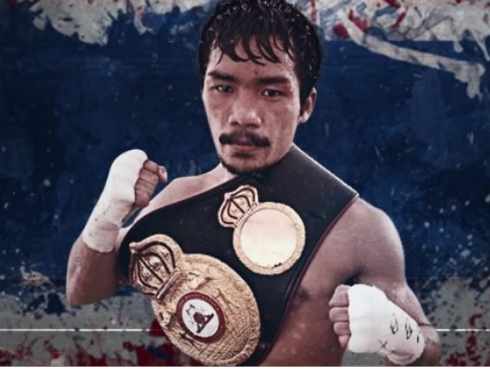 The Top Ten Strawweights of the Decade: 2010-2019
The tragedy of this list, comprised of the best 105lb fighters from the past decade, is that numbers one and two share an era, a home country, a weight division, but due to promotional issues, will never meet. Modern boxing in a nutshell we see two fighters who represent the most natural sporting opposition imaginable for one another who don't need each other, each milking an alphabet strap for their earnings.
Rant over: this list is also comprised of men who fought in some of the very best fights of the decade, against one another. The smallest division of all, the combat it produces is perennially underrated by fans and writers alike. Not by you though, perhaps, and certainly not by me.
One more time then: all rankings are by TBRB, except prior to their founding, all rankings between January of 2010 and October of 2012 are by Ring.
For those of you who have read this series from the first article to the last: I thank you.
10 – Katsunari Takayama
Peak Ranking: 1 Record for the Decade: 8-5 Ranked For: 60% of the decade
Katsunari Takayama seemed likely to place higher at the beginning of this process, but in reality, he lost most of the big fights in this 105lb decade. Often, they were worthy defeats against class operators but the disaster he suffered against Mateo Handig in October of 2012, for all that it was a close run, seemed to end his time at the top. Rather typically of boxing, Takayama came blasting back with the single best performance of his war-torn career, against the number one ranked Mario Rodriguez. Rodriguez is a man we will learn more about below, but it is enough to state here that he was the finest puncher of the strawweight decade, a puncher who was also armed with an iron jaw. For all his limitations, this was not a fighter Takayama would necessarily have expected to beat, or even meet after back-to-back losses against Handig and Nkosinathi Joyi, but that was the type of fighter Takayama was.
He was superb against Rodriguez, boxing as though he had won his last two fights, fighting hard when he needed to, boxing in a tight circle and prioritizing the jab after he was dropped in the third round by a savage Rodriguez hook. Never entirely out of danger, he nonetheless dominated exchanges with a buzzing straight-armed 1-2, swarming volume to body and head, varied movement, sometimes coming all the way out, sometimes tightening the circle, sometimes standing toe-to-toe and seeking to slip. It was a quality performance against a dangerous fighter on foreign soil.
There is so much to admire about Takayama. He was only in good or great fights, he had a strong jaw, he travelled, and he would fight anyone. All of that said, Takayama lost almost every single one of his significant fights at the poundage during the decade. Joyi beat him clean, Francisco Rodriguez Jr. received the decision in their wonder-match and although it could have gone either way, the decision was reasonable; Jose Argumedo, who defeated him on a technical decision in 2015 came close to taking his slot here.
In the end his victory over world's number one Rodriguez is just enough, in combination with his being ranked for 60% of the decade and all those wonderful fights he gifted us, to grant him the low spot.
09 – Kazuto Ioka
Peak Ranking: 2 Record for the Decade: 22-2 Ranked For: 12% of the decade
My memory of Kazuto Ioka was false. I thought of him as a dominant 105lb fighter who would make a mark on the top ten with ease, perhaps even a candidate for a top five spot. A close look has seen him the first locked-in inclusion for the decadal top ten but nearer the #11 spot than #5.
In short, he has just a single win of real note and a single supplementary win that matters, the former over Akira Yaegashi in what appears on paper to be something of a generational contest. In fairness, the two men delivered, Ioka inflicting brutal punishment on the fearless Yaegashi who continued to fire back long after blindness must have overtaken corners of his vision. Grotesquely swollen he fought so hard as to make the contest razor-thin in scoring, so close as to make one wonder as to what those scorecards might have looked like had Yaegashi not been marked-up so badly. Such speculation is not helpful however, nor does it take into account the mercilessness and precision with which Ioka worked Yaegashi's wounds, nor the indelible composure he wielded as his opponent's face ballooned. The decision may have been narrow, but it is difficult to argue with.
Ten months earlier, he had scored a victory over Juan Hernandez Navarrete. Navarrete's name is not one that echoes through eternity, but he scored a narrow, debatable win over Moises Fuentes, a fighter who would come to matter. That match is barely enough, in combination with his win over a pre-prime Yaegashi, to slip Ioka in ahead of Takayama.
08 – Mario Rodriguez
Peak Ranking: 1 Record for the Decade: 14-13-4 Ranked For: 22% of the decade
Mario Rodriguez had a disastrous decade, but his spell at 105lbs was not a part of that failure. Beaten from pillar to post at 108lbs, even by Pedro Guevara with whom he fought on even terms at 105lbs, where his paper record was a much more respectable 6-2-3. The losses, to Katsunari Takayama and Donnie Nietes (who did not remain in the division long enough to be considered for this list), hardly hurt him and the wins include some impressive supplementary names. The big win though, and the one that grabs him the number eight spot, is over preeminent minimumweight Nkosinathi Joyi, twenty-nine years old and in his absolute prime.
Joyi was coming off a career's best win over Takayama when Rodriguez welcomed him to his native Mexico in September of 2012. A significant underdog, Rodriguez looked it early; slow, static in the feet, little dips of the head sparing him the absolute worst of Joyi's attentions but in essence he seemed a knockout waiting to happen.
In the second, Rodriguez put his head on Joyi's chest and began to throw some hard punches. Joyi outboxed him once more but Rodriguez had his blueprint in hand. Joyi continued to beat him brutally, especially to the body, but Rodriguez never threw the yolk. In the fifth, he found Joyi with punches and the referee incorrectly ruled a knockdown a slip. After dominating, Joyi had found trouble.
Mario's secret was that he was the rarest of things: a 105lb puncher, a legitimate big hitter.  Armando Vazquez ditched in four, future 108lb Gilberto Keb Baas dusted in five, lesser fighters dispatched in less time. In essence, Rodriguez, never stopped aside from his muddled debut, was equal to Joyi's punches and Joyi, the far more established fighter, could not live with Mario's. In the seventh, Rodriguez popped Joyi on the chin with an uppercut, a left up around the ear, a similar scuffed right and Rodriguez had beaten Joyi and locked himself in to this list.
07 – Francisco Rodriguez Jr.
Peak Ranking: 1 Record for the Decade: 33-4-1 Ranked For: 6% of the decade
Francisco Rodriguez Junior was ranked at 105lbs for just a few short months between January of 2010 and the end of 2019, barely legible as far as this list is concerned. During those weeks, he did two things that mattered: defeated number six contender Merlito Sabillo by tenth round stoppage and won the fight of the decade, at any weight, against number two contender Katsunari Takayama.
Sabillo was first, in March of 2014 and although brave, he was outgunned, as much due to Francisco's own granite chin as his withering body attack. He dropped and handled Sabillo, then worked him over into the tenth, when Sabillo's corner did the right thing and pulled their man.
Rodriguez had summitted and the timing could hardly have been better. Four months later he stepped in with Takayama and the result was fire. There is no way that this fight can be described in several paragraphs here and I will not even try. If you have seen, you know.  If you have not, stop reading this and type Francisco Rodriguez Jnr. vs Katsunari Takayama into your search bar.
What Rodriguez shows is elite heart, elite chin, elite workrate and fine punching. Those attributes would remain when he departed 105lbs for 115lbs.  In truth, he was never a natural 105lb fighter and spread himself too thin to rank any higher here. Still, his 2014 was splendid and it is impossible to imagine this list without him.
06 – Byron Rojas
Peak Ranking: 2 Record for the Decade: 27-4-3 Ranked For: 47% of the decade
Byron Rojas is one of the bravest and most underestimated road warriors in all of boxing. In May of 2016 he travelled from his native Nicaragua to South Africa to face the superb Hekkie Budler in his own back yard. All heart and charge, Rojas put his head down and threw his gloves out, repeatedly, without cease, for the twelve rounds that followed. Budler, clearly perturbed, had a long night and despite doing the cleaner punching and being the only one of the two to engage in the rudiments of upper body movement, was clearly behind after six rounds.
Budler then made the sort of gorgeous adjustment that only an experienced champion can, moving, instead of away, in to Rojas, physically trying to push him back by hitting to the body. It made for a fascinating ninth round, clearly won by the South African. In the tenth, Rojas made his own adjustment, dropping his guard and throwing violent meathooks at Budler who suddenly wanted no part of the inside. Rojas twice hurt his man in that round and although the eleventh and twelfth were close, had clearly done enough. Budler tied the belt around Rojas's waist himself.
Having defeated the third best strawweight of his generation, Rojas set sail, in his very next fight, to meet the best, Thammanoon Niyomtrong. Rojas lost that fight – narrowly – and a 2018 rematch more definitively. Being honest though, those losing efforts, on the road, probably enhance his standing here just a tiny bit. It is a difference-maker though. Rojas was ranked at 105lbs for nearly half the decade, true, and we see some of the gatekeeper types that appear often in discussing the men on this list – Julio Mendoza, Daniel Mendoza – but overall he probably doesn't have the flat-out win resume for the spot. Still, as a man, he was that and more.
05 – Moises Fuentes
Peak Ranking: 3 Record for the Decade: 16-6-1 Ranked For: 18% of the decade
Moises Fuentes flirted with these lists at heavier poundage, but he was never going to break on through. At 105lbs, he has cracked the top five – can it be justified?
Two key fights barrel Fuentes into the upper echelons of this list and neither one is to be missed. In 2011, coming off a defeat and one more away from gatekeeper status, Fuentes stepped in with #3 contender and tough Raul Garcia. The two staged a war, exchanging knockdowns and violence throughout. Fuentes took a close decision in a fight that could have gone either way.
This positioned him beautifully for the fight that every minimumweight wanted against the descending Don of the 105lb division, Ivan Calderon. Calderon, fresh from his brutalization at the hands of Giovani Segura up at 108lbs, was returning to reclaim what at this point seemed his birth-right. Fuentes's name went into the hat and was drawn; he was the alphabet champion destined to pass Calderon back his gold.
Except he wasn't. Now, there is no dispute about this: Calderon was not what he was. I covered the fight at the time and wrote that "His legs seemed less and less able to carry him for twelve rounds. Something that had seemed easy in 2008 now had the appearance of being difficult for him… The creeping sense that his legs were beginning to betray him had come to fruition. There would be no Ali-like second career". For all that this was true, Fuentes had begun his work, the work of a fighter, even as he ceded early rounds. Fuentes was chopping off the ring, measuring the speed, measuring his guns against Calderon's defences.
In the fourth, he tracked Calderon down to a corner and began the steady and sad process of tearing him apart. Calderon crumbled in just five.
I took this personally at the time, describing it as "the saddest sight to see in fights, the metaphorical equivalent of watching a Ferrari Italia F458 being driven off a cliff" but watching it for this series I was in the main just impressed by Fuentes. Viewed remote from the incident it is hard not to be given Fuentes's ruthless domination of a legitimate great at the poundage. He deserves his credit, and he gets it here, decadal top five at the poundage.
04 – Nkosinathi Joyi
Peak Ranking: 1 Record for the Decade: 9-5-1 Ranked For: 25% of the decade
Nkosinathi Joyi stormed out of the 00s and in to the 10s the world's premier minimumweight and proved it in his very first fight of the decade against the excellent Raul Garcia, who he thrashed. In his next fight he matched Katsunari Takayama but a clash of heads caused the fight to be called off and a no contest rendered. The immediate rematch was Joyi's finest performance.
He did as fine a job as has been done in tracking Takayama down, and Takayama did try hard to keep him at arm's length. In the fourth Joyi just outwalked him and lashed him with southpaw left hands to the face; in the ninth, too much showboating saw Takayama caught in the corner and punished.  In between, Takayama had his occasional, surging moments but even in the rounds he lost, it felt that Joyi was not far away from retaining control.
A legitimate puncher, Joyi was consistently excellent at finding range and persisting in that range.  Expert balance and technical footwork capable of mining that balance for maximum returns meant that once he had found the range, he was expert in maintaining it. Combined with a vicious body attack, it can be readily understood why this combination should be so difficult for a fighter like Takayama.
All that skill though was not enough to hide a certain fragility which, as we have seen, cost him against Mario Rodriguez. Another loss, this one narrow and on the cards against Hekkie Budler, sent him scurrying for 108lbs where he was repeatedly beaten up and stopped. Returning to 105lbs, he was clearly outpointed in a confused performance against Simpiwe Konkco. It seemed all but over for him.
Then something wonderful and strange happened. Two weeks before the end of the decade, Joyi was fed to the number six contender, Filipino Joey Canoy, and in a wonderful return to form, Joyi batted him unmercifully for twelve rounds. The only version of this fight I could track down was a video taken in a South African front room of a television broadcasting the fight (I'd like to thank the gentleman in question, who can at one point be overheard on the telephone), but nevertheless, it can be seen that Joyi looks himself, for all that it was a slower version. Canoy was firmly outclassed, stuck on the end of the Joyi jab and battered throughout by beltline work, underlining Joyi's status as the finest bodypuncher of the divisional decade.
This victory enhances his standing considerably. How could it not? Once again ranked in the divisional top ten by the TBRB, he is nowhere near as deadly nor as respected he was in 2010, but at thirty-seven years of age he's holding on, and with a strap to defend, he may just make his mark once more in the third decade of his prestigious career.
03 – Hekkie Budler
Peak Ranking: 1 Record for the Decade: 18-4 Ranked For: 51% of the decade
Hekkie Budler, a legend in his native South Africa, boxes with a catch-as-catch-can style that I thoroughly enjoy. Against number nine contender Michael Landero, Budler attacked directly, invaded the pocket and out-fought him for a near shut out. Against number ten contender Chaozhong Xiong, Budler stopped well short of a shutout, losing the first and dropped heavily in the second, trapped on the end of a fulsome left hook at a perfect angle from his jaw. Seriously hurt, he was lucky to escape the round.
Budler's skill is in adaptations though and he spent the rest of the fight controlling the distance.  Punishing Xiong for each transgression, he slowed the fight way down, taking the explosive start and making it something infinitely duller but easier to control. Xiong was reduced to launching forayed attacks from distance and sucking up what Budler had to give him in the meantime. By the fight's end I was impressed but also nodding off.
Budler tended towards thrills though with a chin good enough to hold heavy shots and an engine good enough to run a busy fight plan against all-comers should he chose to do so. In "The Mega Fight" as it was billed in South Africa, Budler received a record payday to match fellow South African hero Nkosinathi Joyi and their fight was an excellent one. Guilty of shoe-shining early, Budler was behind in my card going into the second half of the fight but a grandstand finish saw him nip home by a smidge to win the most important fight of his career.
Losses to Gideon Buthelezi and Byron Rojas put the brakes on him just a little bit and it's worth noting that Xiong is likely the second best win of his career, a rather unimpressive one; nevertheless, Budler was certainly in the running for the #2 spot.
02 – Wanheng Menayothin
Peak Ranking: 1 Record for the Decade: 42-0 Ranked For: 83% of the decade
Wanheng Menayothin, also known as Chayaphon Moonsri, ran across some unexpected and much deserved fame recently for overhauling Floyd Mayweather's 50-0. Wanheng currently stands 54-0, undefeated but a different kind of undefeated; the kind that sees a fighter boxing to put food on the table in the literal, rather than that the figurative sense.
Wanheng is heralded and has been ranked for 83% of the decade; he is the most famous minimumweight since Calderon – and here he is, at #2 instead of #1. You are owed an explanation.  Here it is:
Wanheng hasn't fought anyone that good. I don't mean this in the sense the word is normally used, that he has dominated a weak era (he hasn't, and it isn't), I mean he hasn't fought anyone that good.  The best fighter he has met may have been then number six contender Oswaldo Novo. Wanheng has done no business in the top five in the weight class he is said to have dominated. This means he hasn't dominated it.
He crushed Novo, closing and battering him with an endless fuselage of punches that speaks of the hunger that continues to drive him at thirty-five. It is also true, though, that Novo has not won a single fight since he met Wanheng and included among the many losses he has endured is one to Saul Juarez. Juarez, then, is perhaps the best fighter Wanheng has beaten? He also met Wanheng in 2016 and Juarez, who I feel has been a little underrated, took Wanheng the distance.  It was a tough fight, but one clearly won by Wanheng although Juarez, too, has been living a loser's nightmare since that contest.
And it is hard beyond that to dig up contenders for a number one foe for Wanheng. Florante Condes has a certain doughy appeal, Pedro Taduran has looked decent since his loss to Wanheng, but beyond that, Wanheng's 54-0 is comprised mostly of men any competent fighter would be expected to beat.
Wanheng is certainly that. He is disciplined, strong, brings good pressure and is armed with a very decent range of punches. The first real test of his career, should he have one, still lies ahead of him, and that means #2 is the absolute roof for him.
01 – Thammanoon Niyomtrong
Peak Ranking: 1 Record for the Decade: 20-0 Ranked For: 52% of the decade
Thammanoon Niyomtrong, also known as Knockout CP Freshmart (don't ask) is unassailable in his position as the highest rated strawweight of the decade. It is not close; it is not debatable, there is no argument. The Thai (pictured) is the most accomplished 105lb fighter of the decade.
When he was but 12-0 he matched Carlos Buitrago, a fighter, for me, who is more dangerous than anyone Wanheng Menayothin has met in his celebrated fifty-four fights. It was also, for my money, the closest the undefeated Niyomtrong has come to defeat. The bones of his style were already firmly established; careful swarming, accompanied by very hard punches in ones, twos and threes in a clear adoption of drills, but also an opportunist's eye for a winging punch. Moving across him is foolish and moving into him dangerous. At 12-0 though, he was inexperienced at pacing himself and had yet to complete the twelve-round distance. After thoroughly dominating the first half of the fight he suffered a dramatic fade late, missing often, holding intermittently. He scraped home by a single round on all three official cards (and mine).
Niyomtrong had escaped, barely, in a tough, difficult fight against the number six contender. The man he is: he rematched Buitrago eighteen months later and thrashed him. On my card, he lost only two rounds, stamina and economy worthy additions to his fighting arsenal. Noteworthy also is that between these two fights, Niyomtrong found time to meet with another undefeated ranked fighter, Alexis Diaz. Diaz, arguably as dangerous as anyone Wanheng met, deployed a hurtful beltline attack in the first which Niyomtrong lost, something that is not unusual for him. In the second though, he began launching his unusual array of one-twos, a fascinating collection of punches which take a standard pressure-stalk and render it something more thoughtful and difficult; Diaz was cracked in the fourth but was essentially tortured throughout the second and third.
I would argue that in these short months Niyomtrong had already overhauled Wanheng's 105lb career, or the acute end of it anyway. Post Buitrago, though, Niyomtrong stepped into a new class.  His foil for the second phase of the decade would be Byron Rojas, Rojas at his best, straight off his victory over Hekkie Budler. Rojas was brutal with Niyomtrong, fouling him with his shoulders, pushing at Niyomtrong's cut eye with the top of his head, butting him. A liberal referee allowed Rojas to continue with his fierce work throughout the second half of the fight uninterrupted, but Niyomtrong was not so kind. All the while he was dolling out hurtful punches, including a peach of a lead left uppercut. The fight was close, but Niyomotrong was a narrow winner.  Narrow, as we have seen, is not good enough for this fighter, so he once again provided a rematch for a fighter who had troubled him and once again beat him more widely on the second occasion.
Xiong Zhao Zhong played the part of Diaz during this second phase, another fight Niyomtrong, still just thirty, won widely.
Niyomtrong has outstripped his countryman Wanheng on every metric I use to measure fighters bar the number of fights he has had and the number of fights he has won, but the clear gulf in quality of opposition bested makes him the clear choice. He is also the final divisional number one we will encounter – with just the decadal pound-for-pound list to be revealed.
The other lists:
Check out more boxing news on video at the Boxing Channel 
To comment on this story in the Fight Forum CLICK HERE
"One Night in Miami": Film Review by Thomas Hauser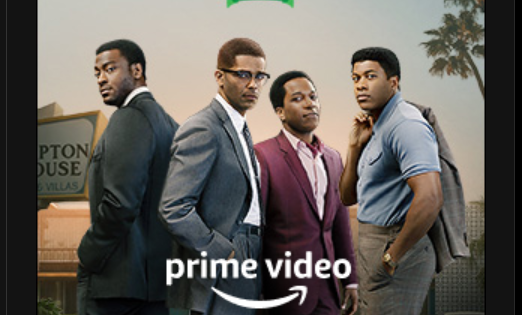 On February 25, 1964, Cassius Marcellus Clay Jr. defeated Charles "Sonny" Liston in Miami Beach over the course of six remarkable rounds to claim the heavyweight championship of the world. Late that night, the new champion found himself in a room at Hampton House (a black hotel in segregated Miami) with Malcolm X, several other followers of Nation of Islam leader Elijah Muhammad, and football great Jim Brown. Soul singer Sam Cooke (a friend of Clay's) had been at the fight, but there's no historical record of his being in the hotel room with the others at that time.
One Night in Miami is built around imagining what transpired in that room amongst Malcolm X, Cassius Clay, Jim Brown, and Sam Cooke. Directed by Regina King from a screenplay by Kemp Powers, it's available on Amazon Prime.
The film fits into the genre known as historical fiction. Dramatic license was taken. Viewers should understand that, at times, it's allegorical rather than an accurate factual recounting. The larger question is whether the film is impressionistically honest. The answer is "yes."
One Night in Miami begins with the 1963 fight between Clay and Henry Cooper in London. It then segues to Cooke being treated rudely by an all-white audience at the Copacabana, followed by Jim Brown (the greatest running back in National Football League history) being reminded by a patronizing southern gentleman that he's just a "n—–." Next, we see Malcolm as the Nation of Islam's most charismatic spokesman, after which the scene shifts to Liston-Clay I.
Thirty-four minutes into the film, the drama moves to Hampton House.
Malcolm X, Cassius Clay, Jim Brown, and Sam Cooke were prominent in different ways. Each was young, black, and famous. But Malcolm was a social and religious figure of considerable intellect while the other three were known as entertainers.
The dialogue between the four men is light at first and then turns serious.
Malcolm is played by Kingsley Ben-Adir. On what should have been one of the greatest nights of his life, his world is slipping away. His deadly rupture with Elijah Muhammad is almost complete. Soon, Clay will abandon him. Ben-Adir comes across as a bit weaker and more tentative than one might expect, although Malcolm's intellect is evident in his performance.
It's hard to imagine anyone playing Cassius Clay well except the young Muhammad Ali. But Eli Goree bears a resemblance to Clay and is pretty good in the role.
Jim Brown was an intimidating physical presence. Aldis Hodge lacks this physicality but his performance is solid.
Leslie Odom Jr, who plays Sam Cooke, has star quality. He's the only one of the four major actors who has the charisma and presence of the man he's portraying. But as a result, Cooke has a stronger on-screen persona than Malcolm. That's a problem as tensions between the two men boil over.
Toward the end of the film, Malcolm reveals that he intends to leave the Nation of Islam because of differences with Elijah Muhammad and will found a new organization.
"Who's gonna be in this new organization?" Clay asks.
"I think lots of people will follow me over," Malcolm answers. "Especially if you come with me."
Clay, of course, didn't follow Malcolm. He sided with Elijah Muhammad. One year later, he and Jim Brown were the only participants from the hotel room gathering as portrayed in the film who were still alive. Sam Cooke was shot to death in a California motel on December 11, 1964. On February 21, 1965, Malcolm was assassinated at the Audubon Ballroom in Harlem.
One Night in Miami cautions us that our icons are flesh and blood human beings with strengths and flaws. In its best moments, the film is a powerful reminder that the issues of self-respect, black empowerment, and racial equality are timeless.
Pictured left to right: Aldis Hodge (Jim Brown), Kingsley Ben-Adir (Malcolm X) Leslie Odom Jr (Sam Cooke) Eli Goree (Cassius Clay)
Thomas Hauser's email address is thomashauserwriter@gmail.com. His most recent book – Staredown: Another Year Inside Boxing – was published by the University of Arkansas Press. In 2004, the Boxing Writers Association of America honored Hauser with the Nat Fleischer Award for career excellence in boxing journalism. In 2019, he was selected for induction into the International Boxing Hall of Fame.
Check out more boxing news on video at the Boxing Channel 
To comment on this story in the Fight Forum CLICK HERE
Crossover star Holly Holm Adds New Dimensions to Claressa Shields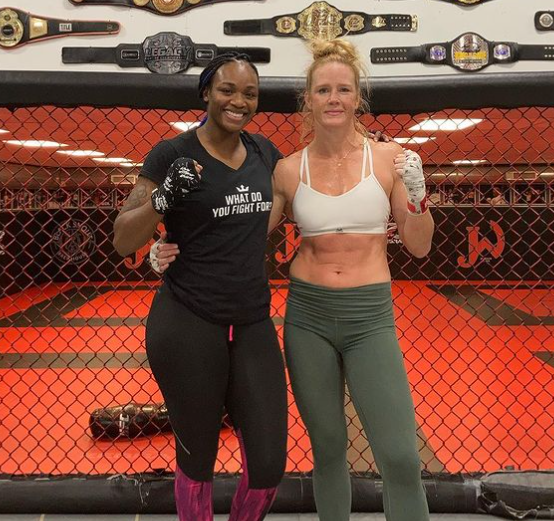 She laughs about it now, but back then it wasn't all that funny.
Boxing champion Holly Holm was competing in her first professional MMA fight, and all her years of training inside the ropes as a world champion boxer had just taken over her entire body.
Holm had kicked her opponent down to the ground, so she did what any well-schooled boxer would do. She pivoted away from her fallen prey and headed over to the neutral corner.
All of that was wrong.
"What are you doing?" her coach yelled from cageside. "Finish her!"
It was Holm's first big mistake in moving over from boxing to MMA, but she was lucky that night. It turned out that Holm's opponent was finished whether she had run over there or not, so it was a lesson she could learn without much consequence.
But the instruction of that moment stands true today, so it's just one of the many things Holm has shared with 25-year-old boxing champion Claressa Shields as the two-time Olympic gold medalist attempts to follow in her footsteps.
"I was thinking yeah, that will definitely happen to me!" Shields said.
After Shields signed a three-year promotional deal in December with the Professional Fighters League (PFL), the first thing Shields needed to do was look for the right gym.
Shields found that place at Jackson Wink MMA Academy in Albuquerque, New Mexico, one of the most famous MMA gyms in the country, and the one most recognized among the masses as the home gym of former UFC women's bantamweight champion Holm and pound-for-pound king Jon Jones.
Holm remains the only fighter (male or female) to have won legit world championships in both boxing and MMA, and Shields said Holm welcomed her to Jackson Wink with open arms.
"She's been super great and very nice to me. We both come from the same background…and she actually turned out to be a world champion [in MMA], actually turned out to be really good," Shields said.
But Holm's funny story about her first MMA fight is something that points to just how large a hill Shields has decided to climb.
Whereas pop culture has just recently started to realize the power of habits through the work of writers such as Charles Duhigg and James Clear, it's something professional fighters have known for a long time now.
"Oh, you're going to have a habit of this because you used to box."
That's something Holm tells Shields almost every time they work together, and there are just so many examples.
In fact, just watching the 25-year-old boxing champion trying to learn to do all these new things in a different way is exhausting.
That Shields practically lives inside the gym for weeks at a time so she can train four or five times a day for all the kinds of things she never had to worry about before as a professional boxer is a testament to her seriousness and her courage.
But perhaps the most amazing part of the entire story is that Shields still plans on boxing.
While Holm won world championships in both sports, she achieved those things separately. Meanwhile, Shields said she wants to do the same thing Holm did but at the same time.
So, while I'm standing there with her inside an MMA cage in New Mexico, Shields is plotting fights in both sports. On one hand, she's talking to me about a title unification bout in boxing against Marie-Eve Dicaire. On the other, she's talking about future superfights in MMA against the likes of UFC champ Amanda Nunes.
"I'm trying to separate the two," Shields said specifically about her training that day but she might as well have been talking about her whole life right about now.
It's arguably the most amazing storyline right now in combat sports.
Shields started boxing when she was just 11 years old. She earned her first gold medal at the Olympics at 17 and her second four years later.
Today, Shields is a three-division world champion, and she says she's not nearly finished adding to her growing number of boxing belts.
But all those years and all those successes have built so many habits. Ducking and slipping is great for boxing, but both become considerable detriments to defense when you suddenly have to worry about things like knees and kicks.
And what about wrestling and jiu-jitsu?
But all that stuff together is exactly what makes Shields' epic decision to dare to be great at both sports at the same time so amazing in the first place.
Look, Shields might never accomplish the same amazing feat Holm did when she shocked Ronda Rousey in 2015 for the UFC women's bantamweight championship.
But she's aiming to eclipse that incredible mark anyway, and with Holm and many others offering Shields ideas about what she needs to think about as she climbs up the steepest hill she can find, she'll definitely have her best chance at doing it.
Kelsey McCarson covers combat sports for Bleacher Report and Heavy.
Check out more boxing news on video at the Boxing Channel 
To comment on this story in the Fight Forum CLICK HERE
Boxers Fighting the Best and Doing It Again for the First Time: Part One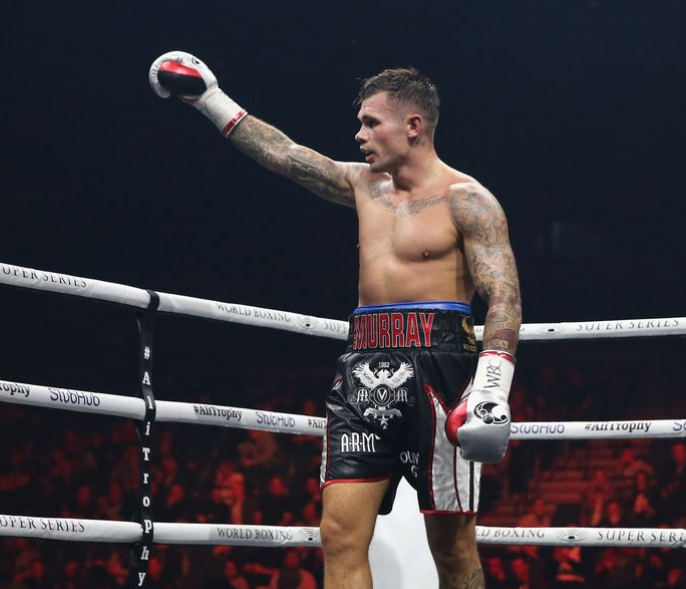 Britain's Martin Murray has fought the very best and has now closed out a heartbreaking if not admirable and old school career.
Others are just beginning to hit their stride and suddenly the possibilities are mouthwatering.
The buzz is back on. The heat is coming. No excuses. No badly injured shoulders. No running. This is macho explosive. This is the best fighting the best like it used to be done. Cherry picking is not allowed.
Back in the day, warriors like Ernie Durando, Kid Gavilan, Joey Giardello, Tony DeMarco, Bobby Dykes, Paul Pender, Joey Maxim, Holly Mims, Bobo Olson, and way too many others to list here would fight other top-notch boxers. It was the norm; not the exception. Tony DeMarco beat Kid Gavilan in 1956 and then fought Gaspar Ortega three times in a row in a relatively short period of time.
In the process of compiling a 95-25-1 record, Ezzard Charles engaged in an eye-popping 27 fights against men who would go on to be enshrined in the International Boxing Hall of Fame and/or the World Boxing Hall of Fame.
The List
Rocky Marciano (twice) – IBHF/WBHF
Joe Louis – IBHF/WBHF
Jersey Joe Walcott (four times) IBHF/WBHF
Archie Moore (thrice) IBHF/WBHF
Joey Maxim (five times) IBHF/WBHF
Jimmy Bivins (five times) IBHF/WBHF
Charley Burley (twice) IBHF/WBHF
Harold Johnson IBHF/WBHF
Lloyd Marshall (thrice) WBHF
Gus Lesnevich WBHF
In addition, Charles had three fights with Rex Layne, two with Ken Overlin, two with Elmer Ray, and one with Bob Satterfield
"Some day, maybe, the public is going to abandon comparisons with Joe Louis and accept Ezzard Charles for what he was—the best fist fighter of his particular time"  –Red Smith
Beau Jack, Aldo Minelli, Yama Bahama, Johnny Cesario, Fighting Harada, Eder "Golden Bantam" Jofre, Vicente Saldivar, Jose "El Huitlacoche" Medal, and then later Juan LaPorte and Livingstone "The Pit Bull" Bramble did not know what easy opponents meant. They were willing to fight anyone anywhere and were seldom stopped.
Vito Antuofermo, Ralph Dupas, Willie Pastrano, Curtis Parker, Bennie Briscoe, Kassim Ouma, Emanuel Augustus, Scott LeDoux, Ben Tackie, Ray Oliveira, Renaldo Snipes, Freddie Pendleton, John Scully, Charles Murray, Ted Muller, Anthony Ivory, and Alfredo "Freddy" Cuevas were also representative of those who would fight anyone anywhere. Picking made-to-order opponents was not what they were about.
Ali, Norton, Young, Quarry, fought one another. So did Duran, Leonard, Hagler, and Hearns. Across the pond, Watson, Benn, and Eubank did the same. Frazier, Holyfield, Mugabi, Tszyu, Cotto, and Chacon never ever backed away, nor did Mexican notables Castillo, Marquez (JMM), Morales and Barrera.
No one will accuse Floyd "Money" Mayweather of not fighting the best but they might point out that Floyd sometimes used long time intervals between bouts to his advantage. "Money" was not a particularly active fighter. The phrase "cherry picking" gained traction during this time.
Still, Andre Ward cleaned out an entire division. Cotto fought Pacquiao and Canelo, De La Hoya met Pacquiao, Klitschko faced Fury and then Joshua. Fury — after beating Klitschko — fought Wilder twice. Chisora will fight anyone they put in front of him. Heck, GGG fought 24 brutal rounds with Canelo and if that wasn't the best fighting the best, what was?
"…great fights lead to other great fights."—Max Kellerman
To be continued……
Check out more boxing news on video at the Boxing Channel 
To comment on this story in the Fight Forum CLICK HERE
Ted Sares can be reached at tedsares@roadrunner.com