The Top Ten Strawweights of the Decade: 2010-2019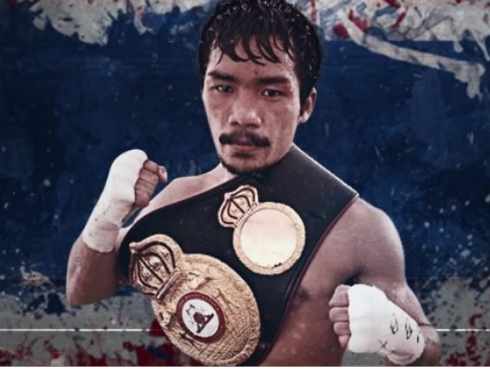 The Top Ten Strawweights of the Decade: 2010-2019
The tragedy of this list, comprised of the best 105lb fighters from the past decade, is that numbers one and two share an era, a home country, a weight division, but due to promotional issues, will never meet. Modern boxing in a nutshell we see two fighters who represent the most natural sporting opposition imaginable for one another who don't need each other, each milking an alphabet strap for their earnings.
Rant over: this list is also comprised of men who fought in some of the very best fights of the decade, against one another. The smallest division of all, the combat it produces is perennially underrated by fans and writers alike. Not by you though, perhaps, and certainly not by me.
One more time then: all rankings are by TBRB, except prior to their founding, all rankings between January of 2010 and October of 2012 are by Ring.
For those of you who have read this series from the first article to the last: I thank you.
10 – Katsunari Takayama
Peak Ranking: 1 Record for the Decade: 8-5 Ranked For: 60% of the decade
Katsunari Takayama seemed likely to place higher at the beginning of this process, but in reality, he lost most of the big fights in this 105lb decade. Often, they were worthy defeats against class operators but the disaster he suffered against Mateo Handig in October of 2012, for all that it was a close run, seemed to end his time at the top. Rather typically of boxing, Takayama came blasting back with the single best performance of his war-torn career, against the number one ranked Mario Rodriguez. Rodriguez is a man we will learn more about below, but it is enough to state here that he was the finest puncher of the strawweight decade, a puncher who was also armed with an iron jaw. For all his limitations, this was not a fighter Takayama would necessarily have expected to beat, or even meet after back-to-back losses against Handig and Nkosinathi Joyi, but that was the type of fighter Takayama was.
He was superb against Rodriguez, boxing as though he had won his last two fights, fighting hard when he needed to, boxing in a tight circle and prioritizing the jab after he was dropped in the third round by a savage Rodriguez hook. Never entirely out of danger, he nonetheless dominated exchanges with a buzzing straight-armed 1-2, swarming volume to body and head, varied movement, sometimes coming all the way out, sometimes tightening the circle, sometimes standing toe-to-toe and seeking to slip. It was a quality performance against a dangerous fighter on foreign soil.
There is so much to admire about Takayama. He was only in good or great fights, he had a strong jaw, he travelled, and he would fight anyone. All of that said, Takayama lost almost every single one of his significant fights at the poundage during the decade. Joyi beat him clean, Francisco Rodriguez Jr. received the decision in their wonder-match and although it could have gone either way, the decision was reasonable; Jose Argumedo, who defeated him on a technical decision in 2015 came close to taking his slot here.
In the end his victory over world's number one Rodriguez is just enough, in combination with his being ranked for 60% of the decade and all those wonderful fights he gifted us, to grant him the low spot.
09 – Kazuto Ioka
Peak Ranking: 2 Record for the Decade: 22-2 Ranked For: 12% of the decade
My memory of Kazuto Ioka was false. I thought of him as a dominant 105lb fighter who would make a mark on the top ten with ease, perhaps even a candidate for a top five spot. A close look has seen him the first locked-in inclusion for the decadal top ten but nearer the #11 spot than #5.
In short, he has just a single win of real note and a single supplementary win that matters, the former over Akira Yaegashi in what appears on paper to be something of a generational contest. In fairness, the two men delivered, Ioka inflicting brutal punishment on the fearless Yaegashi who continued to fire back long after blindness must have overtaken corners of his vision. Grotesquely swollen he fought so hard as to make the contest razor-thin in scoring, so close as to make one wonder as to what those scorecards might have looked like had Yaegashi not been marked-up so badly. Such speculation is not helpful however, nor does it take into account the mercilessness and precision with which Ioka worked Yaegashi's wounds, nor the indelible composure he wielded as his opponent's face ballooned. The decision may have been narrow, but it is difficult to argue with.
Ten months earlier, he had scored a victory over Juan Hernandez Navarrete. Navarrete's name is not one that echoes through eternity, but he scored a narrow, debatable win over Moises Fuentes, a fighter who would come to matter. That match is barely enough, in combination with his win over a pre-prime Yaegashi, to slip Ioka in ahead of Takayama.
08 – Mario Rodriguez
Peak Ranking: 1 Record for the Decade: 14-13-4 Ranked For: 22% of the decade
Mario Rodriguez had a disastrous decade, but his spell at 105lbs was not a part of that failure. Beaten from pillar to post at 108lbs, even by Pedro Guevara with whom he fought on even terms at 105lbs, where his paper record was a much more respectable 6-2-3. The losses, to Katsunari Takayama and Donnie Nietes (who did not remain in the division long enough to be considered for this list), hardly hurt him and the wins include some impressive supplementary names. The big win though, and the one that grabs him the number eight spot, is over preeminent minimumweight Nkosinathi Joyi, twenty-nine years old and in his absolute prime.
Joyi was coming off a career's best win over Takayama when Rodriguez welcomed him to his native Mexico in September of 2012. A significant underdog, Rodriguez looked it early; slow, static in the feet, little dips of the head sparing him the absolute worst of Joyi's attentions but in essence he seemed a knockout waiting to happen.
In the second, Rodriguez put his head on Joyi's chest and began to throw some hard punches. Joyi outboxed him once more but Rodriguez had his blueprint in hand. Joyi continued to beat him brutally, especially to the body, but Rodriguez never threw the yolk. In the fifth, he found Joyi with punches and the referee incorrectly ruled a knockdown a slip. After dominating, Joyi had found trouble.
Mario's secret was that he was the rarest of things: a 105lb puncher, a legitimate big hitter.  Armando Vazquez ditched in four, future 108lb Gilberto Keb Baas dusted in five, lesser fighters dispatched in less time. In essence, Rodriguez, never stopped aside from his muddled debut, was equal to Joyi's punches and Joyi, the far more established fighter, could not live with Mario's. In the seventh, Rodriguez popped Joyi on the chin with an uppercut, a left up around the ear, a similar scuffed right and Rodriguez had beaten Joyi and locked himself in to this list.
07 – Francisco Rodriguez Jr.
Peak Ranking: 1 Record for the Decade: 33-4-1 Ranked For: 6% of the decade
Francisco Rodriguez Junior was ranked at 105lbs for just a few short months between January of 2010 and the end of 2019, barely legible as far as this list is concerned. During those weeks, he did two things that mattered: defeated number six contender Merlito Sabillo by tenth round stoppage and won the fight of the decade, at any weight, against number two contender Katsunari Takayama.
Sabillo was first, in March of 2014 and although brave, he was outgunned, as much due to Francisco's own granite chin as his withering body attack. He dropped and handled Sabillo, then worked him over into the tenth, when Sabillo's corner did the right thing and pulled their man.
Rodriguez had summitted and the timing could hardly have been better. Four months later he stepped in with Takayama and the result was fire. There is no way that this fight can be described in several paragraphs here and I will not even try. If you have seen, you know.  If you have not, stop reading this and type Francisco Rodriguez Jnr. vs Katsunari Takayama into your search bar.
What Rodriguez shows is elite heart, elite chin, elite workrate and fine punching. Those attributes would remain when he departed 105lbs for 115lbs.  In truth, he was never a natural 105lb fighter and spread himself too thin to rank any higher here. Still, his 2014 was splendid and it is impossible to imagine this list without him.
06 – Byron Rojas
Peak Ranking: 2 Record for the Decade: 27-4-3 Ranked For: 47% of the decade
Byron Rojas is one of the bravest and most underestimated road warriors in all of boxing. In May of 2016 he travelled from his native Nicaragua to South Africa to face the superb Hekkie Budler in his own back yard. All heart and charge, Rojas put his head down and threw his gloves out, repeatedly, without cease, for the twelve rounds that followed. Budler, clearly perturbed, had a long night and despite doing the cleaner punching and being the only one of the two to engage in the rudiments of upper body movement, was clearly behind after six rounds.
Budler then made the sort of gorgeous adjustment that only an experienced champion can, moving, instead of away, in to Rojas, physically trying to push him back by hitting to the body. It made for a fascinating ninth round, clearly won by the South African. In the tenth, Rojas made his own adjustment, dropping his guard and throwing violent meathooks at Budler who suddenly wanted no part of the inside. Rojas twice hurt his man in that round and although the eleventh and twelfth were close, had clearly done enough. Budler tied the belt around Rojas's waist himself.
Having defeated the third best strawweight of his generation, Rojas set sail, in his very next fight, to meet the best, Thammanoon Niyomtrong. Rojas lost that fight – narrowly – and a 2018 rematch more definitively. Being honest though, those losing efforts, on the road, probably enhance his standing here just a tiny bit. It is a difference-maker though. Rojas was ranked at 105lbs for nearly half the decade, true, and we see some of the gatekeeper types that appear often in discussing the men on this list – Julio Mendoza, Daniel Mendoza – but overall he probably doesn't have the flat-out win resume for the spot. Still, as a man, he was that and more.
05 – Moises Fuentes
Peak Ranking: 3 Record for the Decade: 16-6-1 Ranked For: 18% of the decade
Moises Fuentes flirted with these lists at heavier poundage, but he was never going to break on through. At 105lbs, he has cracked the top five – can it be justified?
Two key fights barrel Fuentes into the upper echelons of this list and neither one is to be missed. In 2011, coming off a defeat and one more away from gatekeeper status, Fuentes stepped in with #3 contender and tough Raul Garcia. The two staged a war, exchanging knockdowns and violence throughout. Fuentes took a close decision in a fight that could have gone either way.
This positioned him beautifully for the fight that every minimumweight wanted against the descending Don of the 105lb division, Ivan Calderon. Calderon, fresh from his brutalization at the hands of Giovani Segura up at 108lbs, was returning to reclaim what at this point seemed his birth-right. Fuentes's name went into the hat and was drawn; he was the alphabet champion destined to pass Calderon back his gold.
Except he wasn't. Now, there is no dispute about this: Calderon was not what he was. I covered the fight at the time and wrote that "His legs seemed less and less able to carry him for twelve rounds. Something that had seemed easy in 2008 now had the appearance of being difficult for him… The creeping sense that his legs were beginning to betray him had come to fruition. There would be no Ali-like second career". For all that this was true, Fuentes had begun his work, the work of a fighter, even as he ceded early rounds. Fuentes was chopping off the ring, measuring the speed, measuring his guns against Calderon's defences.
In the fourth, he tracked Calderon down to a corner and began the steady and sad process of tearing him apart. Calderon crumbled in just five.
I took this personally at the time, describing it as "the saddest sight to see in fights, the metaphorical equivalent of watching a Ferrari Italia F458 being driven off a cliff" but watching it for this series I was in the main just impressed by Fuentes. Viewed remote from the incident it is hard not to be given Fuentes's ruthless domination of a legitimate great at the poundage. He deserves his credit, and he gets it here, decadal top five at the poundage.
04 – Nkosinathi Joyi
Peak Ranking: 1 Record for the Decade: 9-5-1 Ranked For: 25% of the decade
Nkosinathi Joyi stormed out of the 00s and in to the 10s the world's premier minimumweight and proved it in his very first fight of the decade against the excellent Raul Garcia, who he thrashed. In his next fight he matched Katsunari Takayama but a clash of heads caused the fight to be called off and a no contest rendered. The immediate rematch was Joyi's finest performance.
He did as fine a job as has been done in tracking Takayama down, and Takayama did try hard to keep him at arm's length. In the fourth Joyi just outwalked him and lashed him with southpaw left hands to the face; in the ninth, too much showboating saw Takayama caught in the corner and punished.  In between, Takayama had his occasional, surging moments but even in the rounds he lost, it felt that Joyi was not far away from retaining control.
A legitimate puncher, Joyi was consistently excellent at finding range and persisting in that range.  Expert balance and technical footwork capable of mining that balance for maximum returns meant that once he had found the range, he was expert in maintaining it. Combined with a vicious body attack, it can be readily understood why this combination should be so difficult for a fighter like Takayama.
All that skill though was not enough to hide a certain fragility which, as we have seen, cost him against Mario Rodriguez. Another loss, this one narrow and on the cards against Hekkie Budler, sent him scurrying for 108lbs where he was repeatedly beaten up and stopped. Returning to 105lbs, he was clearly outpointed in a confused performance against Simpiwe Konkco. It seemed all but over for him.
Then something wonderful and strange happened. Two weeks before the end of the decade, Joyi was fed to the number six contender, Filipino Joey Canoy, and in a wonderful return to form, Joyi batted him unmercifully for twelve rounds. The only version of this fight I could track down was a video taken in a South African front room of a television broadcasting the fight (I'd like to thank the gentleman in question, who can at one point be overheard on the telephone), but nevertheless, it can be seen that Joyi looks himself, for all that it was a slower version. Canoy was firmly outclassed, stuck on the end of the Joyi jab and battered throughout by beltline work, underlining Joyi's status as the finest bodypuncher of the divisional decade.
This victory enhances his standing considerably. How could it not? Once again ranked in the divisional top ten by the TBRB, he is nowhere near as deadly nor as respected he was in 2010, but at thirty-seven years of age he's holding on, and with a strap to defend, he may just make his mark once more in the third decade of his prestigious career.
03 – Hekkie Budler
Peak Ranking: 1 Record for the Decade: 18-4 Ranked For: 51% of the decade
Hekkie Budler, a legend in his native South Africa, boxes with a catch-as-catch-can style that I thoroughly enjoy. Against number nine contender Michael Landero, Budler attacked directly, invaded the pocket and out-fought him for a near shut out. Against number ten contender Chaozhong Xiong, Budler stopped well short of a shutout, losing the first and dropped heavily in the second, trapped on the end of a fulsome left hook at a perfect angle from his jaw. Seriously hurt, he was lucky to escape the round.
Budler's skill is in adaptations though and he spent the rest of the fight controlling the distance.  Punishing Xiong for each transgression, he slowed the fight way down, taking the explosive start and making it something infinitely duller but easier to control. Xiong was reduced to launching forayed attacks from distance and sucking up what Budler had to give him in the meantime. By the fight's end I was impressed but also nodding off.
Budler tended towards thrills though with a chin good enough to hold heavy shots and an engine good enough to run a busy fight plan against all-comers should he chose to do so. In "The Mega Fight" as it was billed in South Africa, Budler received a record payday to match fellow South African hero Nkosinathi Joyi and their fight was an excellent one. Guilty of shoe-shining early, Budler was behind in my card going into the second half of the fight but a grandstand finish saw him nip home by a smidge to win the most important fight of his career.
Losses to Gideon Buthelezi and Byron Rojas put the brakes on him just a little bit and it's worth noting that Xiong is likely the second best win of his career, a rather unimpressive one; nevertheless, Budler was certainly in the running for the #2 spot.
02 – Wanheng Menayothin
Peak Ranking: 1 Record for the Decade: 42-0 Ranked For: 83% of the decade
Wanheng Menayothin, also known as Chayaphon Moonsri, ran across some unexpected and much deserved fame recently for overhauling Floyd Mayweather's 50-0. Wanheng currently stands 54-0, undefeated but a different kind of undefeated; the kind that sees a fighter boxing to put food on the table in the literal, rather than that the figurative sense.
Wanheng is heralded and has been ranked for 83% of the decade; he is the most famous minimumweight since Calderon – and here he is, at #2 instead of #1. You are owed an explanation.  Here it is:
Wanheng hasn't fought anyone that good. I don't mean this in the sense the word is normally used, that he has dominated a weak era (he hasn't, and it isn't), I mean he hasn't fought anyone that good.  The best fighter he has met may have been then number six contender Oswaldo Novo. Wanheng has done no business in the top five in the weight class he is said to have dominated. This means he hasn't dominated it.
He crushed Novo, closing and battering him with an endless fuselage of punches that speaks of the hunger that continues to drive him at thirty-five. It is also true, though, that Novo has not won a single fight since he met Wanheng and included among the many losses he has endured is one to Saul Juarez. Juarez, then, is perhaps the best fighter Wanheng has beaten? He also met Wanheng in 2016 and Juarez, who I feel has been a little underrated, took Wanheng the distance.  It was a tough fight, but one clearly won by Wanheng although Juarez, too, has been living a loser's nightmare since that contest.
And it is hard beyond that to dig up contenders for a number one foe for Wanheng. Florante Condes has a certain doughy appeal, Pedro Taduran has looked decent since his loss to Wanheng, but beyond that, Wanheng's 54-0 is comprised mostly of men any competent fighter would be expected to beat.
Wanheng is certainly that. He is disciplined, strong, brings good pressure and is armed with a very decent range of punches. The first real test of his career, should he have one, still lies ahead of him, and that means #2 is the absolute roof for him.
01 – Thammanoon Niyomtrong
Peak Ranking: 1 Record for the Decade: 20-0 Ranked For: 52% of the decade
Thammanoon Niyomtrong, also known as Knockout CP Freshmart (don't ask) is unassailable in his position as the highest rated strawweight of the decade. It is not close; it is not debatable, there is no argument. The Thai (pictured) is the most accomplished 105lb fighter of the decade.
When he was but 12-0 he matched Carlos Buitrago, a fighter, for me, who is more dangerous than anyone Wanheng Menayothin has met in his celebrated fifty-four fights. It was also, for my money, the closest the undefeated Niyomtrong has come to defeat. The bones of his style were already firmly established; careful swarming, accompanied by very hard punches in ones, twos and threes in a clear adoption of drills, but also an opportunist's eye for a winging punch. Moving across him is foolish and moving into him dangerous. At 12-0 though, he was inexperienced at pacing himself and had yet to complete the twelve-round distance. After thoroughly dominating the first half of the fight he suffered a dramatic fade late, missing often, holding intermittently. He scraped home by a single round on all three official cards (and mine).
Niyomtrong had escaped, barely, in a tough, difficult fight against the number six contender. The man he is: he rematched Buitrago eighteen months later and thrashed him. On my card, he lost only two rounds, stamina and economy worthy additions to his fighting arsenal. Noteworthy also is that between these two fights, Niyomtrong found time to meet with another undefeated ranked fighter, Alexis Diaz. Diaz, arguably as dangerous as anyone Wanheng met, deployed a hurtful beltline attack in the first which Niyomtrong lost, something that is not unusual for him. In the second though, he began launching his unusual array of one-twos, a fascinating collection of punches which take a standard pressure-stalk and render it something more thoughtful and difficult; Diaz was cracked in the fourth but was essentially tortured throughout the second and third.
I would argue that in these short months Niyomtrong had already overhauled Wanheng's 105lb career, or the acute end of it anyway. Post Buitrago, though, Niyomtrong stepped into a new class.  His foil for the second phase of the decade would be Byron Rojas, Rojas at his best, straight off his victory over Hekkie Budler. Rojas was brutal with Niyomtrong, fouling him with his shoulders, pushing at Niyomtrong's cut eye with the top of his head, butting him. A liberal referee allowed Rojas to continue with his fierce work throughout the second half of the fight uninterrupted, but Niyomtrong was not so kind. All the while he was dolling out hurtful punches, including a peach of a lead left uppercut. The fight was close, but Niyomotrong was a narrow winner.  Narrow, as we have seen, is not good enough for this fighter, so he once again provided a rematch for a fighter who had troubled him and once again beat him more widely on the second occasion.
Xiong Zhao Zhong played the part of Diaz during this second phase, another fight Niyomtrong, still just thirty, won widely.
Niyomtrong has outstripped his countryman Wanheng on every metric I use to measure fighters bar the number of fights he has had and the number of fights he has won, but the clear gulf in quality of opposition bested makes him the clear choice. He is also the final divisional number one we will encounter – with just the decadal pound-for-pound list to be revealed.
The other lists:
Check out more boxing news on video at the Boxing Channel 
To comment on this story in the Fight Forum CLICK HERE
Avila Perspective, Chap. 230: Haney and Lomachenko Hit Hollywood and More Fight News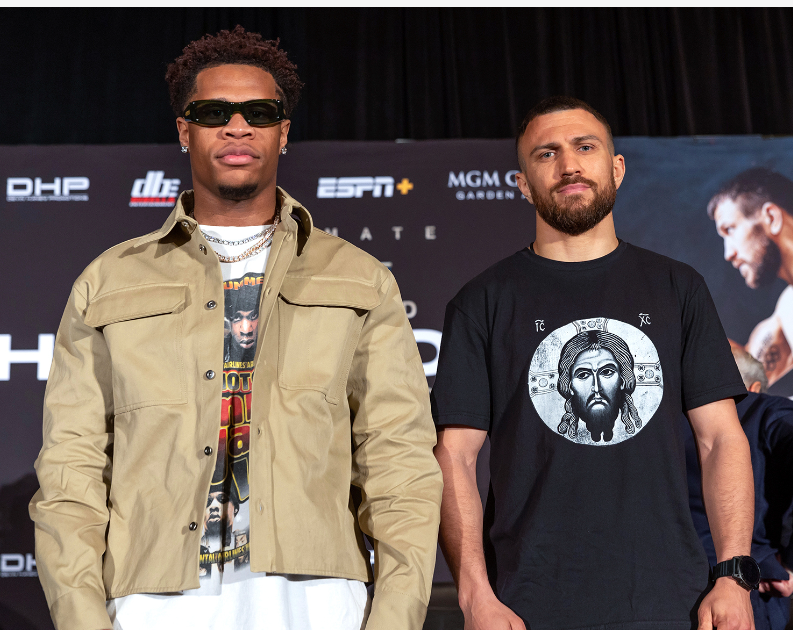 HOLLYWOOD, Ca.-Smack in the middle of glitzy Hollywood, two champions, Vasyl Lomachenko and Devin Haney, arrived to meet the press on Thursday despite another unusual California storm.
Also unusual was the low intensity press conference void of the now cliché verbal cursing and shoving performed to entice fans to buy tickets or pay-per-views.
This prizefight will be for the boxing scientists, the fans that appreciate the subtleties of the sweet science.
Undisputed lightweight world champion Haney (29-0, 15 KOs) will face challenger Lomachenko (17-2, 11 KOs) at the MGM Grand Arena in Las Vegas on May 20. ESPN pay-per-view will televise the Top Rank event.
At the Dolby Theater, the same location where Oscar winner Will Smith slapped comedian Chris Rock live in person without sanctioning, two actual prizefighters showed up to meet the media. Nobody slapped anyone.
There will be punches fired when they meet in two months.
Haney grabbed all the titles at once when he defeated Australia's George Kambosos twice in that fighter's home country. And Kambosos defeated Teofimo Lopez to win those same belts.
"This is a real fight. This is not an influencer fight. This is really for the belts. This is for the gold. This is possibly to determine the best in the world as well," said Haney.
Despite Haney holding all the belts some in the boxing world claim he does not deserve recognition.
Lomachenko, held three versions of the lightweight title after defeating Luke Campbell for the WBO, WBC and WBA lightweight titles, but lost to Teofimo Lopez who held the IBF version and became undisputed by beating Lomachenko. But Lopez lost to Kambosos and Haney beat the Aussie twice to show his superiority.
Both Haney and Lomachenko have elite fighting skills.
"We never know what will happen. We can prepare for one strategy, but in the ring it can all change. Right now, I don't know. I just train hard and prepare. I believe in God and in my team," Lomachenko said.
At age 24 Haney has demanded tough fights and took his team across the border for a couple of years to toughen up against Mexican sluggers who cared not about his impressive amateur career.
He excelled.
Lomachenko was an amateur boxing legend with countless fights and accolades including Olympic gold medals in the 2012 London Games and 2008 Beijing Games.
Lomachenko has always excelled.
Meeting face to face, the American Haney and Ukrainian Lomachenko realize they have no need to slap each other or unleash flammable comments at each other.
It's skill versus skill.
"I've seen hundreds of great matches over the years. But when I see a match like this, it stirs my blood because it is such an interesting fight to watch," said Top Rank's Bob Arum.
Absolutely.
London calling
Former heavyweight champion Anthony Joshua returns to the prize ring to re-establish his claims to the heavyweight title. Standing in the way is American Jermaine Franklin who predicts a knockout win over the British pugilist.
Joshua (24-3, 22 KOs) meets Michigan's Franklin (21-1, 11 KOs) at the O2 Arena in London on Saturday, April 1. DAZN will show the Matchroom Boxing card beginning at 11 a.m. Pacific Time.
Also on the card will be another American fighter, Ammo Williams (13-0, 9 KOs), who signed with Matchroom a few years ago and is ready to step up in class. He meets River Wilson-Bent (14-2-1, 6 KOs) in a middleweight bout.
Top Rank in Oklahoma
Former super bantamweight champion Isaac Dogboe (24-2, 15 KOs) opposes Robeisy Ramirez (11-1, 7 KOs) for the vacant WBO featherweight title on Saturday April 1, in Tulsa, Oklahoma. ESPN will televise the Top Rank card.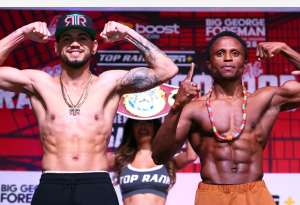 Also, Joet Gonzalez (25-3, 15 KOs) meets Enrique Vivas (22-2, 11 KOs) in a featherweight scrap. Both fighters are based in Southern California.
Tank vs Kingry All Access on Showtime
This Saturday night Showtime will be presenting the "All Access: Davis vs Garcia"   following the replay of last week's Las Vegas fight card that featured David Benavidez and Caleb Plant, plus three other fights. The programming begins at 10:35 p.m. PT.
Fights to Watch
Sat. DAZN 11 a.m. Anthony Joshua (24-3) vs Jermaine Franklin (21-1).
Sat. ESPN+ 4:05 p.m. Isaac Dogboe (24-2) vs Robeisy Ramirez (11-1).
Photo credit: Mikey Williams / Top Rank via Getty Images
To comment on this story in the Fight Forum CLICK HERE
The Latest Adventure of Glenn Azar: An Unconventional Boxing Story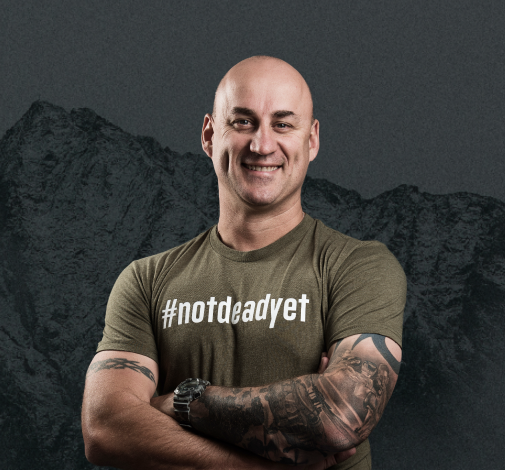 "I have never seen anything like it," said Glenn Azar, a world traveler who at age 51 was visiting Las Vegas for the first time. "There's great depth here and everyone has been so welcoming."
Azar wasn't a conventional tourist. He came here from Australia with a small stable of professional boxers. There's nothing unusual about that. Boxers come to Las Vegas to train from all corners of the world, just as artists that paint pictures once descended on Paris to hone their craft. The main lure for foreign boxers is the city's deep pool of useful sparring partners.
Where Azar deviates from the norm is that the fighters he mentors – Taylah Robertson, Cherneka Johnson, and Deanha "Dee Dee" Hobbs — are female. Brisbane's Robertson, a super flyweight, fights tonight (Thursday, March 30) on a Lee Baxter promotion in Toronto.
Azar spent 17 years in the Australian Army where he specialized in helicopter evacuations and advanced to the rank of lieutenant.
Before he got involved with the trio of boxers that he trains and manages, he turned his thirst for adventure into a successful business, leading intrepid adventure-seekers on long treks across daunting terrain such as New Guinea's Kokoda Track, a rugged 60-mile mountainous trail that can be traversed only on foot.
Azar's daughter Alyssa, now 26, inherited her father's thirst for adventure. At age 19 she became the youngest female to climb Mount Everest and has reached the summit from both the North and South sides.
Taylah Robertson was two fights into her pro career when she approached Azar about managing her. Thus began a new chapter in his life.
Before turning pro, Robertson was a two-time national amateur champion at 112 pounds and represented Australia in tournaments in Bulgaria, Poland, Russia, Turkey, Spain, and New Zealand. She brings a 7-1 record into tonight's assignment in Toronto with the setback coming in her fourth pro bout when she lost a split decision to 28-fight veteran Shannon O'Connell.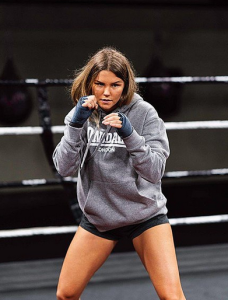 Unlike her coach, Robertson had been in Las Vegas before. Her prior visit was arranged by one of her biggest fans, Australian boxing legend Jeff Fenech, who arranged for her to train with Bones Adams at Adams' gym.
Bones' gym was on Glenn Azar's itinerary, but he and his little ensemble worked out at multiple boxing gyms during their three-week stay. Afternoons were often spent at the DLX gym where Azar arranged for one of boxing's hottest young trainers, Kay Koroma, to provide a helping hand. Koroma played an instrumental role in the amateur career of Claressa Shields and co-trains Mikaela Mayer alongside the venerable Al Mitchell. Taylah Robertson was familiar with Koroma from her amateur days.
Cherneka Johnson
Cherneka "Sugar Neekz" Johnson (15-1, 6 KOs) is the reigning IBF world super bantamweight champion. She makes the third defense of her title on May 20 in Dublin underneath Katie Taylor's homecoming fight with fellow unbeaten Chantelle Cameron. Johnson's opponent, Ellie Scotney, a 25-year-old Londoner, is 6-0 as a pro after a decorated amateur career. On paper it's a 50/50 fight.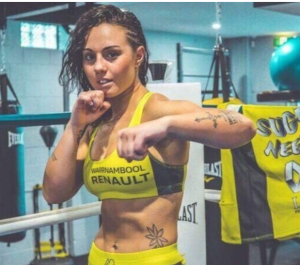 Cherneka spent the first 12 years of her life in her native New Zealand. She is a proud member of the Maori ethnic group and her tattoos pay homage to her culture. Last week, a robust sparring session with WBA world female bantamweight champion Jamie Mitchell attracted a crowd at the Mayweather Boxing Club.
Deanha Hobbs
At age 35, Hobbs is the senior member of Glenn Azar's team. She took up boxing, she says, to learn to defend herself against the schoolyard bullies that picked on her because of her tomboyishness. It's a fairly common thread in the life story of many female athletes in the combat sports communities.
Hobbs sports an 11-2 record and has knocked out six of her opponents. She has won three straight since suffering an eighth-round stoppage in a failed bid for Mary McGee's IBF 140-pound world title. To secure that assignment, which paid peanuts, Hobbs had to move up two weight classes and travel halfway around the world. She fought McGee, a Hoosier, in the Greater Chicago city of Hammond, Indiana.
—
When Taylah Robertson turned pro, one of her listed goals was to become the first female fighter to earn a million dollar purse. Katie Taylor and Amanda Serrano beat her to the punch, but she may yet reach that lofty sphere.
"Women train just as hard as men," says Azar, "and their fights can be just as exciting. I look forward to the day when there is purse parity. It will take time, but because she is only 24 years old, I can envision Taylah getting there before her career is finished."
And if that day should come, Glenn Azar can take a bow.
To comment on this story in the Fight Forum CLICK HERE
He Said, He Said: Who is at Fault for the Collapse of the Fury-Usyk Fight?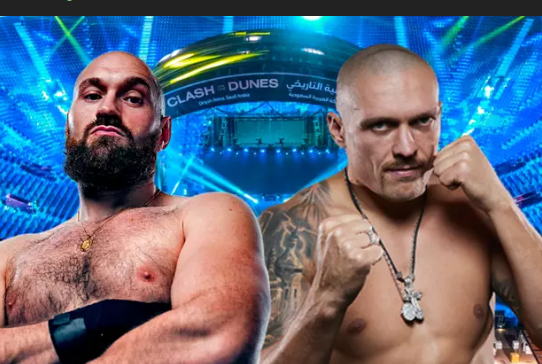 The last undisputed heavyweight champion was Lennox Lewis who held the WBA, WBC, and IBF belts after outpointing Evander Holyfield in their rematch at Las Vegas in November of 1999. (The WBO was around in those days, but didn't have their finger in the pot. The upstart organization, whose first "world heavyweight champion" was Francesco Damiani, had zero credibility among serious fight fans, many of whom still balked at ingesting the IBF.)
Lewis's reign as the undisputed champion lasted only five months. He was stripped of his WBA diadem after bypassing John Ruiz in favor of Michael Grant for his next fight. Ergo, twenty-three years have elapsed since boxing had an undisputed heavyweight champion and a Fury-Usyk fight would have produced the first fully unified heavyweight title-holder in the four-belt era.
There was talk that Tyson Fury and Oleksandr Usyk would meet on Dec. 17 of last year in Saudi Arabia on the day preceding the final game of the World Cup in neighboring Qatar. More recently, there was talk that they would meet at Wembley Stadium in London on April 29.
A week ago, representatives of Tyson Fury and Oleksandr Usyk appeared close to finalizing a deal, but negotiations hit a snag and, for the moment, the fight is dead.
Yesterday (March 27), Yahoo combat sports columnist Kevin Iole posted a story that was harshly critical of the Gypsy King. "The blame for this goes squarely on the broad shoulders of Fury," he wrote.
Iole noted that Team Usyk acquiesced to Fury's demand for 70 percent of the purse, notwithstanding the fact that the Ukrainian held three-fourths of the meaningful belts. Referencing Ali-Frazier I, the "Fight of the Century," Iole noted that this iconic event would have never happened if the larger-than-life Muhammad Ali had attempted to leverage his popularity with "grotesque financial demands." (The purse split was reportedly 50/50.)
Gareth Davies, the most well-known boxing scribe in the UK and something of a celebrity himself, had a somewhat different take. In a widely-circulated television interview, Davies noted that it was actually Team Usyk that pulled the plug. The sticking point, by all accounts, was the percentage splits to be built into a rematch clause.
Davies did not reproach Usyk for walking away from the negotiation table. His remarks were seemingly meant to shelter Fury, his British countryman, from the scathing rhetoric directed at him.
Assuming that the window for rekindling negotiations is shut tight, Oleksandr Usyk is expected to fight England's Daniel Dubois next. Dubois is first in line among Usyk's mandatory opponents. It has also been reported that deep-pocketed investors in the Middle East are interested in pitting Usyk against Deontay Wilder; a most delicious match-up indeed.
Former U.S. college cheerleader Joe Joyce is expected to be Tyson Fury's next opponent assuming that he gets by Zhilei Zhang on April 15. Joyce is a heavy favorite in the match at London's Copper Box arena. However, Matchroom promoter Eddie Hearn still holds out hope of luring Fury into a match with Anthony Joshua. By Hearn's reckoning, this is the biggest fight out there for the Gypsy King; bigger even than Fury-Usyk.
Anthony Joshua returns to the ring this Saturday at the O2 in London with U.S. import Jermaine Franklin in the opposite corner. It will be Joshua's first fight under the tutelage of new head trainer Derrick James.
In the meantime, boxing continues to shoot itself in the foot by failing to produce the fights that fans are most desirous of seeing.
To comment on this story in the Fight Forum CLICK HERE